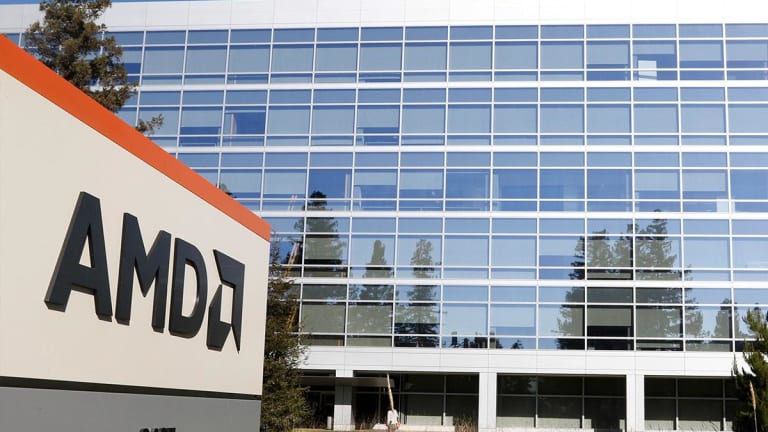 AMD's Uptrend Is Still Alive (for Now)
Despite the volatility, this big-momentum tech name is still working for long-term investors.
Markets are getting a reprieve from the selling Tuesday, as the Dow and S&P plot a course for the worst December performance for stocks since the Great Depression.
Meanwhile, investors are bracing for the Fed's rate decision Wednesday.
At this point, where the broad market ends come Dec. 31 is anybody's guess. But that doesn't mean investors should be playing a guessing game when it comes to their portfolios this month. Instead, succeeding in this environment still boils down to one simple question: What's working right now?
Advanced Micro Devices (AMD) - Get Report continues to be one of the most actively traded names on the market, and for good reason. After posting a couple of years as one of the best-performing S&P 500 components, AMD has become a bellwether of sorts for momentum stocks as a group.
The good news for bulls is that, while AMD has gotten slammed 37% since the calendar flipped to January, this stock's uptrend is actually still alive and well - for now.
In other words, AMD is still working.
To figure out how to trade AMD from here, we're turning to the chart for a technical look:
You don't need to be a trading whiz to figure out the prevailing trend in AMD's price action; shares continue to bounce higher long term in a well-defined uptrend. So far, since making a 2018 low back in early April, AMD has bounced higher on the last four tests of trendline support.
Now, as shares test that same trendline support level for a fifth time this week, it makes sense to buy the next bounce higher.
That may sound strange considering the depth of AMD's correction. Shares plunged more than 5% Monday alone, for instance. But context is critical when weighing whether to classify AMD's recent price action as a bull market correction or a bear market. Despite all the selling, AMD is still up 91% year-to-date.
It's just a high-beta name.
For that reason, risk management is crucial if you're looking at an AMD trade here. The litmus test for whether AMD remains a buy-the-dip stock is the 200-day moving average. That level has been a solid proxy for AMD's uptrend since the middle of the year. Put simply, if AMD materially violates the 200-day, we've got an early warning sign that the uptrend is over and you don't want to own it anymore.
Relative strength continues to be one of the most important side-indicators in any trader's toolbox in this market environment. The fact that relative strength continues to bounce higher in an uptrend of its own right now means that AMD is one of the plays that's working in this market. Buy the dips.
This article is commentary by an independent contributor. At the time of publication, the author held no positions in the stocks mentioned.