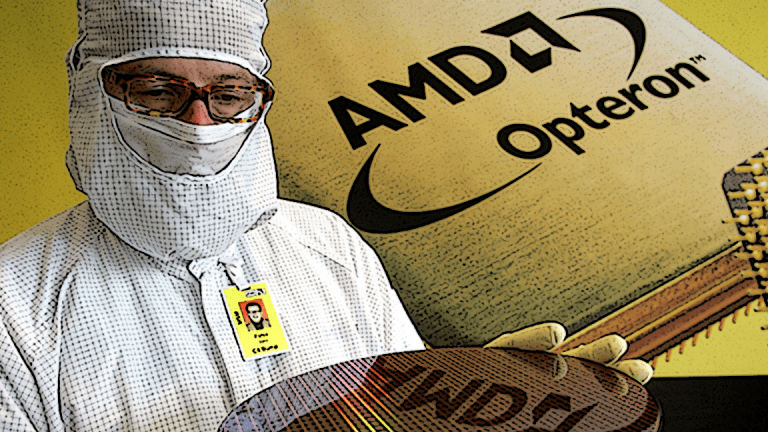 AMD Unveils How It Plans to Battle Intel and Nvidia in the Data Center
In addition to showing off some new cutting-edge GPUs, the resurgent chipmaker announced that Amazon would be using its Epyc server chips in its cloud computing data centers.
In addition to showing off some new cutting-edge GPUs, the resurgent chipmaker announced that Amazon would be using its Epyc server chips in its cloud computing data centers.
AMD (AMD) - Get Report is hungry to take advantage of an unprecedented manufacturing process lead in the growing server CPU and GPU markets.
At an event held in San Francisco on Tuesday morning, AMD officially unveiled the first GPUs to be manufactured using Taiwan Semiconductor's (TSM) - Get Report cutting-edge 7-nanometer (7nm) manufacturing process. The company also previewed its first 7nm server CPUs, and shared details about the Zen 2 CPU core architecture that will power 7nm products in both the PC and server markets.
In addition, AMD announced that Amazon.com (AMZN) - Get Reporthas joined the ranks of cloud infrastructure service providers to offer cloud computing instances relying on AMD's Epyc server CPUs.
The announcements gave a boost to AMD's shares, which sold off sharply in October thanks to a tech correction and the light Q4 guidance issued in the company's Q3 report. AMD rose 3.9% in Tuesday trading to $20.68. Though well off their September highs, AMD's shares are still up about 100% on the year.
AMD's first 7nm GPUs, the Radeon Instinct MI60 and MI50, are based on the Vega GPU architecture first launched in 2017, and are meant for a server AI and high-performance computing (HPC) workloads. As such, they take aim at Nvidia's (NVDA) - Get Report Volta-architecture server GPUs, which dominate the market for accelerators used to train AI/machine learning algorithms and also claim a large share of the HPC accelerator market. The MI60 is expected to ship by year's end, and the MI50 by Q1 2019.
The MI60, aided by its support for a healthy 1 terabyte per second (TB/s) of memory bandwidth, is said to deliver 14.8 teraflops per second (TFLOPS) of single-precision (FP32) performance, and 7.4 TFLOPS of double-precision (FP64) performance. While the FP32 performance is only slightly improved relative to AMD's MI25 GPU, which is made using an older 14nm manufacturing process, the FP64 performance is much improved. Moreover, the MI60 chip has a smaller die size than the MI25's, which translates into power and manufacturing cost savings.
The MI60's official FP32 and FP64 performance is close to that of Nvidia's flagship Tesla V100 GPU, which launched in 2017 and is made using an older 12nm process. It wouldn't be surprising to see Nvidia, which has leaned on both performance and a strong developer ecosystem to dominate the AI training market (and command premium pricing), launch 7nm server GPUs in 2019.
AMD promises the 7nm server CPUs, codenamed Rome and for now only said to be launching in 2019, will deliver an impressive 2x performance gain per CPU socket relative to AMD's first-generation Epyc server CPUs (codenamed Naples), thanks to its use of a 7nm process and Zen 2 cores. Rome CPUs will feature up to 64 cores (first-gen Epyc tops out at 32 cores) and support twice as much memory bandwidth per channel as their predecessors. Like the first Epyc CPUs, they'll feature a modular architecture through in which multiple CPU chips are housed inside of the same package.
"I have been in the semiconductor industry a long, long time. You don't get 2x," proclaimed CEO Lisa Su. She added AMD is "deep" into its development work for Rome's successor, codenamed Milan.
AMD says its use of 7nm enables a doubling of CPU core density relative to older chips featuring its first-gen Zen CPU cores (they rely on 12nm and 14nm processes), and also allows it to deliver a 50% drop in power consumption when performance is unchanged. Apple's A12 Bionic system-on-chip (SoC), which powers the iPhone XS and XR, also relies on TSMC's 7nm process. 
The company hasn't yet shared details about its first 7nm PC CPUs and GPUs. There's speculation that AMD will do so at the annual CES trade show in January, where Su is giving a keynote.
Meanwhile, the AWS partnership follows similar deals to supply chips for the cloud platforms of Microsoft (MSFT) - Get Report , Baidu (BIDU) - Get Report and Tencent  (TCEHY) . Amazon, which remains by far the cloud infrastructure market's biggest player, is rolling out three types of cloud computing instances featuring first-gen Epyc CPUs. 
The AWS deal "is a testament to Epyc's capabilities," said tech analyst Patrick Moorhead. He was impressed that AWS customers can get a 10% cost reduction by shifting to Epyc from similar computing instances relying on Intel INTC Xeon CPUs, and can do so without needing any software or script changes. 
AMD's announcements come a day after Intel unveiled Xeon server CPUs based on its next-gen Cascade Lake platform. The Cascade Lake chips, which will begin shipping in the first half of 2019, support up to 48 cores per CPU, as well as memory modules featuring Intel's Optane next-gen memory. 
Like Intel's older Skylake CPUs, Cascade Lake relies on Intel's age-old 14nm manufacturing process node, as will a successor platform named Cooper Lake that's due later in 2019. Following multiple delays, the first server CPUs based on Intel's 10nm node, which is seen as competitive with TSMC's 7nm node, aren't expected until 2020. 
Intel shares fell 0.9% to $47.25 on Tuesday. Nvidia's shares closed down 0.3% to $211.06.
Amazon and Microsoft are holdings in Jim Cramer's Action Alerts PLUS member club. Want to be alerted before Jim Cramer buys or sells AMZN or MSFT? Learn more now.