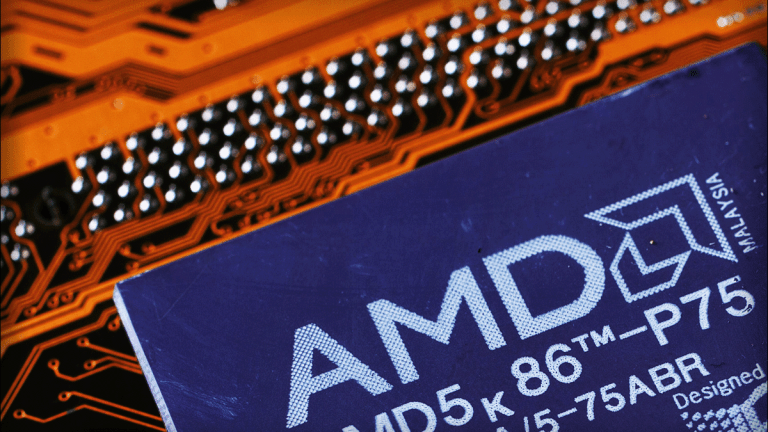 AMD Slides on a Mixed Quarter: What Wall Street's Saying
AMD's results proved to several analysts that the company can take market share in some product segments, as well as grow its gross margin.
Advanced Micro Devices (AMD) - Get Advanced Micro Devices, Inc. Report reported mixed third quarter results and fourth quarter guidance, which didn't bode well for investors who were expecting a lot. But analysts came away largely positive for a number of reasons. 
Shares fell 2.21% to $32.30 a share on Wednesday morning. The stock is up 11% in the past month.
For the quarter, adjusted earnings per share came in at 18 cents, in line with Wall Street expectations. Revenue was $1.8 billion, just below analyst's estimates of $1.809 billion. Computing and Graphics revenue, the company's largest segment, was $1.28 billion, beating estimates of $1.127 billion and rising 36%. Enterprise Embedded and Semi-Custom revenue was $525 million, down 27% and missing estimates of $695 million. Gross margin was 43%, better than the 40% in the year-ago quarter and in line with Wall Street's estimate.
The company guided for revenue of $2.1 billion in the fourth quarter, plus or minus $50 million, missing analysts estimates of $2.149 billion. Gross margin guidance for the current quarter was 44%, better than analysts expected 43%. 
Here's what analysts thought of the print. 
RBC Capital Markets, Outperform, Price Target Unchanged at $44
"AMD reported results that were largely in-line across the board. While bears will point to the ~$50M difference on Q4, we think this is a function of timing and weaker console revenues, which are not core to the AMD story. Going forward, we anticipate a gross margin long-term target raise for 2020. We view the Q3 results as a non-event considering that they were largely in-line. Going forward, we continue to look for: 1) ]market] share gains in x86 moving to 10% over the next 2-3 quarters; 2) gross margins working to 45%+; 3) improving console business in second half 2020 after weaker results due to a product refresh cycle in 2019; and 4) notable operating margin leverage on mix shift toward servers." 
- Mitch Steves
Goldman Sachs, Neutral, Price Target Unchanged at $34
"While there were multiple puts and takes in the quarter, we believe the print on its own is unlikely to sway the bulls or the bears in the near term.  We believe 4Q 2019-2Q 2020 results will be critical for AMD as strong growth in the client space at both AMD (i.e. 3Q 2019 client CPU revenue grew more than 50% quarter-over-quarter) and Intel (notebook and desktop client CPU units grew +3% and +15% quarter-over-quarter, respectively). Outside of the client space, the server CPU business continues to progress well and consistent with the company's prior market share target (i.e. 'double-digit' market share by mid-2020), as adoption rates for Rome (7 nanometer server CPU) grow in Cloud as well as in Enterprise." 
- Toshiya Hari
JPMorgan, Neutral, Price Target Raised From $33 to $34
"Although AMD is ramping multiple 7 nanometer products across client CPU, server CPU, and GPU in second half 2019, the company does not appear to be capacity constrained. In terms of server market share, AMD management maintains its expectation of double-digit share by mid 2020, though management did not comment on the likelihood of achieving the target by the end of this year as AMD noted as a possibility during the second quarter earnings call. Nevertheless, we continue to expect AMD to gain client and server CPU market share this year and into early next year as the team has been executing well in bringing high-performance products to market. 
- Harlan Sur
Alliance Bernstein, Market-Perform, Price Target Unchanged at $25
"As strong as the server ramp is, we believe it is still likely below expectations, and timelines for "double-digit" share now appear to be solidly into 2020. Gross margins, even increasing as they are, still feel like more should be coming given the significant product mix shift. And more generally, the sheer scale of the climb in front of them becoming more obvious, with Intel (for now) seemingly mostly unaffected by AMD's success ( roughly $80M million quarter-over-quarter server gains vs  roughly $1.4 billion), and potentially making the argument for a 'transformative' AMD tougher."
- Stacy Rasgon
Save 57% during our Halloween Sale. Don't let this market haunt you; join Jim Cramer's Investment Club, Action Alerts PLUS. Click here to sign up!