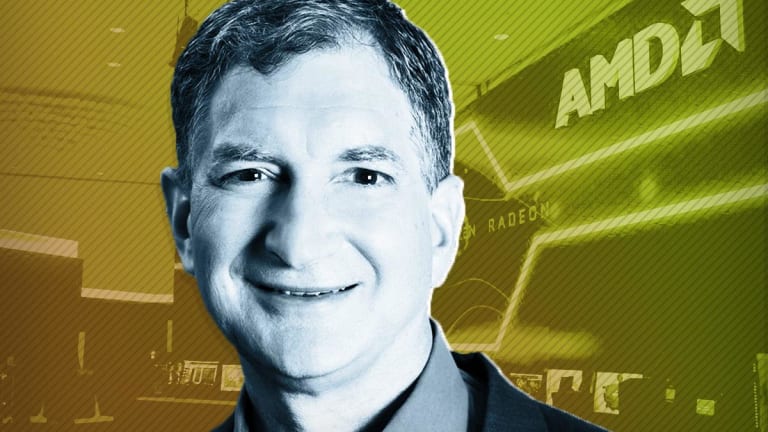 AMD's CTO Talks to TheStreet About Next Gen Chips and Keeping Up With Rivals
During a talk with TheStreet, CTO Mark Papermaster discussed AMD's plans for rolling out its third-generation Ryzen PC CPUs, as well as his thoughts on chip technologies deployed by AMD and its rivals.
AMD's (AMD) - Get Advanced Micro Devices, Inc. Report product line has come a long way over the last three years, and the the chip developer's stock price certainly reflects a lot of those changes.
Last week at CES, shortly after CEO Lisa Su unveiled a new high-end gaming GPU (the Radeon VII) and shared details about upcoming desktop and server CPUs, I had a chance to talk with AMD CTO Mark Papermaster about the announcements, as well as more generally about his company's product efforts.
Here's a look at some of the topics discussed. Papermaster's remarks about the feature sets of the Radeon VII and the company's first third-generation desktop CPUs can be found here, and takeaways from a November interview with Su can be found here.
How AMD Plans to Roll Out its 7-Nanometer PC CPU Lineup
During her CES keynote, Su disclosed that AMD's first third-gen Ryzen PC CPUs -- they'll rely on 7-nanometer (7nm) manufacturing processes from Taiwan Semiconductor  (TSM) - Get Taiwan Semiconductor Manufacturing Co., Ltd. Sponsored ADR Report , as well as a revamped CPU core architecture called Zen 2 -- will be desktop products arriving in mid-2019. She also showed a demo in which in an 8-core, third-gen, Ryzen desktop CPU outperformed Intel's (INTC) - Get Intel Corporation (INTC) Report high-end Core i9-990K CPU, while drawing less power.
During our talk, Papermaster indicated that AMD's launch progression for 7nm Ryzen CPUs will be similar to the one it saw for its first-gen, 14nm, Ryzen CPUs, in 2017, with high-end desktop chips followed by cheaper desktop offerings, powerful Ryzen Threadripper CPUs for enthusiasts and workstation users and Ryzen Mobile notebook processors.
"When you look at the order in which we roll out, what you saw today is how we really rolled out Ryzen," he said, while adding that AMD wanted to hit the high-end desktop market first to show off third-gen Ryzen's abilities. With Intel planning to target the notebook market towards the end of 2019 with the first PC CPUs to rely on a 10nm process that's seen as competitive with TSMC's 7nm process, going after the desktop market first also creates an opportunity for AMD.
AMD's Plans for its Third-Gen Notebook Processors
Just prior to CES, AMD unveiled second-gen Ryzen Mobile notebook processors that rely on a 12nm process previously used for 2018 desktop and workstation CPU launches. Given the timing of its second-gen Ryzen Mobile launch, I asked if AMD's third-gen Ryzen Mobile chips might rely on TSMC's 7nm+ manufacturing process, which is set to enter volume production later this year and delivers moderate performance and power improvements relative to standard 7nm.
Papermaster declined to say whether this will be the case. But he did suggest that AMD is looking to launch third-gen Ryzen Mobile in 2020, a point in time when 7nm+ volume production should be well underway. "If you look at the [product launch] cycle, next year would be a natural time for that migration," he said. "We'll have more details on that as we get closer to that time."
Improving the Gaming Performance of AMD's CPUs
While AMD's first and second-gen Ryzen desktop CPUs have often -- with the help of advantages in the number of CPU cores and threads they support -- outperformed comparably-priced Intel CPUs in multi-threaded workloads, Intel often retained an edge for single-threaded workloads. And that, in turn, gave its CPUs superior results in many gaming benchmarks, particularly ones involving gameplay at lower resolutions.
Papermaster said AMD is mindful of the single-threaded performance gap that has remained for Ryzen, and promised his company will deliver "very exciting gains" in this area while maintaining its multi-threaded performance lead. "What you will see with our third-generation Ryzen really is simply outstanding gaming performance," he declared.
Adding Specialized Processing Cores to AMD's GPUs
GPUs based on Nvidia's (NVDA) - Get NVIDIA Corporation Report new Turing architecture (unveiled last August) come packed with specialized processing cores -- they're known as RT cores and Tensor cores -- that are used to deliver, respectively, real-time ray-tracing (a demanding type of graphics rendering that can yield photorealistic imagery) and process deep learning algorithms that can improve game performance. That is, when developers have created or updated a game to leverage the cores.
When asked whether AMD is interested in adding similar cores to its GPUs -- they're not present on the Radeon VII -- Papermaster indicated AMD would do so if there's strong customer interest. "We look at fixed-function acceleration, and I have to say it's very much customer-driven," he said, while noting AMD has long integrated accelerators within its GPUs that improve the performance of audio and video codecs.
Separately, during a talk with reporters at CES, Su confirmed AMD is working on ray-tracing solutions of its own.

Expectations for 5-Nanometer Chips

Starting in 2020, TSMC
for a 5-nanometer (5nm) chip manufacturing process. Papermaster called 5nm "a nice progression" relative to 7nm, one that (with the help of the use of
to print a chip's circuits onto silicon) yields benefits in areas such as cost, throughput and power consumption. However, he also called it a more incremental advance for AMD relative to migrating to 7nm.
Intel's Recent Packaging and CPU Architecture Announcements
In December, Intel unveiled Foveros, a 3D chip-packaging approach for CPUs in which multiple logic chips (for example, a CPU chip and an I/O controller chip) are stacked on top of each other. It also showed off a CPU architecture (one long supported by CPU IP giant ARM) in which a large CPU core is paired with smaller cores that consume less power and can handle less demanding tasks.
And at CES, Intel unveiled Lakefield, a CPU platform for small-form-factor devices that will leverage both of the aforementioned technologies.
When asked whether AMD, which has unveiled plans to use a 2D "chiplet" packaging architecture for 7nm desktop and server CPUs, could deploy something like Foveros, Papermaster didn't rule out the possibility. But he also insisted AMD is comfortable with its decision to go in a different direction in the near-term.
"For CPUs, we looked at the analysis of a 3D stack versus a planar [2D] integration of those chiplets. It's always an individual optimization for the use case," he said, while adding there's "a constant re-evaluation at every generation" regarding which direction to go in.
Likewise, Papermaster insisted there's no need for AMD to create CPUs featuring cores of different sizes in most of its markets, particularly since it can prevent cores from drawing power when they aren't being used.
"It's a constant debate, does the Big.Little core really make sense?...On applications like a smartphone, I don't think there's any debate, because you have many, many maintenance tasks that can be offloaded to the little cores. But in most of our markets, it's not clear that there's benefit for the little cores," he said.
AMD's Views on ARM Server CPUs
In November, a couple weeks after AMD announced that Amazon Web Services (AWS) is now offering cloud computing instances that rely on its Epyc server CPUs, Amazon.com (AMZN) - Get Amazon.com, Inc. Reportunveiled Graviton, an internally-developed CPU based on the ARM instruction set that will power a new set of computing instances. Other tech giants have also shown some interest in deploying ARM server CPUs -- either by developing them internally or relying on a third-party supplier such as Marvell Technology's (MRVL) - Get Marvell Technology Group Ltd. Report Cavium unit.
Back in early 2016, AMD launched an ARM server CPU of its own (the Opteron A1100). However, in recent years, the company has focused on its Epyc server CPU line, which (like Ryzen, as well as Intel's PC and server CPUs) relies on the x86 instruction set.
When asked about his thoughts on ARM in the data center, Papermaster stated AMD "looked hard at ARM" and decided -- given that ARM's software ecosystem was still immature -- it made sense for AMD to direct its attention towards launching high-performance x86 products. At the same time, he admitted that ARM-based server CPUs will continue providing competition.
"ARM will progress, ARM will build out an ecosystem," he said. "We don't see that there's a huge difference in performance per watt between one instruction set offering and another, we think they're within a few percent. It's just that there will be a more and more competitive environment over time...to us that just makes a more robust market out there and I think that's good for the industry. It keeps everyone on their toes."