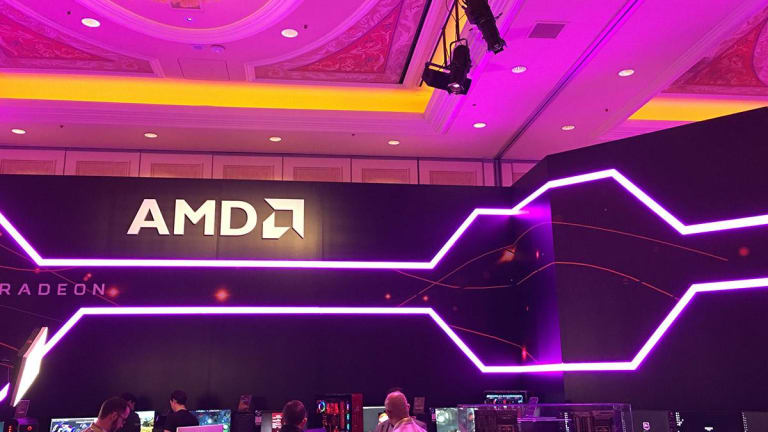 AMD Unveils New High-End GPU and Details Upcoming CPUs at CES
AMD is taking aim at Nvidia with its first gaming GPU based on Taiwan Semi's latest manufacturing process.
AMD is taking aim at Nvidia with its first gaming GPU based on Taiwan Semi's latest manufacturing process.
Three days after Nvidia (NVDA) - Get Report announced a new GPU for the mid-range gaming market, AMD (AMD) - Get Report showed off a new offering that takes aim at Nvidia on the high-end. 
At her Wednesday CES keynote talk, AMD CEO Lisa Su unveiled the Radeon VII, the company's first gaming GPU based on Taiwan Semiconductor's (TSM) - Get Report cutting-edge 7-nanometer (7nm) manufacturing process. With a graphics card MSRP of $699, the Radeon VII, which arrived on February 7, costs $200 more than what its Vega 64 (14nm) high-end gaming GPU cost when it launched in mid-2017, and $420 more than AMD's recently-launched Radeon RX 590 (12nm) mid-range GPU.
The Radeon VII is also priced on par with the GeForce RTX 2080, the second-most powerful offering within Nvidia's recently-launched Turing gaming GPU lineup. And it's $300 cheaper than Nvidia's flagship Turing gaming GPU, the RTX 2080 Ti.
AMD claims the Radeon VII is 25% more powerful than the Vega 64, while offering similar power consumption (of note: the Vega 64's power consumption was criticized when it launched). It also has twice as much graphics memory (16GB vs. 8GB) as both the Vega 64 and RTX 2080; tech analyst Patrick Moorhead notes this could make the GPU popular with content creators.
AMD shares were down 1.7% to $20.40 on Wednesday afternoon following Su's keynote.
A slide shown during Su's presentation indicated the Radeon VII either matches or moderately outperforms the RTX 2080 when playing popular games at a 4K resolution and max image-quality settings. Nvidia is promoting not only the traditional gaming performance of its Turing lineup, but also their ability (with the help of specialized processing cores) to enable photorealistic game imagery with their support of real-time ray tracing, and their ability to use trained deep learning algorithms to boost the performance of games relative to the use of traditional anti-aliasing techniques.
Two months after using its Next Horizon event to share technical details about its 7nm Epyc server CPUs (codenamed Rome), AMD announced the chips (currently sampling) will be available in mid-2019. Su reiterated that Rome will offer twice the performance per CPU socket of AMD's first-gen Epyc chips (codenamed Naples), which launched in mid-2017.A high-performance computing (HPC) demo was run in which a single 7nm Epyc CPU managed to outperform two of Intel's high-end Xeon 8180 server CPUs, which launched in 2017 and are based on its Skylake architecture. At its Monday CES press event, Intel disclosed that it has begun shipping CPUs based on its newer Cascade Lake architecture, which is believed to provide moderate performance gains relative to Skylake. With Intel having seen lengthy delays for a 10nm manufacturing process viewed as competitive with TSMC's 7nm process, Cascade Lake (like Skylake) relies on Intel's older 14nm manufacturing process node.
AMD also disclosed that its first 7nm Ryzen desktop CPUs will arrive in mid-2019. Su didn't formally announce any 7nm desktop products during her keynote, but did show a demo in which an 8-core, 7nm Ryzen CPU outperformed Intel's new high-end Core i9-9900K desktop CPU when running the popular Cinebench CPU performance benchmark, while also consuming meaningfully less power.
The disclosure comes a few days after AMD unveiled second-gen Ryzen Mobile notebook processors, which rely on a 12nm process and combine a Ryzen CPU with a Vega-architecture GPU. Su asserted the chips, which will arrive in notebooks ahead of the Q2 launch of new 14nm Intel notebook processors, offer unmatched performance for "ultrathin" notebooks, as well as support for 12-hour notebook battery life and GPU performance on par with that of discrete graphics chips.
Whereas AMD's first 7nm PC CPUs are aimed at the desktop market, Intel's first 10nm PC CPUs, which will be based on next-gen Ice Lake architecture, appear to be aimed at the notebook market. At its CES event, Intel reiterated that PCs featuring its 10nm CPUs will be available during the 2019 holiday season.
Microsoft (MSFT) - Get Report gaming chief Phil Spencer made an appearance during Su's keynote. Spencer indicated that Microsoft is relying on AMD's silicon to help power its upcoming cloud gaming service. And in what might be a hint that AMD, whose processors currently power both the Xbox One and PlayStation 4, will also be powering Microsoft's next-gen consoles, Su said her company has "lots of exciting things" planned with Microsoft.
AMD also announced disclosed that it's working with Alphabet/Google (GOOGL) - Get Report on its Project Stream game-streaming initiative. Su mentioned Project Stream relies on AMD's Radeon Pro workstation GPUs. 
Microsoft and Alphabet are holdings in Jim Cramer'sAction Alerts PLUS Charitable Trust Portfolio. Want to be alerted before Cramer buys or sells MSFT or GOOGL? Learn more now.