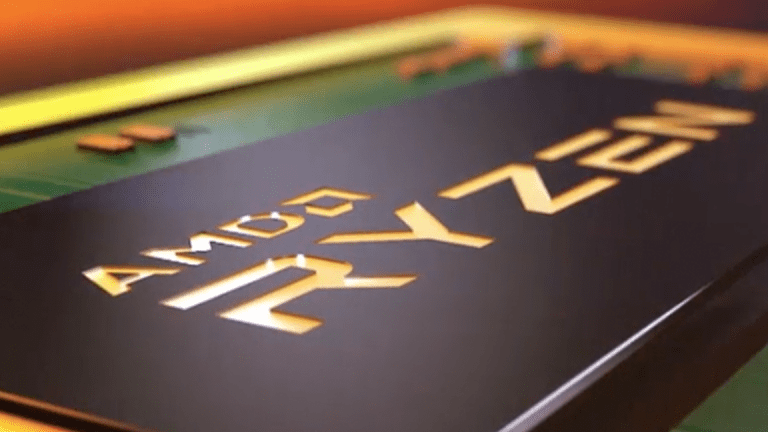 AMD CEO Tells TheStreet Why She's Upbeat About PC, Gaming and Cloud Markets
In a discussion with TheStreet following AMD's encouraging Q2 report, CEO Lisa Su talked about business trends, new products and more.
As AMD (AMD) - Get Advanced Micro Devices Inc. Reportsurges to new 11-year highs following a solid Q2 report, its CEO sounds pretty optimistic about her company's potential to take more CPU share in 2018 and beyond.
AMD shares rose more than 14% on Thursday after having slightly beat Q2 estimates with the help of strong sales growth for its Ryzen PC CPUs and Epyc server CPUs. The company's Q3 sales guidance was slightly below consensus estimates due to slumping GPU demand from the cryptocurrency mining market. However, with AMD and other chip firms having already signaled that crypto demand is dropping sharply, markets aren't bothered by the outlook.
On Thursday, TheStreet spoke with AMD CEO Lisa Su about the chip developer's results and guidance, as well as AMD's broader views on how it sees various businesses trending and evolving. Here are 5 of the main takeaways.
1. Epyc Server CPUs
AMD has been guiding for Epyc, which launched last summer and has since been qualified by a number of top cloud providers and server OEMs, to have a mid-single digit share in a server CPU market long dominated by Intel's (INTC) - Get Intel Corporation Report Xeon family. During the talk, Su stressed that AMD's long-term goals for Epyc are more ambitious.
"It's really important for us to be in the double-digit share range" in time, Su said. She qualified her remarks by stating that AMD knew reaching such a goal would take "a couple of years" and the ramp of both first- and second-generation Epyc CPUs. AMD saw its Epyc revenue rise over 50% sequentially in Q2, albeit off a relatively small base.
Regarding Epyc sales to cloud giants, which more than doubled sequentially in Q2, Su noted these sales include Epyc CPUs that are being used for internal consumption, rather than just Epyc cloud computing instances (provided by the likes of Microsoft (MSFT) - Get Microsoft Corporation Report , Baidu  (BIDU) - Get Baidu Inc. Report and Tencent) that are offered to third-party businesses. For the latter cases, Su argued that getting an initial Epyc instance can take time for a cloud provider to roll out, but that launching subsequent instances are easier. "We have multiple cloud vendors doing multiple instances," she added.
Su also indicated that cloud clients are among those who are enthusiastic about single-CPU (single-socket) Epyc servers, which can be a better fit than dual-socket servers for workloads that are memory-intensive or I/O-intensive. With Intel having historically reserved many advanced Xeon features for dual-socket servers, AMD's willingness to support a rich feature set for single-socket Epyc servers has been seen as a competitive advantage. Without sharing numbers, Su said AMD is seeing a "good balance" between single-socket and dual-socket Epyc sales.
2. Ryzen Desktop CPUs
Strong Ryzen CPU demand was a major reason why AMD's Computing & Graphics segment saw revenue rise 64% annually in Q2 to $1.09 billion. Su stated on the earnings call that shipments of AMD's Ryzen Mobile notebook processors, which were limited going into the year, more than doubled sequentially with the help of new hardware launches by major PC OEMs, Ryzen shipments for the desktop market, which in Q2 saw the launch of aggressively-priced second-gen Ryzen parts as well as new Intel parts based on the chip giant's Coffee Lake architecture, also rose.
For the time being, AMD's Ryzen product line for notebooks is limited relative to its desktop/workstation lineup; it consists of four chips largely aimed at "mainstream" notebooks and 2-in-1 systems. However, Su indicated AMD is looking to expand both its desktop and notebook Ryzen platforms in 2019.
"I like PCs," she added. "Any market where you sell 270 million units a year is a good market for us." The remarks contrast a bit with some of the comments made by Intel's management in recent years, as Intel has tried to lower its PC dependence by making big data center, automotive and IoT investments.
3. Gaming GPUs and Consoles
Though AMD's total GPU sales are being pressured by lower demand from cryptocurrency miners, Su indicated that gaming GPU demand remains healthy, and that the normalization of graphics card prices that had been elevated by shortages caused by miner demand is helping out. The remarks come ahead of a seasonally stronger part of the year, and amid reports that Nvidia (NVDA) - Get NVIDIA Corporation Report , which remains dominant in the high-end PC gaming market, will soon launch new high-end gaming GPUs.
AMD is the processor supplier for both the Xbox One and PlayStation 4, and Su also expressed optimism about the secular trends driving the gaming console market, as well as the strength of AMD's relationships with Microsoft  (MSFT) - Get Microsoft Corporation Report and Sony undefined . As new GPUs, displays and PC games continue pushing the envelope for what PC gaming experiences can deliver, Microsoft is rumored to be prepping two Xbox consoles -- a conventional system and a cheaper one that emphasizes cloud-based gaming -- for 2020 launches.
Nvidia and Microsoft are holdings in Jim Cramer's Action Alerts PLUS member club. Want to be alerted before Jim Cramer buys or sells NVDA or MSFT? Learn more now.
4. 7-Nanometer Chips
As many have pointed out, continued delays for Intel's first 10-nanometer (10nm) manufacturing process -- it currently isn't expected to see mass production until some point in 2019 -- spells an opportunity for AMD and other Intel rivals launching chips based on 7nm processes that are seen as competitive with Intel's 10nm process.
AMD is now sampling a second-gen Epyc CPU that uses a 7nm Taiwan Semiconductor (TSM) - Get Taiwan Semiconductor Manufacturing Company Ltd. Report process and launches in 2019 (early 2019 wouldn't be surprising), as well as a 7nm server GPU (aimed at AI/deep learning workloads) based on its Vega architecture that launches later this year. Also expected next year are 7nm Ryzen chips.
Su noted that in addition to delivering performance gains thanks to process improvements and (for CPUs) the use of AMD's next-gen Zen 2 CPU cores, 7nm chips could deliver much better power consumption than their predecessors, depending on a product's needs. "Depending on whether performance is the key or power is the key, we can trade that off," she said.
And in the data center market, Su asserts that AMD has "a great opportunity" at 7nm to pitch integrated solutions that pair its CPUs and GPUs. On the call, she indicated that AMD's server CPU and GPU deals remain "independent engagements" in the near-term.
5. Margins and Marketing Spend
Though AMD's revenue is expected to drop a bit sequentially in Q3, the company expects its gross margin (GM) to rise one percentage point to 38%, thanks to a revenue mix shift towards Ryzen and Epyc. During the talk, she sounded upbeat about the ability of AMD, which has set a long-term gross margin target range of 40% to 44%, to further grow GMs over the next few quarters.
When asked about AMD's willingness to increase its marketing spend to grow its profile within segments of the PC market where its presence isn't as strong -- Intel has been
some of its PC marketing efforts -- Su indicated AMD is interested in doing so. "We've increased our marketing spend with consumers, and with some of the key retail outlets," she noted, while adding that increasing awareness of AMD's products among CIOs is also a priority.