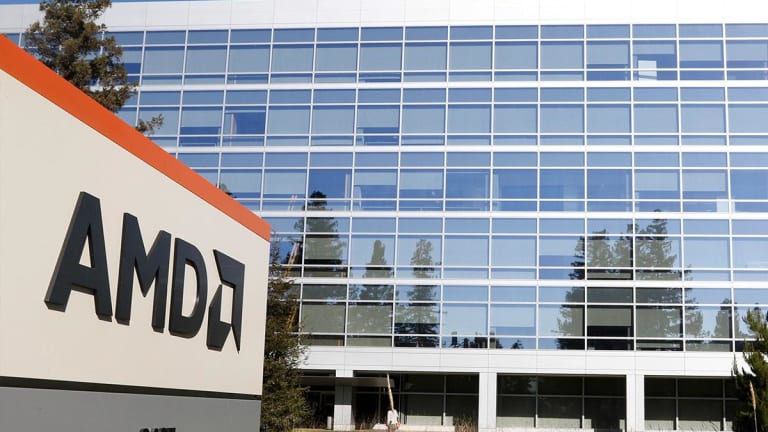 AMD Beats Q1 Profit Forecast, Sees New Chips, Stronger Demand Driving 2019 Sales
AMD shares rise after the semiconductor maker narrowly tops Wall Street earnings forecasts and says new chips would hit the market in the months ahead.
Advanced Micro Devices Inc. (AMD) shares rose but came off sharp highs earlier in Wednesday's session after the semiconductor maker narrowly topped Street earnings forecasts and said new chips would hit the market in the months ahead.
AMD said adjusted earnings for the three months ending in March of 5 cents per share, topping the Street consensus forecast by a penny. Group revenues, AMD said, fell 22.7% last year amid a global glut in semiconductor inventories, but narrowing beat analysts' forecasts at $1.27 billion.
Looking into 2019, AMD maintained its full-year earnings guidance, with second quarter revenues of around $1.52 billion and a non-GAAP gross margin of 41% as demand begins to return to global chip markets as data centers and servers around the world renew purchases. AMD also said it expects to be free-cash-flow positive by the end of the year.
"2019 is arguably the most important year in our history, as the $75 billion market for high-performance Computing and Graphics products has never been larger and our product portfolio has never been stronger." CEO Lisa Su told investors on a conference call late Tuesday. "We are right where we planned to be with our multiyear roadmap, including our upcoming 7-nanometer Ryzen, Radeon and EPYC processors that can drive our next wave of revenue growth and share gains. We remain confident in our ability to continue delivering on our ambitious leadership roadmap for the PC, gaming and datacenter markets."
AMD shares rose 0.2% to $27.68. The high for Wednesday's session was $29.15.
AMD said it's new 7-nanometer Ryzen, Radeon and EPYC processors will be introduced over the coming months, adding that  they're on track to begin Rome production shipments in the second quarter to support a third quarter launch.
However, BMO Capital Markets analyst Ambrish Srivastava cautioned that AMD's cash burn rate, which hit $275 billion over the first three months of the year, clouds what he said was solid execution in terms of product rollout.
"We thought memory companies are usually associated with negative FCF, and they usually are, but AMD continues to underwhelm us with lack of cash generation," said BMO Capital Markets , who . "AMD burned through $275 million in FCF in 1Q, this after not meeting its guide for positive FCF in 2018.Accounts Receivable were up again q-q, and we believe the GPU channel is one part of the story for the bloated receivables."