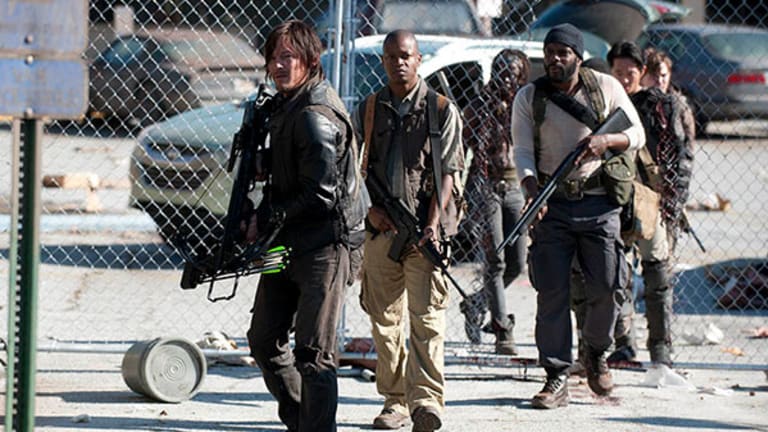 AMC Networks Suffers the Weight of 'The Walking Dead'
Morgan Stanley downgraded AMC Networks, underscoring the company's difficulty in sustaining the growth fueled by the zombie series.
Sometimes too much success can be a burden.
For AMC Networks (AMCX) - Get AMC Networks Inc. Class A Report , matching the record-breaking ratings and advertising sales of The Walking Dead last year was always going to be challenging. Ever the optimist, CEO Josh Sapan has consistently argued that the show would generate new audiences for the network and that the network's new programming for 2016 would exceed expectations.
So far, though, it hasn't. Sightly lower-than-expected viewership for The Night Manager, Preacher and Feed the Beast led Morgan Stanley media analyst Benjamin Swinburne on Wednesday to cut his rating on AMC Networks to the equivalent of a hold from a buy. Shares of AMC fell on the report, dropping 2.2% to $58.34 while extending the stock's 2016 decline to an onerous 22%.
AMC's slate of new programming has generated ratings that are roughly 50% below Morgan Stanley's forecast, Swinburne said, prompting him to cut his outlook for advertising sales and earnings at the company. 
Like Sapan, Swinburne said he had assumed that the success of The Walking Dead would afford AMC's new shows exposure to the same Millennial demographic that had made the zombie apocalypse such a sensation. But Millennial audiences have more and more options to choose from. Edgy programming is everywhere, or at least lots of programming.  
"Unfortunately, viewership levels this year have come in below our expectations," Swinburne wrote. "The lack of new major TV hits across the dial in recent years also highlights the growing fragmentation of audiences across TV and [subscription-video] platforms, supporting the view that it is increasingly difficult for new shows to find a mass audience given a glut of high-end scripted original series being produced."
Investor pressure may be mounting on AMC Networks. Shares of the company are trading at 10.1 times earnings, their lowest level since going public as a separately traded stock in June 2011. By comparison, the S&P Media index, a benchmark of the sector's 16 largest companies including Disney (DIS) - Get Walt Disney Company Report , Comcast (CMCSA) - Get Comcast Corporation Class A Report and Time Warner (TWX) , is trading at 17 times earnings.
As the owner of five pay-TV channels, AMC is comparatively small, making it more vulnerable to the vicissitudes of audience preferences. Sapan often counters that AMC managed to follow up Mad Men with Breaking Bad and then The Walking Dead.
Yet even as AMC is home to five of the top 10 cable-TV shows this season, ratings for Into theBadlands and Better Call Saul aren't anywhere near the massive audiences generated last year by The Walking Dead. In fact, audiences for the show are about 40% lower than a year ago.
For a comparatively small company of cable TV networks, relying on blockbusters carries its own risks. Just ask DreamWorks Animation (DWA) , which finally had to agree to sell to Comcast. Sapan has never ruled out being acquired, though he's also made clear he's not shopping the company. Rather, he says he's confident AMC can continue to produce hit shows.
"There tends to be a focus on how any one show is doing at any one time," Sapan said June 9 at the Gabelli Movie & Entertainment Conference in New York. "Aren't you going to be challenged? My answer is yes to a degree, but not profoundly."
The question for AMC is whether it can sustain growth into 2017 and 2018. Judging from AMC's 2016 programs, Swingburne has his doubts.
"Walking Dead ad revenue should be resilient in the near term," he wrote. Yet "continued Walking Dead ratings declines should ultimately lead to revenue pressure."