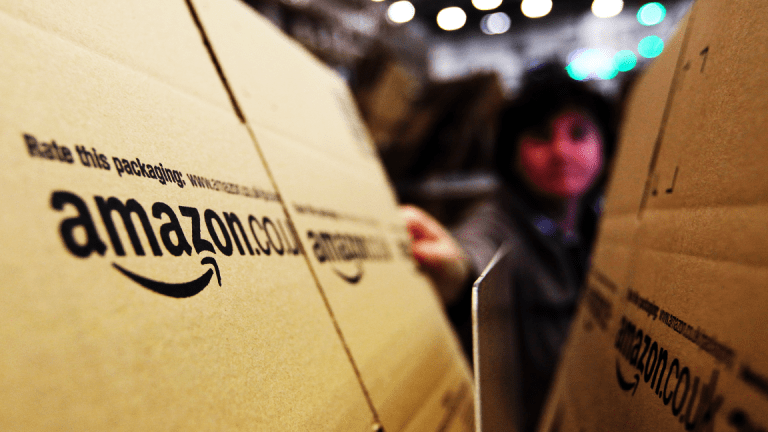 Amazon Wants to Use Your Car as a Mobile Warehouse - Here's What That Could Mean
An agreement between Amazon and GM to deliver packages to connected cars is a 'natural fit,' Morgan Stanley writes.
Amazon.com Inc. (AMZN) - Get Amazon.com Inc. Report has big plans for your car.
The ecommerce titan and Action Alerts PLUS holding recently announced a deal with General Motors Co. (GM) - Get General Motors Company Report in which Amazon packages can be delivered to as many as 7 million connected GM vehicles in the U.S. According to analysts at Morgan Stanley in a Wednesday note, the deal is a "natural fit between the online retailing giant and the [original equipment manufacturers (OEMs)]."
"We see this as the start of a number of domains where partnership can help solve a problem for Amazon while developing new business models for the OEMs," analysts said.
Here are seven ways Morgan Stanley sees this new partnership evolving.
Amazon recently announced it has more than 100 million Prime members, while GM has more than 100 million vehicles in operation throughout the world. While Amazon has a large, valuable subscriber base, GM brings to the table important and omnipresent physical assets on the road. "The opportunities for GM to help solve the geometric problem of shipping fulfillment for Amazon and other online retailers is fairly obvious," analysts said.
That's particularly important because Amazon spends "large sums" of money on shipping and fulfillment, which totaled $46 billion in line item expenses in 2017. Morgan Stanley expects that figure will balloon to $64 billion in 2018 and $292 billion by 2027. "To mitigate such a large expense, AMZN has a vested interest in taking the marginal cost of transportation to its lowest possible level," analysts said. "It is clearly taking steps to partner with companies that may assist in the expense-limiting mission."
End-market logistics could soon become a "vast and lucrative revenue opportunity" for auto companies, Morgan Stanley said. "To provide a sense of the magnitude of the opportunity...there are ~1.2 billion cars on earth with an average volume of 100 feet (including available passenger cabin and trunk space) for a total of ~120 billion cubic feet. This is the volumetric equivalent of more than 3,500 Empire State Buildings, space that could potentially be used for fulfillment and shipping purposes, particularly in the last mile," analysts pointed out.
GM could also collaborate beyond just in-vehicle storage and micro-warehousing, analysts said. There is ample opportunity for the car manufacturer to engage in final-mile delivery fulfillment, edge computing, digital content and customer engagement.
Cars of the future, which Morgan Stanley identified as "sensor-encrusted autonomous robots with high computer power and usable space for passengers and goods," and the inevitable high-tech environment in which they operate result in a growing addressable market and more opportunities for cost reduction.
The Amazon/GM deal is also "further evidence" that ecommerce leaders are those who come up with "creative solutions" to solve last-mile problems. "Until now, lockers or pickup points have been the preferred option of last mile delivery where to-home delivery is not an option. With AMZN seeking to gain access inside customers' cars (and homes, with the development/acquisition of doorbells, cameras, and in-home robots), it can offer more convenient and secure delivery to customers," analysts wrote.
Finally, Morgan Stanley submitted that this deal could help ecommerce at some point entirely bypass the last mile. It's the most expensive part of a company like Amazon's delivery process and supply chain - that's why many online retailers have pushed in-store pickup initiatives. But if Amazon could tap into what will likely soon be driverless cars, they can incentivize customers to send their cars to Amazon fulfillment centers for package pickup on their own, completely eliminating the need for Amazon to have a hand in last-mile delivery.