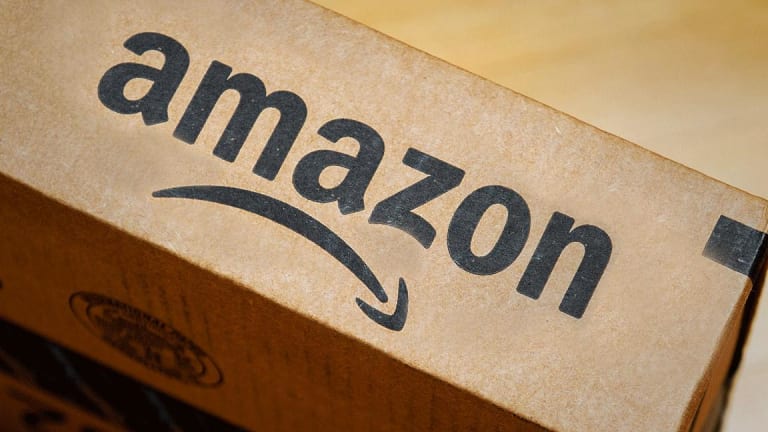 For Amazon, Unsafe Products Highlight a Growing Marketplace Problem
An investigation of Amazon's marketplace found thousands of items that have been banned or declared unsafe by regulators, or had misleading labels. Third-party sellers comprise an increasing proportion of items sold on Amazon.
Amazon.com shoppers shouldn't assume products are safe or regulated, according to a new report.
An investigation by the WSJ found 4,152 items for sale on Amazon (AMZN) - Get Free Report , ranging from baby strollers to medications and lightbulbs, that have either been declared unsafe, are deceptively labeled, or are outright banned by regulators. Amazon shares fell 3.1% to $1,749.62 on Friday amid a broader market selloff.
In one instance, a helmet purchased on Amazon that wasn't compliant under NHTSA guidelines was the subject of a lawsuit when the purchaser died in an accident. Other problematic items included children's toys that contained lead and jewelry with toxic chemicals. All of them were posted for sale by third-party sellers, many based in China, and dozens were promoted under the "Amazon's Choice" designation that boosts products with favorable ratings, prices and shipping time, according to the WSJ.
The investigation speaks to a thorny problem for Amazon: As its marketplace expands overall, Amazon has also become a premier destination for problem sellers. And its vetting process hasn't kept pace with an ever-increasing number of listings.  
"This is their #1 way to increase the number of products on their site in a price-competitive way," said Fareeha Ali of Internet Retailer, speaking of Amazon's relationship with third-party sellers. "We estimate there are 375 million products on Amazon -- so for them, the best they can do to get those products online immediately is to automate the process of approval."
In a statement on Friday, Amazon outlined the measures it takes to vet third-party sellers, writing that the process "includes a number of verifications and uses proprietary machine learning technology that stops bad actors before they can register or list a single product in our store." Amazon says it spent $400 million safeguarding its marketplace in 2018, and that it blocked more than 3 billion suspect listings before they were published last year.
"Our tools use natural language processing and machine learning, which means new information is fed into our tools daily so they can learn and constantly get better at proactively blocking suspicious products."
Counterfeit or other illegitimate goods on online marketplaces are nothing new, and companies such as eBay (EBAY) - Get Free Report invest significant sums to counteract problem sellers peddling bad products. For Amazon, however, an increasing reliance on third-party sellers -- alongside the broader expansion of its e-commerce business worldwide -- could make the problem even more challenging.
Third-party sellers make up a rapidly growing portion of total sales on Amazon. In 2018, sales from third-party sellers accounted for about 58% of total sales on Amazon -- a percentage that's increased steadily over the past few years, up from about 46% as of five years ago. In 2017 alone, more than one million new sellers started selling on Amazon, according to the e-commerce research group Marketplace Pulse.
From a profit perspective, Amazon has little incentive to tamp down the growth of marketplace sales versus its lower-margin, first-party retail business.   
"The larger issue is that third party sellers are becoming really important to Amazon," Ali added. "That's a good and bad thing -- largely a good thing, but it also gives them more challenges." 
The issue is analogous to Facebook's well-publicized troubles in vetting problematic accounts and content on its main site. In July of last year, Facebook revealed substantially greater spending on security, which led to a months-long slide in its stock price. As part of that security investment, Facebook pledged to hire thousands more human moderators to police content on Facebook, in addition to its algorithmic processes for weeding out bad actors or unsavory content. 
Adding a layer of manual review to every new seller or listing likely isn't feasible for Amazon, Ali added. 
"I don't foresee Amazon putting anything in place that would slow down their growth in U.S. online retail," she said. 
Along with Alphabet (GOOGL) - Get Free Report , Facebook (FB) - Get Free Report and Apple (AAPL) - Get Free Report , Amazon is facing multiple antitrust investigations in the U.S. and abroad focused on its marketplace practices.
Shares of Amazon are up 17% so far this year.
Amazon, Alphabet, Facebook and Apple are holdings in Jim Cramer's Action Alerts PLUS member club. Want to be alerted before Jim Cramer buys or sells these stocks?