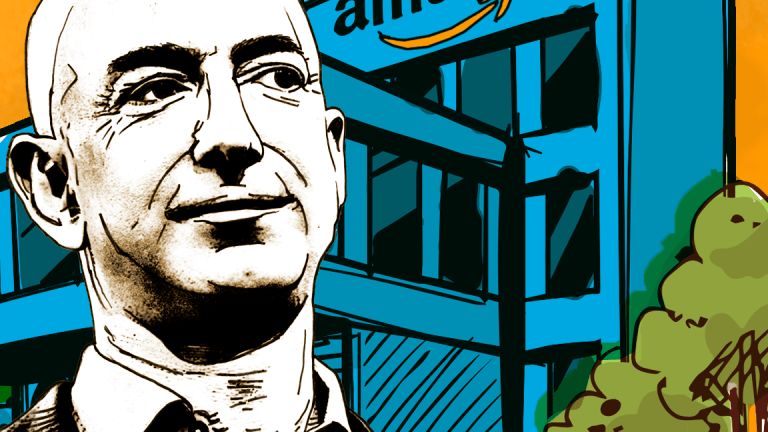 Amazon Falls in Spite of an Earnings Beat: 7 Key Takeaways
Though the e-commerce and cloud giant beat Q4 estimates, it issued a light Q1 revenue outlook and signaled its spending growth would accelerate.
Amazon.com's plans to pick up its recently-subdued spending pace are weighing on its stock in the aftermath of its latest earnings beat.
After the bell on Thursday, Jeff Bezos' company reported Q4 revenue of $72.38 billion (up 20% annually) and GAAP EPS of $6.04 (up 61%), topping consensus analyst estimates of $71.89 billion and $5.65. However, it also guided for revenue of $56 billion to $60 billion (up 10% to 18%) and operating income of $2.3 billion to $3.3 billion (up from $1.9 billion a year ago) in the current quarter. That compares with consensus estimates of $60.83 billion and $3.09 billion.
Check out Eric Jhonsa's new tech blog, Tech Check, on Real Money, our premium site for active investors.
Amazon shares initially didn't move a lot following the report's arrival. However, the stock sold off after CFO Brian Olsavsky signaled on Amazon's earnings call that its spending growth would accelerate in 2019. They finished after-hours trading down close to 5% and were down 4.6% to $1,639.48 in pre-market trading on Friday.
Here are some notable takeaways from Amazon's report and call.
1. Amazon's E-Commerce Operations Had Another Solid Quarter
Amazon's North American segment revenue (61% of total revenue) rose 18% to $44.12 billion, while its International segment saw revenue grow 15% to $20.83 billion. North American revenue slightly missed a $44.23 billion consensus, but this stemmed from $300 million-plus shortfall in "physical stores" revenue (more on this shortly) rather than e-commerce revenue streams.
International revenue topped a $20.49 billion consensus. Growth benefited from the timing of India's Diwali holiday relative to a year ago, but also saw a 4-percentage-point hit from forex swings. In Q1, Amazon expects forex to negatively impact its total revenue growth by 2.1 percentage points.
The North American unit is now highly profitable: Its GAAP operating profit rose 33% to $2.25 billion. The International segment posted (amid large Indian investments) a $642 million operating loss, after seeing a $919 million loss a year earlier.
2. The AWS Juggernaut Rolls on
Amazon Web Services (AWS) revenue rose 45% to $7.43 billion, beating a $7.29 billion consensus. The segment's operating profit grew 61% to $2.18 billion.
As the announcements made at its November re:Invent conference drove home, AWS remains one of a kind among public cloud platforms, even if there's still room for Microsoft (MSFT) - Get Microsoft Corporation Report and Alphabet/Google (GOOGL) - Get Alphabet Inc. Report (but maybe not many others) to prosper. And for a number of reasons, enterprise adoption of public cloud infrastructures continues growing at a brisk pace.
Amazon.com, Microsoft and Alphabet are holdings in Jim Cramer's Action Alerts PLUS member club. Want to be alerted before Jim Cramer buys or sells AMZN, MSFT or GOOGL? Learn more now.
3. Spending Growth Was Moderate, But That Could Soon Change
Continuing a trend seen in Q2 and Q3, moderate spending growth (given Amazon's revenue growth) boosted EPS. While marketing spend rose 41% to $4.9 billion and tech/content spend 21% to $7.7 billion, fulfillment spend rose only 12% to $10 billion and G&A spend just 7% to $1.1 billion.
Likewise, Amazon's total capital spending only rose 17% (much less than that of many other tech giants). Purchases of property and equipment via capital leases (fueled by AWS) rose 33% to $3.68 billion, but direct purchases of property and equipment (driven by retail infrastructure investments) rose just 3% to $3.73 billion.
However, on the call, Olsavsky called the 17% capex growth "a low number for us" given the growth seen by both AWS and Amazon's e-commerce operations, as well as its efforts to expand into new regions. He called 2018, a year in which Amazon only grew its fulfillment/shipping square footage by 15% and its headcount by 14%, "a lighter investment year" for both fixed investments and headcount.
"I would expect investments to increase relative to 2018, and we have reflected what we see so far in Q1 in our guidance," he said. Certainly, Amazon's history shows that it's not shy about stepping up its investment pace when it sees growth opportunities that justify doing so.
4. Amazon Thinks New Indian E-Commerce Rules Introduce Uncertainty
Recently, the Indian government began prohibiting foreign online retailers, who already couldn't directly sell products, from selling products from marketplace vendors that they have an equity stake in, as well as in striking exclusivity agreements with vendors. This just led Amazon to pull numerous items from its Indian website, including its Echo speakers.
When asked about India on the call, Olsavsky said Amazon's Q1 guidance reflects "the best estimate" it has for Indian sales. But he added "there is much uncertainty as to what the impact of the government rule change is going to have on the e-commerce sector there," and he made it clear Amazon doesn't think the rule changes are a positive for Indian consumers.
When subsequently asked whether the rule changes would lead Amazon, which has been investing billions in India, to change its strategy in the country, Olsavsky said Amazon still "[feels] very good about the long-term prospects in India." However, he also said Amazon is "still evaluating the situation."
5. Services Continued Driving Margin Expansion, But at a Slower Pace
In addition to reporting 45% AWS growth, Amazon reported its third-party seller services revenue rose 27% to $13.38 billion and its subscription revenue rose 25% to $3.95 billion. The company's "Other" revenue, which is driven in large part by Amazon's burgeoning ad business, officially rose 95% to $3.39 billion and grew around 38% after factoring the impact of a recent accounting change. For comparison, Amazon's "online stores" revenue, which covers direct e-commerce sales, grew 13% to $39.8 billion.
The continued growth of high-margin service revenue streams as a percentage of revenue helped Amazon's gross margin rise by 1.8 percentage points annually to 38.1%. However, that's a smaller increase than the 4.6-point increase seen in Q3.
A few factors were at work here. "Other" revenue was a little below expectations; subscription revenue saw a roughly $300 million hit from an accounting change related to how Prime subscriptions are recognized; Amazon's holiday season free shipping promo boosted shipping expenses ; the company passed the 1-year anniversary of its acquisition of Whole Foods (a relatively low-margin business) in August; and strong sales of Amazon's own devices, which the company treats as loss leaders, had a margin impact.
6. Whole Foods' Bricks-and-Mortar Revenue Fell...But Amazon Has an Explanation
Amazon's "physical stores" revenue, which for now mostly stems from Whole Foods, fell 3% to $4.4 billion, missing a $4.78 billion consensus. However, Olsavsky noted Amazon recorded 5 fewer days of Whole Foods revenue this year due to differences in Amazon and Whole Foods' pre-acquisition fiscal calendars, and that physical stores revenue doesn't include Whole Foods delivery and pickup orders placed online.
Adjusting for those factors, Whole Foods revenue is said to be up about 6%.
7. Trailing Free Cash Flow Grew Strongly
Though time will tell whether this trend continues amid a pickup in spending, Amazon's trailing 12-month (TTM) free cash flow (FCF) minus lease principal repayments and assets acquired under capital leases grew to $8.4 billion at the end of 2018. That's up from $5.4 billion at the end of Q3 and negative $1.5 billion at the end of 2017.
In addition to profit growth, FCF benefited from a 28% increase in Amazon's unearned revenue balance -- driven by revenue related to Prime and other subscription services that hasn't been recognized yet -- to $6.54 billion.
TheStreet's Eric Jhonsa previously covered Amazon's report and call through a live blog.
Score a Touchdown with Jim Cramer's Big Game Special
Get access to the best stock picks in Jim Cramer's investment portfolio by executing a two-minute drill on our Big Game Special on Action Alerts PLUS, Jim's VIP club for investors. Sign up now through Feb. 4 and receive 58% off of the normal subscription price. Now that's a real touchdown!