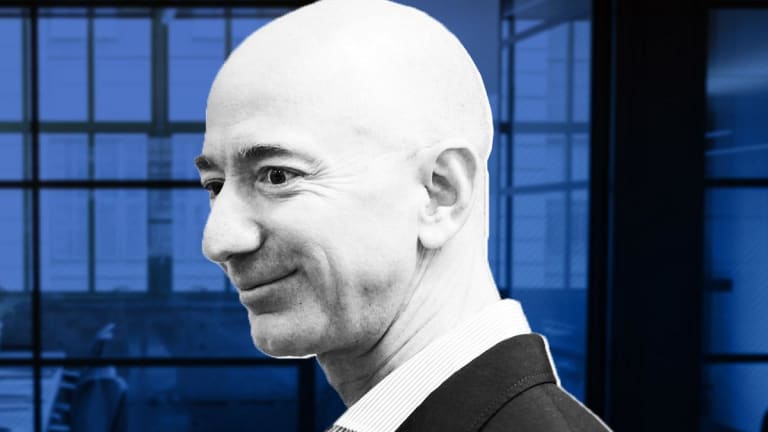 Why Amazon Should Issue a Tracking Stock for Its Cloud Division
2019 could be the year Amazon experiments with issuing a tracking stock for its economic interest in its AWS cloud computing unit.
2019 could be the year Amazon experiments with issuing a tracking stock for its economic interest in its AWS cloud computing unit.
Big Web companies such as Amazon (AMZN) - Get Report  routinely run what are called "A/B tests" in which they try out different versions of a product to see which ones consumers respond to more. For example, running banner ads on one part of a Web site might produce more clicks than another section. 
A similar kind of experiment can theoretically be tried in the marketplace for securities, testing the issuing of stock to see what investors respond to. Amazon could be just the sort of company to have a go at that experiment in 2019. It could be the year it tries out a tracking stock for its Amazon Web Services cloud computing unit, a separately traded stock that represents Amazon's economic interest in the unit.  
AWS, as it's known, has matured from a pet project in 2007 to a powerhouse for Amazon. Last year, the unit probably generated $25.6 billion in revenue and $7.2 billion in operating profit for the company, a nice 28% margin, based on Street estimates. That's in stark contrast to the 5% or so projected profit margin for the overall company. 
For that reason, many have long wondered when we might see a spin-out of AWS. It seems a large audience must exist that would rather own the prospects of the world's leading cloud business than a retail outfit heavily burdened by sunk costs of distribution and low-margin product sales. 
NYU business school professor and noted tech observer Scott Galloway recently offered as his "big prediction" for 2019 (or 2020) that Amazon will spin AWS out into its own company. His reasoning is that Amazon will want to avoid a government-mandated break-up of the company, and that Amazon has another high-margin business to take its place, its fast-growing media sales group. 
Galloway is probably over-estimating the risk of a break-up, however. The most explicit case in recent memory of a tech firm facing action for abusing consumer choice was the Microsoft (MSFT) - Get Report antitrust trial in the early Naughts. That suit did not break up Microsoft -- it barely did much at all, actually, even though Microsoft was found to have engaged in some anti-competitive behavior. 
In the case of Amazon, it's hard to find a company that seems more highly-associated with general customer satisfaction. Enjoying wider and wider selection, lower and lower prices and faster and faster delivery times, the average patron of the company would find the notion Amazon harms consumers rather perplexing. 
What's more, Amazon has good reason to want to keep AWS inside. It doesn't just bring in high profit margins -- it's a development platform for technical innovations that run through Amazon's operations. It's also how the company exports innovations it develops in its commerce operations to outside consumers of cloud computing. It's synergistic with the rest of Amazon, in other words. 
However, as a run-up to some eventual spin-off, or just to offer more ways to invest in Amazon, the company could issue tracking stock representing the unit. There's an immediate justification for such an issue: Amazon is widely held already, straining the interest of even the most devoted bull on the stock. It makes up 2.9% of the S&P 500, the third-biggest component behind Microsoft  (MSFT) - Get Report  and Apple (AAPL) - Get Report . Despite an October sell-off, the stock rose 26% last year. Over time it has become a larger and larger portion of some tech fund managers' portfolios, and they must trim back at some point as they reach their portfolio balancing limits because there's only so much they can own of a given stock. 
If investors view Amazon shares and the tracker as legitimately separate vehicles, a tracker might take a little pressure off by providing a second route to hold Amazon. 
Issuing a tracker is not complicated, and certainly for Amazon it's nowhere near as challenging a matter as it was for Dell. That company, privately held, issued a tracker  (DVMT)  for its economic interest in publicly-traded VMware  (VMW) - Get Report . It picked up that economic interest when it bought VMware parent EMC in September of 2016. In that case, because of Dell's aggressive tactics in buying EMC, the company created some hostile investors when it issued the tracker. Still, the tracker has done alright, closing up 7% last year, before Dell retired it and went public as its own company again last week.
Amazon would face one big challenge, though: potential depression of the primary AMZN shares. If people really, really like just buying AWS stock, they might trade out of AMZN outright. Something similar happened back when EMC owned most of VMware: its own stock was never worth much above the embedded value of VMware.
But, hey, that's the kind of thing one tests for in an experiment. And as we've seen with Amazon HQ2, Amazon likes to experiment. 
Amazon, Apple and Microsoft are holdings in Jim Cramer's Action Alerts PLUS member club. Want to be alerted before Jim Cramer buys or sells AMZN, AAPL or MSFT? Learn more now.
Tiernan Ray owns no shares of any companies discussed in this article.