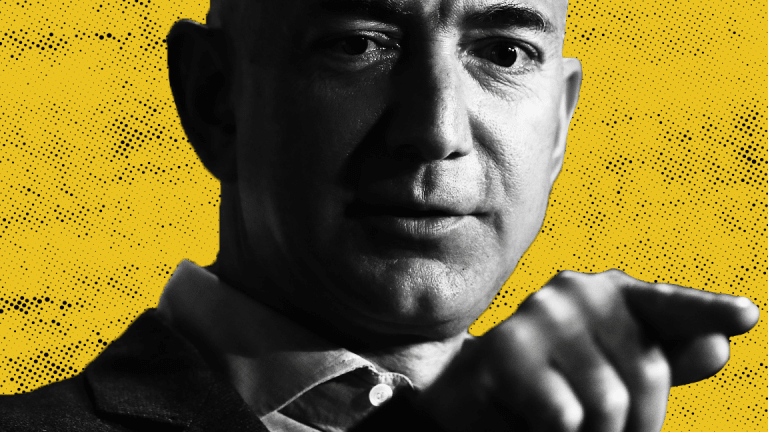 Amazon's Q2 Earnings Report: 5 Key Things to Watch
Another quarter of strong e-commerce and cloud growth -- and heavy spending -- is expected from Jeff Bezos's firm.
Ahead of Amazon.com's (AMZN) Q2 report, markets are as enthusiastic about Jeff Bezos's juggernaut as they've ever been.
With the help of strong Q4 and Q1 reports, as well as general enthusiasm for its long-term commerce and cloud opportunities, Amazon's shares have risen over 55% this year, and are now up more than 500% since early 2015. Naturally, that spells a limited margin of error for the Q2 report, which arrives after the close on Thursday and will be followed by an earnings call that starts at 5:30 P.M. Eastern Time.
TheStreet will be live-blogging Amazon earnings report and call after the close on Thursday, July 26. Please check our home page then for more details.
On average, analysts polled by FactSet expect Amazon to post Q2 revenue of $53.37 billion and GAAP EPS of $2.48. The revenue consensus officially translates into 41% annual growth, and perhaps around 29% growth after backing out the impact of the Whole Foods acquisition, which closed last August.
Amazon usually provides quarterly sales and operating income guidance within its report. For Q3, whose sales include those from Amazon's recently-concluded Prime Day event, the consensus is for revenue of $58.07 billion and operating income of $1.73 billion.
In addition to its main quarterly numbers and guidance, here are a few things for investors to keep an eye on.
1. North American and International Segment Growth
These two segments cover Amazon's e-commerce operations, and both have been seeing brisk growth thanks to both share gains and broader e-commerce strength. For Q2, the consensus is for North American revenue of $32.21 billion -- that officially spells 44% growth, and around 25% growth after backing out Whole Foods.
International revenue is expected to rise 32% to $15.14 billion. In addition to European and Indian growth, a weak dollar has been giving a lift to this segment; in Q1, International revenue grew 34% in dollars, but just 21% in constant currency. With the dollar having strengthened in recent months, the segment probably got a smaller forex boost in Q2.
2. Amazon Web Services (AWS) Growth and Profitability
All signs point to AWS turning in another strong quarter, as the Amazon unit benefits from growing enterprise public cloud adoption, healthy IT spending and its many competitive strengths (feature set, ecosystem, scale, etc.). The consensus is for AWS revenue to rise 46% to $5.98 billion, after having grown 49% in Q1 to $5.44 billion. Last week, top public cloud rival Microsoft (MSFT) reported 89% growth for its Azure cloud segment.
Also keep an eye on AWS's operating income -- with the North American and International segments' bottom lines pressured by Amazon's investment pace, AWS has been the company's most profitable unit. For Q2, the consensus is for AWS operating income to rise 60% to $1.47 billion.
3. Margin Trends
Amazon's gross margin (GM) has been steadily rising, thanks to a revenue mix shift towards higher-margin services revenue streams (AWS, third-party seller services, Prime subscription fees and ads) relative to direct e-commerce sales. GM rose by 2.6 percentage points annually in Q1 to 39.8%, and the consensus is for it to rise 2.2 points year over year in Q2 to 40.4%.
4. Spending Growth
Needless to say, Amazon has been spending at a heady pace, as the company makes large investments in everything from warehouses to Prime Video content to data centers to software, cloud and AI/machine learning R&D. In Q1, Amazon's fulfillment, marketing and tech/content spending rose 66%, 41% and 40%, respectively.
More of the same is expected in Q2. It's worth keeping in mind here that given Amazon's spending has been yielding low North American segment profit margins and negative International margins, just a moderate acceleration or slowdown in Amazon's spending growth could lead EPS to come in well above or well below expectations.
5. E-Commerce Ad Sales
Though still much smaller than Alphabet/Google (GOOGL) and Facebook's (FB) ad businesses, Amazon's ad operations appear to have hit an inflection point, as retailers increase their spending on Amazon ads shown on the company's properties and (to a lesser extent) elsewhere. In Q1, after backing out the impact of an accounting change, Amazon's "Other" revenue, which is dominated by ads, rose 72% to $1.47 billion; officially, revenue was up 139% to $2.03 billion.
Judging by third-party data and anecdotal commentary from advertisers, Q2 was likely another good quarter for Amazon's ad business. Before backing out the accounting change's impact, the Q2 consensus is for Other revenue to have grown 120% to $2.09 billion.
Amazon.com, Microsoft, Alphabet and Facebook are holdings in Jim Cramer's Action Alerts PLUS member club. Want to be alerted before Jim Cramer buys or sells AMZN, MSFT, GOOGL or FB? Learn more now.