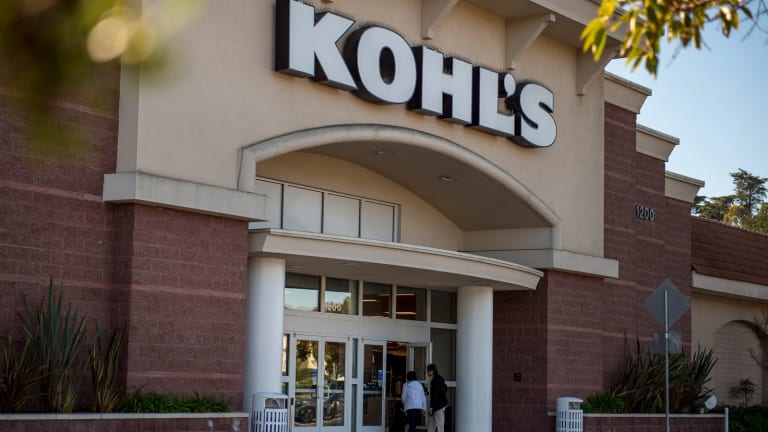 News made the rounds on Tuesday that Loup Venture (co-founded by analyst Gene Munster) had gone out on a limb and made the case among several 2018 tech sector predictions that Amazon (AMZN) - Get Amazon.com, Inc. Report might make some kind of play for Target (TGT) - Get Target Corporation Report at some point during this year. True, Target has 1800 U.S. stores and has at least traditionally been Walmart's (WMT) - Get Walmart Inc. Report biggest bricks-and-mortar rival. True, Target has made strides toward improving itself, particularly from an e-commerce perspective.
I just see this differently -- and I may be talking my own book, so keep that in perspective while judging my opinions. One tends to be the last to know, when one loses their own objectivity. You all know that I have pounded the table for most of the past year about Walmart and Kohl's (KSS) - Get Kohl's Corporation (KSS) Report . In fact, I am fairly certain that among financial talking heads, I was indeed first to Walmart. Now, both of these have been outstanding long positions on my book, and it is hard not to fall in love when a long position takes off like this, and pays a nice dividend. That is the case with KSS (4% yield).
One reason that I stayed long Kohl's is that I also believe that Amazon will look to spread its wings in a physical sense. By the way, Kohl's has 1166 physical stores in the U.S. itself, so nationwide exposure is not a problem there. Kohl's has also made tremendous inroads toward the "family" demographic as a stand-alone discounter of apparel, jewelry, kitchen-ware, toys, shoes, you name it, except groceries. Target is a grocer. Kohl's is not. Amazon has already bought and paid for Whole Foods. That's 470 physical locations that Amazon already has in its hip pocket.
Does Amazon buy Target? Maybe. Would not be the first time I was wrong about something in my life. Just feels more to me like Amazon and Walmart are respectively the leaders in e-commerce and physical retail. Both are looking to find ways to compete on the other's turf. Those outside of the big two need to find either a niche or an ally to survive in decent shape. Kohl's, for now, has that alliance. Target, in my humble opinion, due to some duplication of services, would have to come real cheap.
Chart of the Day: TGT vs. KSS since Oct. 18
(This is an excerpt from Stephen "Sarge" Guilfoyle's Morning Recon, which now appears exclusively on Real Money, our premium site for active traders. Click here for a free 14-day trial and receive Morning Recon every day, along with exclusive columns from Jim Cramer, James "RevShark" DePorre, technical analyst Bruce Kamich and more.)
More of What's Trending on TheStreet:
At the time of publication, Stephen Guilfoyle was long AMZN, WMT, KSS, although positions may change at any time.