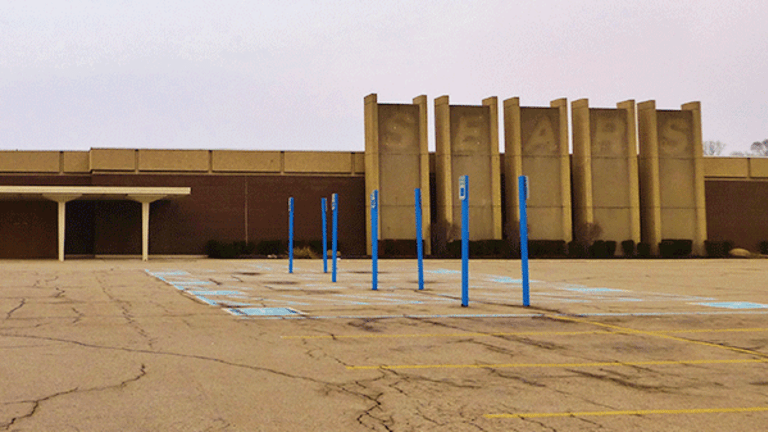 Amazon Has Killed the Mall and You Are Really Dumb for Thinking Otherwise
Don't be fooled here.
There was a good, but misplaced, thought stemming from Nordstrom's (JWN) - Get Reportrecent decision to put itself up for sale.
That is after years of stock price carnage brought on by Amazon's (AMZN) - Get Report advance, department store stalwarts such as Macy's (M) - Get Report , J.C. Penney (JCP) - Get Report and Sears Holdings Corp. (SHLD) had finally reached attractive valuations. Unfortunately, the Amazon deal for Whole Foods Market (WFM) has suggested that logic is tragically flawed. Shares of the aforementioned retailers have continued to plunge, and weren't helped at all by news on Wednesday of an Amazon/Nike (NKE) - Get Report tie-up.
The reality on bricks-and-mortar retail right now is this: valuations have not reached a bottom. As long as Amazon continues to charge as hard as it has been, the market will take it as pressured profit margins are poised to become even worse. How we will know when valuations have troughed: when Amazon bids for Macy's.
What's Hot On TheStreet
American Airlines to be owned by a foreigner, maybe, partially: Qatar Airways said Thursday that it wants to buy 10% of American Airlines (AAL) - Get Report , a development with so many side stories it's almost comical. TheStreet's airlines correspondent Ted Reed talked with a source who didn't hold back their thoughts on this proposed deal.
Tesla still doesn't deserve it valuation: Tesla (TSLA) - Get Report fanboys have just gained their daily pound of flesh. The electric car company has reportedly reached a deal with officials in China to open a production facility in the world's biggest clean-energy car market. The deal would likely allow it to form a joint-venture with a China-based partner and avoid the 25% tariff applied to imported vehicles. The move would also substantially cut shipping and production costs when compared to Tesla's facility in Nevada, TheStreet's Martin Baccardax reports.
Tesla is now valued at an insane $61 billion...and counting. 
What was this Kroger exec drinking: Maybe this Kroger (KR) - Get Report fella has been up too late studying the aftershocks of Amazon's (AMZN) - Get Report big deal for Whole Foods (WFM) . "I'm glad their stores are finally open," Kroger CFO Michael Schlotman said about German rival Lidl at Oppenheimer's Consumer Conference Wednesday. Schlotman said he is excited, in fact he feels "great about it," to finally start seeing if the preparations Kroger put in place to compete with Lidl will stand the heat. TheStreet's Lindsay Rittenhousewas all over this bizarre exchange.
Having your profit margins crushed by a ruthless German grocer shouldn't be exciting, Kroger. 
Don't forget about Intel: Advanced Micro Devices (AMD) - Get Reportmay beat Intel Corp. (INTC) - Get Report to selling the fastest computer chip this year, but the technology giant is working on other projects that are pushing the limits.
From artificial intelligence to drones, Intel is working to connect everything to the internet to collect data that can be used to improve safety, efficiency and lifestyles. Whether it is helping athletes perform better or making cars autonomous, Intel's technology is working to transform multiple industries. Here's 11 cool projects Intel is working on that investors seem to have forgotten about.
We went, we saw, we came away with great insight: TheStreet unloaded epic amounts of high-quality stories (before anyone else) from Alibaba's (BABA) - Get Report big hiring event in Detroit this week. Hat tip to TheStreet's Natalie Walters for leaving it all on the field with yours truly. You can read all of the pieces here, and you really should. 
I went into the event having a decent handle on Alibaba, but came away better understanding Wall Street's growing enthusiasm for the company. Is the business challenging to understand? Yes, as it's a digital beast in a country most people have never visited. But overall, Alibaba's founder Jack Ma has the company headed in the right direction in a booming China e-commerce market. Not a bad place to be looking out over the next 10 years. 
Visit here for the latest business headlines.
Employees of TheStreet are restricted from trading individual securities.