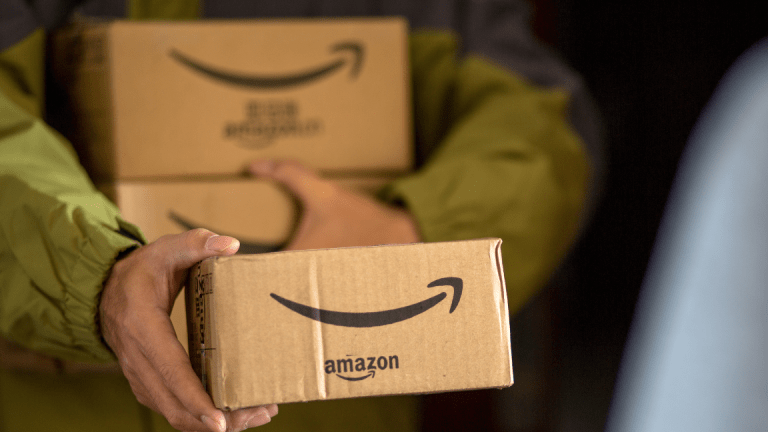 Publish date:
Amazon, Facebook and Microsoft Report Earnings Soon: What to Look For
Amazon's fourth sales guidance, Facebook's spending guidance and Microsoft's "legacy" businesses are among the things to keep an eye on.
Amazon's fourth sales guidance, Facebook's spending guidance and Microsoft's "legacy" businesses are among the things to keep an eye on.
Here's a look at what to keep an eye on as Amazon.com Inc. (AMZN) - Get Report , Microsoft Corp. (MSFT) - Get Report and Facebook Inc. (FB) - Get Report report their calendar Q3 numbers in the coming weeks. Apple, Alphabet and Netflix's earnings reports were previewed earlier.
Amazon
Jeff Bezos' company hasn't yet set an earnings date, but typically delivers its Q3 around the last week of October. On average, analysts polled by FactSet expect revenue of $41.3 billion (up 26% annually) and GAAP EPS of $0.03. Sales will get a boost from the late-August closing of Amazon's $13.4 billion purchase of Whole Foods, which posted $3.7 billion in revenue during its July quarter. What to watch:
Q4 sales guidance. Q4 accounted for 32% of Amazon's 2016 revenue, and should claim 30%-plus share this year as well. For that reason, Amazon's outlook for the quarter will probably have a bigger impact on how its shares move post-earnings than its Q3 sales print. The analyst consensus is currently at $54.3 billion (implies 24% annual growth).
North American e-commerce segment growth. It has accelerated each of the past two quarters, as Amazon Prime turns into a way of life for more and more Americans. Can Amazon continue its momentum in the face of Walmart's attempts to slow it down? The consensus is for the segment's revenue to grow 26%, to $23.8 billion; odds are that some (though likely not all) of these estimates take Whole Foods into account.
AWS' growth. It slowed to 43% from 55% in Q1, and came in at 42% in Q2. Amazon is still quite dominant in the public cloud infrastructure market, but the law of large numbers -- and to a lesser extent tougher competition from Microsoft and Google -- might be catching up with it some. Can price cuts and aggressive efforts to land big enterprise deals reverse the trend? The consensus is for AWS revenue to rise 40% in Q3 to $4.52 billion.
Prime's growth. Amazon still doesn't break out its Prime subscriber count, but it has begun sharing its retail subscription services revenue, which from all signs is dominated by Prime membership fees. It grew 51% in Q2 to $2.17 billion. Over the past few months, Amazon has stepped up its efforts to get lower-income consumers to sign up for Prime, in part by offering discounted memberships to those on government-assistance programs.
Spending. After slowing down its spending growth for much of 2015 and 2016, Amazon -- apparently banking on the goodwill Wall Street has been providing it -- is back to its old heavy-spending ways. This led it to miss Q2 EPS estimates in spite of a revenue beat and healthy gross margin growth, and also issues subdued Q3 operating income guidance. Look for the company to once more report big increases in fulfillment spend, tech/content spend and capex.
Facebook
Facebook, which has delivered a long string of sales/EPS beats, reports on the afternoon of Nov. 1. The consensus is for revenue of $9.85 billion (up 41%) and GAAP EPS of $1.27. What to watch:
Ad sales growth, and its contributing factors. Facebook's ad sales, which account for the lion's share of its revenue, rose 47% in Q2 to $9.16 billion, a rate not far removed from Q1's 51% and Q4 2016's 53%. This growth was driven by a 19% increase in the number of ad impressions for which Facebook recorded revenue, and a 24% increase in average price per ad. Management has been warning for a while that ad growth will be pressured starting in the second half of 2017 by the fact that Facebook will no longer see major increases in ad load (the amount of ads it shows over a given amount of viewing time) for its core news feed. The company still has other levers to grow ad sales, such as user growth, higher ad prices, Instagram and the company's Watch video platform (and further down the line, Messenger and WhatsApp), but the impact of diminishing ad load growth certainly bears watching. The consensus is for ad revenue to grow 42% in Q3 to $9.71 billion.
Daily active users (DAUs). DAUs for Facebook's core platform and Messenger rose 3% sequentially and 17% annually in Q2 to 1.33 billion. Though those are impressive numbers for a company of Facebook's size, sequential DAU growth trailed the 4% sequential growth seen in monthly active users (MAUs), after many quarters of outpacing MAU growth. That points to slightly lower per-user engagement. The Q3 report should provide us with a better idea of whether this was a one-time blip, or something to be more concerned about. From the looks of things, Facebook has been getting more aggressive about sending notifications to users in an attempt to get them to visit its site and apps more often.
Spending guidance. In July, investors cheered Facebook's cutting of its annual spending guidance: The company now forecasts 40% to 45% GAAP cost and expense growth (adjusted from prior 40% to 50%), and predicted its capital spending would be at the low end of a $7 billion to $7.5 billion guidance range. Much like Amazon, markets have signaled that they trust Facebook to make big investments wisely. Nonetheless, there will likely be another positive reaction if Facebook once more cuts its spending plans.
Ad product commentary. Mark Zuckerberg mentioned on Facebook's Q2 earnings call that he wants his company to speed up the pace at which it monetizes its messaging apps. Look for analysts to press management once more on what they're planning. Any commentary given about Facebook's efforts to grow video ad sales will also be closely watched, particularly given reports of early issues with the mid-stream video ads it has begun running against professional content.
Microsoft
Microsoft, which in recent quarters has been guiding conservatively and subsequently beating estimates, reports after the close on Oct. 26. The consensus is for revenue of $23.45 billion (up 5% annually) and GAAP EPS of $0.70. What to watch:
"Legacy" business growth. Both Microsoft's Windows cash cow and its on-premise (non-cloud) server software have been better than expected in recent quarters. In spite of a declining PC market, Windows OEM license revenue rose 1% in the June quarter and Windows commercial product and cloud service revenue rose 8%. And server product revenue, aided by well-received refreshes for Windows Server and the SQL Server database, grew 4%. Can Microsoft keep it up?
Office 365 and Azure. Microsoft's most important cloud businesses will naturally get a lot of attention. The company's success at growing Office's addressable market via Office 365 led Office commercial revenue to grow 5% last quarter, and Office consumer revenue to grow 13%. Azure revenue rose a heady 97%, but Microsoft unfortunately still doesn't share a specific revenue number.
Surface revenue. It fell 2% in the June quarter. How much of a boost did Microsoft get in the September quarter from the mid-June arrival of a new Surface Pro convertible? Reviews for the device weren't bad, but there was some disappointment over a lack of major hardware changes outside of new processors and a revamped kickstand.
Gross margin. It came in at 66% in the June quarter and -- in a story that Oracle, IBM and other enterprise software firms can relate to -- has been pressured some by a sales mix shift from traditional software licenses to cloud subscriptions. Microsoft's gross margin for commercial cloud apps and services -- it was 52% last quarter, up from 42% a year earlier -- will especially get close attention.
More of What's Trending on TheStreet:
Jim Cramer and the AAP team hold a position in Apple for their
Action Alerts PLUS Charitable Trust Portfolio
.