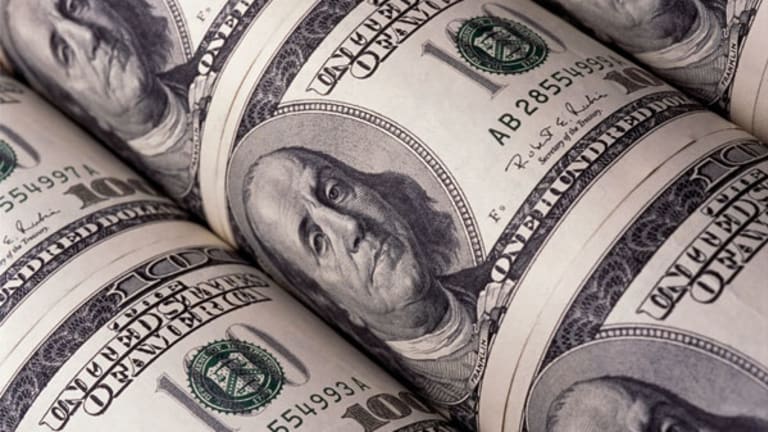 Publish date:
Amazon, DuPont, Apple: Doug Kass' Views
Doug Kass shares his thoughts and feelings on DuPont and Apple, as well as on shorting Amazon.
Doug Kass shares his thoughts and feelings on DuPont and Apple, as well as on shorting Amazon.
Doug Kass shares his views every day on RealMoneyPro. Click here for a real-time look at his insights and musings.
Feelings ...
Originally published Oct. 27 at 2:22 p.m. EDT
"Feelings, nothing more than feelings,
Trying to forget my feelings of love.
Teardrops rolling down on my face,
Trying to forget my feelings of love"
-- Morris Albert, "Feelings"
I feel, more than ever, that a Generational Bottom in Yields was made in July 2016. Here and here. The 10-year U.S. note just crossed over 1.85%.
Speaking of fixed income, for the second day in a row the junk bond market is falling. (Remember, Tom Lee was on "Squawk Box" and mentioned the high-yield market's strength at buttressing stocks. I disagree respectfully with Tom.) I would not be long Blackstone/GSO Strategic Credit Fund (BGB) - Get Report .
And in non-taxable fixed income, note the accumulating weakness in closed-end municipal bond funds. I would be out of this space.
In terms of sector exposure to rising rates, I have shorted and have highlighted REITs. I remain short iShares Dow Jones US Real Estate ETF (IYR) - Get Report (and I have added to the short exposure recently). IYR appears to be rolling over badly.
The market is growing more volatile and unpredictable. Ramps haven't held recently, raising serious questions about the sustainability of the bull market that began at the generational bottom in the first week of March 2009.
Peak Autos is here. Ford's reduced production schedules underscore my thesis.(Technically F is at the fall line -- a close below $11.60 is quite negative). I was an early proponent of this -- as I am now in Peak Housing.
I am also committed to Peak Apple.
Considering above (weakness in retail, auto and housing), I don't believe technology will be immune to the downdraft, and a day ago I substantially increased my QQQ short.
For the second day in a row the Russell 2000 Index is performing poorly (absolute and relative). This, too, could be a negative "market tell."
I feel good about escalating my short exposure in the last few days -- at least as much as you can in this unpredictable market. Breadth is deteriorating in a "death by a thousand cuts."
I am maintaining my Amazon (AMZN) - Get Reporttrading short (rental) into earnings. Logic and valuation haven't mattered for a while in this name, as the company is a religion (much like Amazon was two years ago. Keep me in your prayers regarding the EPS report! (I have sized this small.)
DuPont (DD) - Get Report (my favorite large-cap long) is DuLovely and is about to make a new yearly high, while Fastenal (FAST) - Get Report seems likely to make a new yearly low.
I promised to deliver upside/downside in both my longs and shorts. Apple (AAPL) - Get Report is currently trading at about $115 a share. Here is my 12-month reward vs. risk on Apple (I have increased both the downside and upside by $5 a share principally due to the Samsung smart phone problems, which will modestly buoy EPS results): Upside $120 (4%); downside $100 (14%). The reward vs. risk is sufficiently unattractive to add to my short in Apple at these prices.
Position: Long DD, SDS large; short IYR, SPY, FAST, QQQ, TLT small, AMZN small, F small, GM small, IWM small .
My Takeaways and Observations
Originally published Oct. 26 at 4:42 p.m. EDT
A short "Takeaways" as I have to prepare for some morning meetings.
1. Jim "El Capitan" Cramer is insecure.
2. Tim "What The" Hesselsweet on an analysis of a Gundlach indicator.
3. Mike "Stormin'" Norman on the election.
4. RevShark also on the election.
5. Tim "Not Judy or Phil" Collins on Amazon (a subject dear to me).
Down, up, down -- in a relatively volatile session.
I am comfortable with Tuesday's bearish moves.
I sold more (short) Wednesday on the surprising (at least to me!) ramp midday.
The bearish positives.
The U.S. dollar weakened.
The price of crude retreated by $0.85 to under $50 a barrel.
Gold gave up half of yesterday's gain ($6).
Ag commodities generally rose: wheat $0.07, corn $0.05, soybeans %0.019 and oats $0.04.
Lumber fell $2.
Bonds fell in price and rose in yield. The 10-year yield and long bond rose by three basis points.
The 2s/10s spread widened by two basis points to 93 basis points.
Municipals fell as did closed-end muni bond funds.
Junk bond yields followed energy prices lower. The Blackstone/GSO Strategic Credit Fund (BGB) - Get Report , however, was up $0.04.
Banks prospered (as the yield curve steepened), hitting new multi-month highs.
Brokerages also rose as did insurance stocks. Long Hartford Financial (HIG) - Get Report outperformed (up 2%).
Retail continued weak, led by a Lowe's (LOW) - Get Report downgrade inspired drop.
Old tech rallied, led by IBM (IBM) - Get Report .
Autos were uninspiring especially given General Motors' (GM) - Get Report beat on Tuesday.
Energy stocks were lower but fared better than the drop in crude oil prices.
Biotech fizzled, led by a decline of $3 in Allergan (AGN) - Get Report , though Gilead Sciences (GILD) - Get Report and Celgene (CELG) - Get Report rallied.
Comcast (CMCSA) - Get Report was a conspicuous weak stock in media -- though Disney (DIS) - Get Report advanced.
Consumer staples down fractionally even as the U.S. dollar weakens.

(T)FANG, as noted previously, was weak led by Amazon (AMZN) - Get Report , a recent trading short rental.

Tesla (TSLA) - Get Report earnings will be reported after the close.

(In names, normal profit taking again at DuPont (DD) - Get Report . While Oaktree Capital (OAK) - Get Report seems to be turning a bit.

REITs, the object of my dissatisfaction, continued to get hit today.
Here are some value-added contributions on our site:
Position: Long HIG, DD, OAK, SDS, GLD; short SPY, XLF, NFLX, GM, C, JPM, TLT, IYR.
Action Alerts PLUS, which Cramer co-manages as a charitable trust, is long AAPL, AGN, CMCSA.
At the time of publication, Kass and/or his funds were long/short XXX, although holdings can change at any time.
Doug Kass is the president of Seabreeze Partners Management Inc. Under no circumstances does this information represent a recommendation to buy, sell or hold any security.