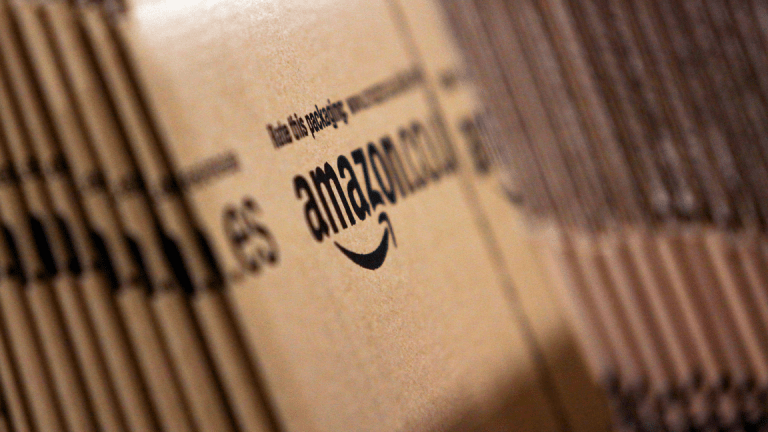 Amazon Could Rocket Another 15% on Earnings Beat
Amazon's stock is still going wild after earnings. Here's the trade.
Amazon (AMZN) is the one to beat.
Traders might have felt like the markets were dangerous places as the closing bell rang last night. Amazon (AMZN) closed at $1808, down nearly 3% on the day, or in dollar terms $55.61. Thank Facebook (FB) for forcing the entire Nasdaq Composite undefined into a tailspin in what was -- at least in certain spots -- a strong day for equity markets. However, Amazon is not Facebook, and Jeff Bezos is not Mark Zuckerberg, at least not on this day.
Amazon missed expectations for revenue (still +39.4% year-on-year) you say? Amazon crushed expectations for profitability, I say. It would be easy to say that the real story is Amazon Web Services. After all, AWS is top dog in the still rapidly expanding business line simply known as "the cloud," but performance was strong across the entire firm. I could throw a lot of numbers at you, which would bore you and cause you to go read something else, so I'll just leave you with this. operating income.
This print hit the tape at $3 billion. Last year, this number was $678 million, and guidance for this quarter stood at a lofty $1.73 billion. Crushed it.
In addition to AWS, strength was seen in Subscription Services (Prime, etc.), and Third Party Sellers -- who pay the firm a commission. Moving forward for the third quarter, the firm's own guidance again seems to be just a little below consensus view for revenue -- but also, again, well above consensus for operating income.
One thing is certain. While old-school retailers might still look at Amazon as a "Death Star" willing to spend just so it might take market share, that this is now a well-rounded corporation that has, over years, made the jump from cash burn to highly profitable, and on expanding margins across nearly all business lines. By the way, the pajama crowd has this name up more overnight than it was down during Thursday's regular session.
It seem like just yesterday (it was 10 days ago) that I raised my price target for Amazon to $1950 from $1850, and I raised my panic point for this name from $1350 to $1540. What the chart on Amazon immediately offers the observer is that traders and algorithms have used the lower trend line of the Pitchfork model as an obvious pivot. That could very well end today, as that line now has it's best chance to finally become an honest line of support.
This morning, you will see an extension of the positive Money Flow, and you will see Relative Strength reverse sharply from yesterday's slide. As for the daily Moving Average Convergence Divergence, the 12-day EMA will distinctly pull away from the 26-day EMA, while the nine-day makes a noticeable surge north of the zero line. This is all the kind of stuff that gets short-term traders fired up.
At some point this morning, there will be a selloff. All you need to see is support come in above this week's $1863 high for a bullish look going into the weekend. Am I long this Action Alerts PLUS holding? Wouldn't have it any other way.
Inside the Trade
Price Target: $2075 (up from 1950)
Replenishment Point: $1660 (reiteration)
Panic Point: $1540 (reiteration, under review)
If I were not already long the name, and I were inclined to initiate a long position today, I would wait for the dip. It's one thing to buy the name in anticipation of expected support above $1850; it's another to chase the name as if they stole your licorice. Then again, do what you want, it's your money. I'm the guy that loaded up on Eric Lindros rookie cards. Not opposed at all to playing the name through the options markets, just impossible to guess at how premiums will be valued until these markets open.
Free White Paper: 7 Things All Investors Must Know in 2018. Start the second half off right with our free white paper on seven key things to watch this year. From how much cash to have on hand to the three reasons this bull market might die, our white paper features key takeaways from an all-star panel that TheStreet and Fisher Investments recently hosted in New York. Click here to register for your free online copy.
At the time of publication, Guilfoyle was long AMZN equity.