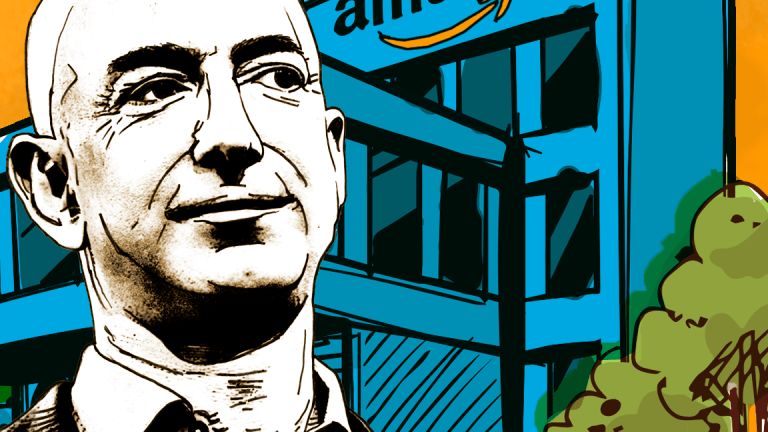 Amazon Is as Well-Positioned as Anyone to Create a Smart Home Robot
Amazon's AI, robotics and voice assistant investments could help its robot efforts succeed. But large-scale success will probably take some time.
After seeing untold numbers of startups and consumer electronics firms show off home robots at CES the last two years, it seemed only a matter of time to me before someone built a versatile robot with a popular voice assistant service that became a hit with consumers.
However, in my estimation, Amazon.com (AMZN) - Get Amazon.com Inc. Report -- or just maybe another consumer tech giant such as Alphabet/Google (GOOGL) - Get Alphabet Inc. Report or Apple (AAPL) - Get Apple Inc. Report -- was much more likely to pull off this feat than a startup, given the many competitive advantages it could bring to the table. Judging by a new Bloomberg report, Jeff Bezos & Co. are at least exploring the possibility that Amazon could bring a popular home robot to market.
Sources tell Bloomberg's Mark Gurman and Brad Stone that Amazon's Lab126 hardware R&D unit "has embarked on an ambitious, top-secret plan to build a domestic robot." The project, codenamed Vesta, is said to have launched a few years ago and recently seen a hiring ramp. Amazon reportedly hopes to "begin seeding [its] robots in employees' homes by the end of this year, and potentially with consumers as early as 2019."
Jim Cramer and the AAP team hold positions in Amazon, Apple and Alphabet for their Action Alerts PLUS Charitable Trust Portfolio. Want to be alerted before Cramer buys or sells AMZN, AAPL or GOOGL? Learn more now.
As of the time of this article, home cleaning robot maker iRobot's (IRBT) - Get iRobot Corporation Report shares are down over 6% on the news. And though it makes surgical robots rather than anything meant for homes, Intuitive Surgical  (ISRG) - Get Intuitive Surgical Inc. Report is down close to 2%. As usual, Wall Street immediately trembles on any sign that Amazon plans to further expand its reach.
Details remain vague about what Amazon's robot will look like, should it launch. However, Bloomberg does note its sources "speculate that the Vesta robot could be a sort of mobile Alexa," and that prototype robots "have advanced cameras and computer vision software and can navigate through homes like a self-driving car."
Though it's still early days, the robots launched and demoed to date by other firms provide some idea of what an Amazon robot could do. Startup Ubtech's Lynx robot, for example, is powered by Amazon's Alexa assistant and can control smart home devices relying on Alexa. It also has a camera that lets users remotely see what the robot is seeing, and a "Surveillance Mode" that takes a short video clip when the robot's motion sensor is activated.
The Aeolus Robot, which got plenty of attention at this year's CES, was shown delivering drinks and vacuuming floors during demos; its creators promise the robot will integrate with popular voice assistants. LG has shown off a robot that can act as a smart-home hub, as well as a line of robots meant for hotels, airports and other venues servicing consumers (they can do things like carry bags and groceries). And last week, Sony (SNE) - Get Sony Corp. Report announced it's forming an R&D partnership with Carnegie Mellon related to developing cooking robots.
Should Amazon join the fray, one could also see the company pitching its robot as an entertainment device: With the help of Alexa and a built-in display and speaker, it could be used to entertain kids and play music and videos. And given the recent launch of the Amazon Key in-home delivery service, as well as Amazon's deal to buy smart doorbell maker Ring, the robot could also be used to monitor package deliveries when its owner(s) is away from home.
But some major hurdles still need to be cleared for a home-robot line to take off the way that, say, Amazon's Echo smart speaker line has. Cost is a big one: The processors, sensors and mechanical subsystems needed for a truly useful and versatile robot don't come cheap. Ubtech's Lynx, it should be noted, costs $762 on Amazon in spite of being just 18 inches tall. Aeolus hasn't yet given a price for its robot, but with the company claiming it will sell for "less than the cost of a family of four vacation overseas," a four-figure price tag seems likely.

A robot powered by IBM's Watson AI platform.
And judging by the many demos showing humanoid robots struggling, if not failing, to handle basic tasks, it looks as if a lot of work still needs to be done to improve the machine learning algorithms that allow robots to do things like open doors, go up and down stairs and pick up and hand off objects within a home. Particularly since there are safety risks if a robot fails to do some of these tasks properly.
But Amazon seems well-positioned to get the algorithms right over time. Since buying industrial robot maker Kiva Systems in 2012, Amazon has deployed thousands of pick-and-pack robots inside of its warehouses, and can leverage what it has learned from them for its home robot efforts. In addition, as its cashier-less Amazon Go stores show, the company also has ongoing investments in camera and sensor-based machine vision that it can make use of. And more generally, Amazon has been on a massive AI talent hiring spree over the last couple of years.
With regards to pricing, Amazon's long-standing willingness to sell its consumer hardware at or below cost for the sake of further hooking consumers on its content and e-commerce services makes it quite likely that any robot it launches will be priced aggressively. Here, it also doesn't hurt that Amazon can provide plenty of free marketing for its robot by promoting it to Prime members.
Google might also be a noteworthy player in this space over time. Though the company has sold its Boston Dynamics defense robot unit, its Google X long-term R&D unit is still making substantial robotics investments that leverage the huge AI/machine learning investments Google has made over the years in various fields. And Google Assistant, which can take advantage of both those AI investments and Google Search integration, has emerged as Alexa's top rival in the voice assistant market.
But given Amazon's resources and e-commerce reach, as well as its execution over the last few years with the Echo line and Alexa, the company stands as good of a chance as anyone at fielding a device that does for the home robot market what the Echo did for the smart speaker market. Even if large-scale success is likely to take some time.