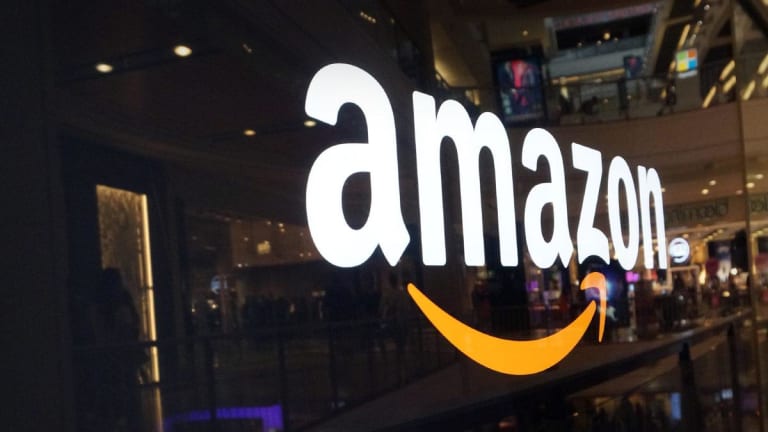 Amazon, Visa and Caterpillar Report Earnings Next Week - Here's What to Expect
Some major names report earnings next week. Find out what Wall Street analysts have to say about their prospects.
Spring earnings season is in full swing, and investors are getting a clearer look at their favorite stock's true market position. So far, we've seen Goldman Sachs (GS) - Get Report shares take a beating after missing revenue expectations by $100 million, while JPMorgan Chase's (JPM) - Get Report stock surged after the bank's first-quarter earnings beat analysts' expectations by 30 cents a share.
More big names are scheduled to report in coming days. We've opened up TipRanks' Earnings Calendar to pick out some of the most influential upcoming earnings releases. Let's see what the big players will tell us next week.
Amazon.com
Amazon's (AMZN) - Get Report stock is already showing strong growth, up 21% this year and outpacing the S&P 500's 15% gain. Expectations for the earnings report on April 25 are colored by that. Revenue is expected to reach $59.65 billion, 16% higher than last quarter. Earnings, however, are expected to show a 41% jump to $4.61 a share.
In the investor letter, CEO Jeff Bezos made two points that should snag investors' notice. First, Bezos pointed out a reality that doesn't get talked about much: While Amazon is huge, it's still a small player on the global retail stage.
"We represent a low single-digit percentage of the global retail market, and there are much larger retailers in every country where we operate." And second, in another unspoken reality, he primed investors to expect occasional multi-billion-dollar failures going forward. Taken together, the two points indicated that Bezos is planning big moves for Amazon, and that such moves don't always play out as management hopes.
Top-rated analysts are taking note. RBC Capital's Mark Mahaney said on April 11, "Ten percent of total retail sales are conducted online, and Amazon is only now showing signs of disrupting the other 90 percent of offline sales... Amazon continues to focus on building an entire ecosystem in-home and out-of-home to better satisfy customer needs regardless of where they are." Mahaney's $2,300 price target on AMZN suggests a 24% upside to the stock.
Amazon's consensus rating is a strong buy, based on 32 buy ratings and one hold. The average price target, $2,132, indicates a 15% upside from the $1,844 share price.
Caterpillar 
Caterpillar (CAT) - Get Report , the world's biggest manufacturer of construction and mining equipment, is set to report first-quarter revenue of $13.4 billion, a gain of 4.4%, and EPS of $2.84. Last quarter, CAT missed the EPS by 15%, so investors will be watching closely next week. The stock has been notably volatile so far this year, and another quarterly miss won't be well-received.
Market analysts have been somewhat positive about CAT lately. Jamie Cook of Credit Suisse noted solid demand for the company's products, as well as improving conditions in the mining industry which may indicate a need for capital expenditures moving forward; Caterpillar Cat will be the beneficiary.
Cook said in his note, "End market demand was fairly broad-based across commercial construction, infrastructure, pipeline, and continued growth in mining. Furthermore, rising commodity prices, in particular oil and copper, bode well for CAT going forward." Cook's $173 price target implies an upside of nearly 23% for the stock.
Timothy Thein, writing from Citigroup, also took an upbeat view of CAT. He gives the stock a $155 price target, suggesting an upside of 10%. He also noted opportunity in the mining sector, especially in Australia: "The positive feedback we heard from CAT dealer contacts in Australia was supported in part by the ~$9 billion of iron ore projects approved in the Pilbara ..."
Overall, Caterpillar maintains a moderate buy consensus rating, derived from six buys and four holds given over the past three months. The average price target, $154, suggests a potential upside of 10% from the current share price of $140.
Visa 
The world's largest credit card payment processor has been gaining steadily since 2019 began, and is now trading 7% higher than last year's peak. Visa (V) - Get Report will report fiscal second-quarter results next week, and is expected to show similar gains. EPS is expected at $1.24, a gain of more than 11%, while quarterly revenue is forecast to jump 7.5% to $5.46 billion.
The market analysts are bullish about Visa's prospects. The company gets a buy rating from analyst Donald Fandetti of Wells Fargo, who raised his price target to $181, mostly on his belief that "card companies will show slightly improving consumer trends this quarter." His target suggests an upside of 12% for V.
Nomura's Bill Carcache also took a bullish stance of Visa. In an April 11 note, he said, "The safe haven nature of V-which offers potential ~15-20% through-the-cycle compound annual growth-is evidenced by the fact that it continues to trade at historical premium valuations despite deceleration fears." He set his price target too conservatively, however, for V shares have powered through it in the last few days.
Visa has an average price target now of $164, which suggests a modest upside of 2.5% when compared to the current share price of $160. The analyst consensus, however, is unanimous: Visa is a strong buy, based on 14 buy ratings in the past three months.
Goldman Sachs, JPMorgan and Amazon are holdings in Jim Cramer's Action Alerts PLUS member club. Want to be alerted before Jim Cramer buys or sells the stocks? Learn more now.
offers exclusive insights for investors by focusing on the moves of experts: Analysts, Insiders, Bloggers, Hedge Fund Managers and more. See what the experts are saying about your stocks now at
. Author: Michael Marcus.