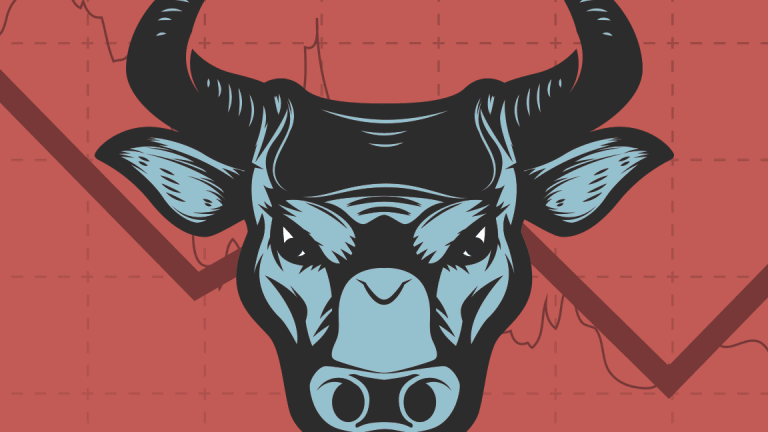 Amazon, Alphabet and 38 Other Hot Stocks You Must Own in September
Stephen "Sarge" Guilfoyle lays out his top picks for the new month.
October has a bad reputation on Wall Street as the month that saw the 1929 and 1987 crashes, but September is actually the year's worse month on average for stocks. The S&P 500 undefined has averaged a 0.5% loss for the month since 1950, while the Dow Jones Industrial Average undefined and the Nasdaq Composite undefined have shed 0.8% and 0.6%, respectively. What will happen this September and how should smart investors play things?
Let's check it out:
Why Is September Dangerous?
In my opinion, there are several reasons why stocks historically sink in September.
First, I believe the fact that kids go back to school is a problem. Lots of parents are sending their offspring to college, and many families will pay the tuition bills with parental "profit-taking" after a summer that's been kind to equities investors.
Second, we're getting to the fiscal year's Sept. 30 end for many corporations, mutual funds and the U.S. government. As the money dwindles down, so too does spending -- and there's no guarantee in some cases that new money will show up on Oct. 1.
Third, September sees is the return of higher trading volumes after Labor Day and summer vacations are behind us. That could mean a return of volatility, as the VIX was hanging in above 12 as the sands of time ran out on August.
And lastly, we have to deal with midterm U.S. elections that are looming for November. The Dow and the Nasdaq historically do even worse in September when we're in a midterm-election year, as we are now. According to the Stock Trader's Almanac, the DJIA falls 1% on average, while the Nasdaq sheds 0.8%. (The S&P 500 does a little better than usual, but still averages a 0.4% loss.)
Midterm elections are often contentious, but I'm not sure I've ever seen anything like this. If Congress changes hands, will we see a serious attempt to roll back President Donald Trump's tax cuts and business deregulation even though they appear to have finally gotten the economy moving in the right direction?
Some Good News
Fortunately, Trump's trade disputes with various foreign countries appear to be headed toward potentially favorable outcomes, while U.S. consumer spending is also red hot. The Trump tax cuts are supporting increased savings and discretionary income despite a lack of headline wage growth.
Corporate earnings are likewise strong and expected to remain so going into the third quarter -- not to mention all of the repatriated overseas corporate cash that's slated stock-repurchase programs. Thanks in part to such positives, September 2017 wasn't all that scary, as this S&P 500 chart shows:
Optimism around the Trump tax cuts fired up markets back then, and while the market has largely priced in tax reform by now, the U.S. economy is fundamentally stronger this September than it was a year ago.
Add it all up and I'm not going to bail on this market in September, although I'm going to continue to try to opportunistically lower my net basis on many names in my portfolio. I'll be very active in the options space around my more dangerous positions, and even around some not-so-dangerous ones as well.
Let's look at where my portfolio stands as September gets underway:
Defense
I remain enthusiastic on aerospace and defense stocks, and am quite content with my longs on Boeing (BA) , Kratos Defense & Securities Solutions (KTOS) , Lockheed Martin (LMT) and Raytheon (RTN) . I'm less in love with Northrop Grumman (NOC) , but I still own the shares.
Raytheon is a holding in Jim Cramer's Action Alerts PLUS.
Energy
Exxon Mobil (XOM) and Schlumberger (SLB) have worked for me, but perhaps not as well as I would like.
I'm also displeased with what I've gotten from Halliburton (HAL) , but fortunately, all three names pay a nice dividend.
Schlumberger is a holding in Jim Cramer's Action Alerts PLUS.
Experiential/Entertainment
I'm maintaining my longs in Discovery Communications (DISCA) , Planet Fitness (PLNT) and Walt Disney Co. (DIS) to play off of the "experiential" trend and newfound increases in U.S. discretionary income.
However, I'm less sanguine about restaurant stocks. I took profits in Ruth's Hospitality Group (RUTH)  , although I remain short puts on McDonald's (MCD) in an attempt to capture upside at reduced risk.
Disney is a holding in Jim Cramer's Action Alerts PLUS.
Financials
The banks really turned it on in August, and my favorite name here remains JPMorgan Chase (JPM) . I'm also maintaining exposure to Citigroup (C) and Goldman Sachs (GS) . In fact, GS was a nice play for me, as I added to that name at what turned out to be August's lows.
JPMorgan Chase, Citigroup and Goldman Sachs are holdings in Jim Cramer's Action Alerts PLUS.
Industrials
I added Honeywell (HON) to my industrials book early in August. I'm also still long DowDuPont undefined and have call options on General Electric (GE) .
Honeywell and DowDuPont are holdings in Jim Cramer's Action Alerts PLUS.
Retail
What an earnings season the retailers had!
I like (and own) Home Depot (HD) , Kohl's (KSS) and Walmart (WMT) , although I did sell half of my WMT long when the name traded above par ($100) in reaction to earnings.
I also own Macy's (M) and Best Buy (BBY) , and while I'm still in positive territory on both, I'm not up all that much and might move on if I can sell at good prices. Macy's seems like an underperformer after I saw the earnings numbers that everyone else put, up. Best Buy is getting involved in areas like health and wellness, and I fear the company could lose focus by entering areas it doesn't have expertise in.
Lastly, I remain intrigued by Lululemon (LULU)  and am short puts on the name -- again, in the hopes of capturing upside gains at reduced risk.
Kohl's is a holding in Jim Cramer's Action Alerts PLUS.
Technology
Information technology remains the focus for me, and I divide my tech portfolio into three sub-portfolios -- Cloud/Software, Semiconductors/Semiconductor Services and "Other."
Right now, the "Other" segment holds just two stocks, gaming companies Activision Blizzard (ATVI) and Ubisoft (UBSFY) . Ubisoft has simply been a home run for me, and I have to thank my colleague Zev Fima of Jim Cramer's Action Alerts Plus club for investors for that one. I wouldn't have found it without him. ATVI is also up, but has underperformed the broader market.
As for the cloud names, I still very much like Adobe (ADBE) , Microsoft (MSFT) and Salesforce (CRM) . I also believe that Dropbox (DBX) was over-punished in the wake of what seemed like a good earnings report. Elsewhere, I took profits in Splunk (SPLK) when that stock raised its head above my cost basis.
Here's how Jim Cramer is trading tech.
As for the semis, thank goodness that I added to my stakes in Nvidia (NVDA) , Lam Research (LRCX) and KLA-Tencor (KLAC) while those names were down. LRCX hasn't really done much, but NVDA and to a lesser degree KLAC have really dressed up my book this summer.
And as for hot Advanced Micro Devices (AMD) , I covet the stock but haven't chased it. Instead, I've been raising revenue by selling put options -- hoping that at least one of them will turn into a discount equity purchase. So far, no dice.
Miscellaneous
Among the FANGs, my longs of Amazon (AMZN) and Alphabet/Google (GOOG) , (GOOGL)  remain in place.
Elsewhere, I'm long iQiyi (IQ) and Verizon (VZ) . I don't usually play telecoms, but I see VZ as focusing on the mission at hand instead of pursuing mergers or flashy ads. Verizon also pays me a 4.3% dividend just to own the stock.
At the time of publication, Guilfoyle was long SLB, XOM, HAL, JPM, C, GS, ATVI, UBSFY, ADBE, CRM, MSFT, DBX, NVDA, LRCX, KLAC, HON, BA, KTOS, LMT, NOC, RTN, AMZN, GOOGL, IQ, VZ, HD, KSS, WMT, M, BBY, DIS, DISCA, PLNT, DWDP and GE, as well as long call options on CRM and GE and put options on CRM. He was also short CRM call options and GE put options, as well as short JPM, ADBE, CRM, DBX, NVDA, AMD, MCD, DIS, LULU. However, positions may change at any time.