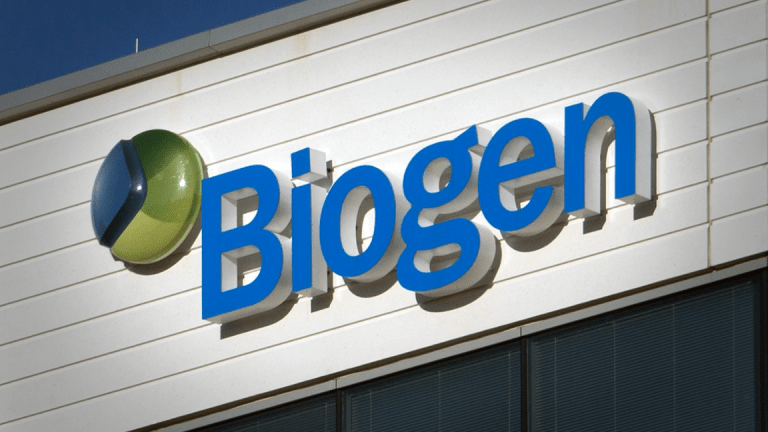 Biogen Shares Soar on Positive Alzheimer's Drug Results
The company's drug showed promising results versus a placebo in a Phase 2 trial.
It was a happy Friday for Biogen.
Biogen Inc. (BIIB) - Get Biogen Inc. Report surged on Friday following the biopharmaceutical company publishing encouraging results from its extended mid-stage test for its new Alzheimer's drug.
Shares rose almost 20% to $357.48 a share after Phase 2 trials showed deterioration slowed significantly in Alzheimer's patients who received Biogen's BAN2401 versus a placebo at 18 months. Patients who showed the most improvement in the trial were treated with the highest dose of the drug possible.
"This is very encouraging, very exciting positive top-line results at the final full analysis of this trial," Ivan Cheung, CEO of Eisai Inc., a subsidiary of Eisai Co. Ltd. (ESALY) , said. "We are able to look at all the data and see very important potential here."
The drug, which is being developed with the Japan-based Eisai, is an antibody that latches on to and reduces the amount of amyloid plaques, according to Biogen's product description. Amyloid plaques build up in the brain and are thought to be the cause of Alzheimer's. Eisai rose $14.55 -- or 21.5% -- to $86.40 on Friday.
"The way we look at the data is that this is very encouraging validation of the beta-amyloid hypothesis," RBC Capital Markets analyst Brian Abrahams said. "This idea that using an antibody to reduce the level of amyloid plaque in the brain can also produce concurrent clinical and symptomatic benefits."
Jefferies analyst Michael Yee remains cautious of Biogen and wrote investors have been "pretty bearish on Alzheimer's" treatments because the disease is so difficult to treat. There have been numerous setbacks in the development of an Alzheimer's treatment, most recent being Eli Lilly and Co. (LLY) - Get Eli Lilly and Company Report and AstaZeneca PLC's (AZN) - Get AstraZeneca PLC Reportdecision to discontinue their development of lanabecestat in mid-June. Science has yet determined the true cause of the debilitating disease, which makes finding a cure challenging, analysts say.
Yee maintained his "hold" recommendation on the stock, arguing that the latest data was not significant enough to change his rating. The stock currently has 14 "buy" and six "hold" ratings on it from analysts.
Biogen will release more detailed results from the study at future academic conferences, according to a company press release. Until all the data comes out, William Blair analyst Matt Phipps doesn't see a reason to adjust his rating or estimates for the company just yet, he said. 
"It's nice to have some positive news for Alzheimer's treatments, but it's not a lot to go on," Phipps said.
Guggenheim Partners analyst Adnan Butt wrote that the full results "could further underscore the importance of this data and suitability of the 10 mg/kg biweekly dose," according to a research note. Butt has a "buy" rating on Biogen.
The results from the BAN2401 trial has generally been well received by the scientific community, said Samantha Haeberlein, Biogen's vice president of clinical development. 
"So far this has been one of the best results especially from the last few years that we are seeing in the field of Alzheimer's," said Dr. Marc Flajolet of the Fisher Center for Alzheimer's Research Foundation.
Initial results from the study released in December 2017 showed no statistically significant improvement against the placebo at 12 months, which has added to the low expectations surrounding the drug, according to the note. 
"The study was designed to include an assessment of the primary endpoint at 12 months, which used a Bayesian analysis, which is a probabilistic way of looking at the data," Haeberlein said. "The study did not meet the criteria of the Bayesian analysis. Now what we've done at 18 months is the more standard statistical approach of looking at the actual differences between the treatment and placebo."
Haeberlein noted that all that changed between the results that were released in December and now was how Biogen looked at the data.
Researchers analyzed the progress of the trial at several intervals to gauge the effectiveness of the drug and to change the dosage patients were receiving to better optimize their performance, which differed from how traditional Phase 2 trials are conducted, Abrahams said.
This adaptive design "enriches in real-time doses that appear to be having the most benefits," Abrahams said. 
Biogen also has another Alzheimer's treatment drug in its pipeline that is expected to go to Phase 3 trials in 2020. Aducanumab, which differs slightly from BAN2401, also utilizes this amyloid-reduction antibody, and Abrahams thinks BAN2401 results will provide some more confidence for Aducanumab ahead of its late-stage tests.
Abrahams did note that the BAN2401 trial format would lend itself to showing better results than Aducanumab might show in its Phase 3 trials.
"This positive data today should help 'move the pendulum' a little more back the other way because now we have two early/mid-stage 'positive' Alzheimer's studies for Biogen," Yee said.
Biogen has underperformed against the S&P 500 year to date before today as large-cap healthcare companies have all been affected by a poor first quarter showing across the sector, Abraham said.
This has raised "questions about the sustainability of growth and maturing franchises"  and led to "lingering concerns of drug pricing controls and limitations of reimbursement going forward," Abrahams said.
Eisai entered an agreement with Biogen in 2014 to collaborate on Eisai's BAN2401 candidate along with another candidate, according to a company press release. Eisai bought the rights to BAN2401 from BioArtic AB in 2007. BioArtic, which trades on Stockholm Stock Exchange, skyrocketed over 250% at the end of trading Friday on the news of the trial results.