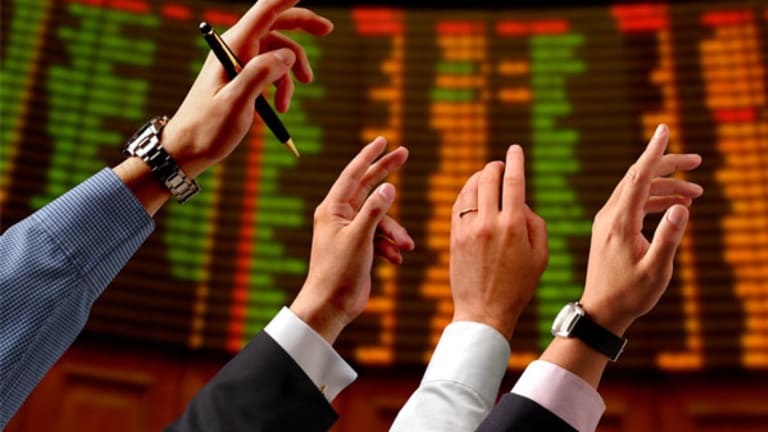 Altisource Rising; Volcker's View: Best of Kass
In these highlights from his trading diary this week, Doug Kass writes about Altisource Portfolio Solutions and former Fed Chair Paul Volcker.
NEW YORK (TheStreet) -- Doug Kass of Seabreeze Partners is known for his accurate stock market calls and keen insights into the economy, which he shares with RealMoney Pro readers in his daily trading diary.
Among the posts this past week were entries about Altisource Portfolio Solutions and former
Fed
Chair Paul Volcker.
Please
for information about subscribing to
RealMoney Pro
.
Altisource Portfolio Solutions Still Soars
Originally published on Friday, Oct. 25 at 10:06 a.m. EDT.
I wanted to update
Altisource Portfolio Solutions
(ASPS)
for those who are fortunate enough to still own this monster! (As I have often reminded myself, I mistakenly failed to re-establish my long position when the shares traded down to $70 months ago.)
Altisource reported a huge beat in revenue ($211 million, up 46% year over year) and profits (GAAP $1.42 a share, cash EPS $1.80 a share). Pretax margins leaped to 27%, leading to the earnings breakout, which was well above consensus).
Read: What Is Apple's Implied Move Post Earnings?
The company repurchased 265,000 shares during the third quarter.
Over the next two quarters Altisource expects to board about 1,550 loans from
Ocwen
(OCN)
, mostly government-sponsored agency loans. The incremental fees earned on this (at a near-50% default servicing margin) coupled with other growth initiatives within the company and at Ocwen should produce revenue of $775 million in 2013 and $1.05 billion next year.
This will translate into approximately $6.20 a share in 2013 and over $10.25 a share in 2014.
The shares, which stood at around $15 a share in late 2009, now trade at near $150 -- adjusted for the
Altisource Residential
(RESI)
and
Altisource Asset Management
(AAMC)
spinouts, it trades over $200.
Read: Greenberg: What's Wrong With Twitter?
By any measure, the stock has been a home run, and I appropriately termed it the stock of the decade in my diary and in my annual surprise list.
Here is a segment from
Mad Money
in which Jim "El Capitan" Cramer endorsed the idea when the shares were in the low $20s. (Well done, Jimmy!)
At the time of original publication, Kass was long RESI.
The World According to Paul Volcker
Originally published on Thursday, Oct. 24 at 10:24 a.m. EDT.
Brother
Bank of America
/Mother
Merrill Lynch
recently sponsored a lunch meeting with former
Fed
Chair Paul Volcker.
What follows is a summary of his comments. Volcker is typically someone who sees the glass half-full.
Read: Hedge Fund Manager Says It's Time to Make a Bet on Bitcoin
He is bearish on U.S. and worldwide economic growth, a skeptic of the
Bank of Japan's
current policy and increasingly concerned about the eurozone banking system.
world economic growth stuck at 2%
business investment has plateaued despite record profits / no special sauce for the economy
housing up but off a very low base
consumer is spending but at restrained levels / no wage growth for the past decade
loss of confidence (in the American political system)> low inflation / zero rates should be good for the economy
Japan may not be successful reflating their way out of a 20 year recession given the depths of their economic morass
Japan demographics contra to their ability to grow (oldest demographics in the world)
Europe slowly emerging from their recession
EU/Euro remains a good concept re: inability to devalue individual currencies
weak periphery European countries (PIIGS) benefited and capitalized on strength of UK and Germany bringing down the entire EU
a cohesive EU will take time/Germany cannot do it alone
pay attention to France / critical that the French remain relevent and strong
European banks remain weak
lack of global confidence remains the primary (global economic growth) gating factor
difficulty re: implementation of Volcker Rule / Dodd Frank / et al due to independent nature of individual banks
not happy about how US government currently functions / regulators missed the crisis / reconstruction moving too slowly
local government working more effectively/efficiently
too many Federal regulatory bodies
expect no great changes from Yellen
QE taper is not "life or death"
interest rates at zero is not a guarantee
Fed will act when appropriate based on data
U.S. remains best system globally/however emerging economies are not so willing to align with U.S. interests as they were 30 years ago.
Doug Kass is the president of Seabreeze Partners Management Inc. Under no circumstances does this information represent a recommendation to buy, sell or hold any security.