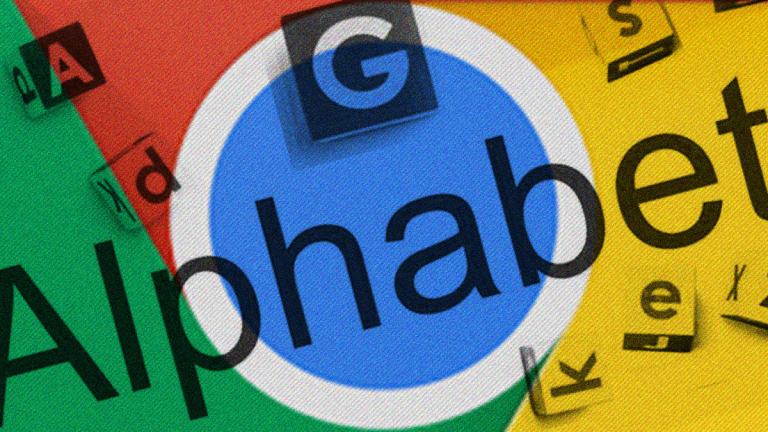 Alphabet Slides After Google Parent Misses Q3 Earnings Estimate as Expenses Soar
Alphabet shares trade lower Tuesday after the Google parent posts weaker-than-expected third-quarter earnings as expenses continue to outpace revenue at the sprawling tech giant.
Alphabet Inc. (GOOGL) - Get Alphabet Inc. Class A Report shares traded lower Tuesday after the Google parent posted weaker-than-expected third quarter earnings as expenses continue to outpace revenues at the sprawling tech giant. 
Alphabet said earnings for the three months ended in September came in at $10.12 per share, down 22.5% from the same period last year and well shy of the Street consensus forecast of $12.42 per share traffic acquisition costs rose 13.8% to $7.49 billion and total expenses rose 25% to a record $31.3 billion.
That figure clouded a solid reading on revenues, which rose 22% on a constant-currency basis to $40.5 billion, topping analysts' estimate of a $40.17 billion tally.
"The biggest contributor again this quarter was costs associated with our data centers and other operations including depreciation, followed by content acquisition costs, primarily for YouTube and mostly for our advertising supported content, but also for our newer subscription businesses, YouTube Premium and YouTube TV, which have higher CAC as a percentage of their revenues," CFO Ruth Porat told investors on a conference call late Monday. "This line also includes the impact of hardware costs, primarily associated with our mid-tier Pixel 3a smartphones."
"With respect to R&D, the growth was again driven by the addition of engineering talent, consistent with our focus on product innovation," she noted. "The increase in G&A year-over-year was primarily due to a $554 million charged from our previously announced legal settlements in France."
Google shares fell 1.91% to $1,264.57 in trading Tuesday, a move that trims the stock's year-to-date gain to 21.1%.
Alphabet said its Google websites saw 19.1% growth in revenues, which hit $28.6 billion, while network revenues rose 11% to $5.4 billion and licensing and other revenues hit $6.4 billion.
In terms of regional growth, U.S. markets remain Google's most important, contributing $18.7 billion in revenues, although growth in the Asia Pacific region was more impressive at 26% on a constant currency basis.
"Google in our view is a controlled outcome, with management looking to drive consistent revenue and (free cash flow) growth through the amassing and creation of a portfolio of assets even as the law of large numbers begin to result in deceleration for some of the largest businesses," said Credit Suisse analyst Stephen Ju, who has a $1,700 price target and an outperform rating on the stock. 
"Our investment thesis for GOOGL shares remains unchanged and we maintain our Outperform rating based on the following factors: 1) ongoing monetization improvements in Search through product updates, 2) larger-thanexpected contribution from Google's larger non-Search businesses 3) optionality for value creation from new monetization initiatives such as Maps and Discover as well as the eventual commercialization of Google's Other Bets," he added.