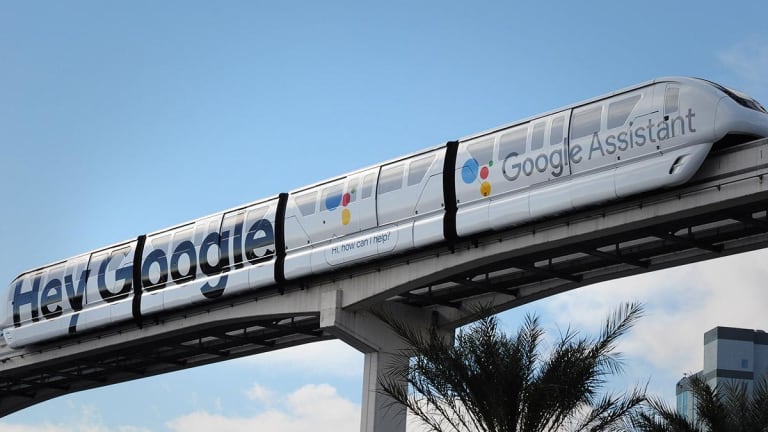 Google Is One of the Best Investments in Tech Right Now
Alphabet's strong and steady growth, combined with its strong balance sheet and robust repurchase plan, mean its stock is clearly undervalued.
Alphabet (GOOGL) - Get Alphabet Inc. Report  is in top shape. If 2018 saw investors lose interest in the company, 2019 could not have been more different. Its stock is up 25% and there is still a month to go till the end of the year.
Alphabet possesses the rare combination of strong growth backed by strong profits, very high returns on invested capital and a strong repurchase plan in place. And its stock is too cheap to be ignored for much longer. Here's why:
Two Sides to the Growth Story 
Alphabet has always been light on disclosure. This fact, combined with its dominance in search, caught the eye of the Department of Justice which has been investigating Alphabet on antitrust concerns. The investigations, poor disclosures and a lack of positive surprises have caused many investors to become accustomed to Alphabet's steady growth story, or even to consider it a ''boring" growth stock.
But when many high-flying unicorns started delivering a stream of negative surprises, investors started to appreciate Alphabet's lack of surprises. And what was once viewed as a boring growth story, is today viewed in a different light as "steady" growth. 
Today's Alphabet is growing its revenues at 20% (excluding F/X movements). Even though Q1 2019 was marked by Alphabet's revenues growing at a slightly slower pace of 17%, Alphabet's revenue growth rates are very much on target to finish 2019 growing in the range of 18%-20%.
Furthermore, given that Alphabet's business model is not a recurring subscription-based model, this consistent revenue growth rate is remarkable, and even more stable than that posted by businesses with subscription models.
In fact, it should be noted that amongst many of its large-tech peers, Alphabet's revenue growth rates stand head and shoulders above many of them, such as Apple (AAPL) - Get Apple Inc. Report , Microsoft (MSFT) - Get Microsoft Corporation Report , Twitter (TWTR) - Get Twitter Inc. Report , and possibly even growing faster than Amazon (AMZN) - Get Amazon.com Inc. Report .
Strong Capital Allocation
For a considerable amount of time, Alphabet declined shareholders' requests to return excess capital. Many shareholders felt frustrated that Alphabet did not pay a dividend despite its-ever-increasing sums of cash.
Accordingly, given that Alphabet carries more than $105 billion of net cash on its balance sheet, the time came to prudently return it to shareholders. The third quarter of 2019 saw $5.7 billion returned to shareholders, a 60% increase compared with the same period a year ago.
What's more is that unlike some of its tech peers, which are investing for growth and unprofitable, Alphabet continues to be incredibly profitable. Also, even while accounting for its heavy stock-based compensation as an ''actual'' cash-cost, Alphabet's returns on invested capital are still repeatedly reaching the mid-to-high teens.
Valuation - Large Margin Of Safety
The table above reminds readers that there are no bargain basement opportunities amongst household large-tech names, towards the end of this prolonged bull market.
But more discerning readers will also see that not all tech companies are alike. The cheapest on a P/cash flow (before capex) ratio is Alphabet. The next cheapest is Twitter, but then we should bear in mind the challenging year Twitter had during 2019.
Next, compared with either Microsoft or Amazon, both of these companies are likely to post weaker growth than Alphabet in 2019, yet both are valued with a higher multiple to cash flows (before capex) than Alphabet.
Consider that Microsoft and Amazon are both growing at 20% or less (more likely less), yet both are priced above twenty times multiple to cash flows (before capex). Meanwhile, Alphabet is growing steadily at 18%-20%, but it is priced at sub 20x P/cash flows (before capex).
The Bottom Line
Investing is never easy and there are no certainties. But Alphabet has a unique combination of strong growth, a rock-solid balance sheet, and best of all a stock that's still cheap.
Enterprising investors are likely to benefit from taking a long-term view and adding Alphabet to a well-diversified portfolio.
Alphabet, Amazon, Microsoft and Apple are holdings in Jim Cramer'sAction Alerts PLUS Charitable Trust Portfolio. Want to be alerted before Cramer buys or sells these stocks? Learn more now.