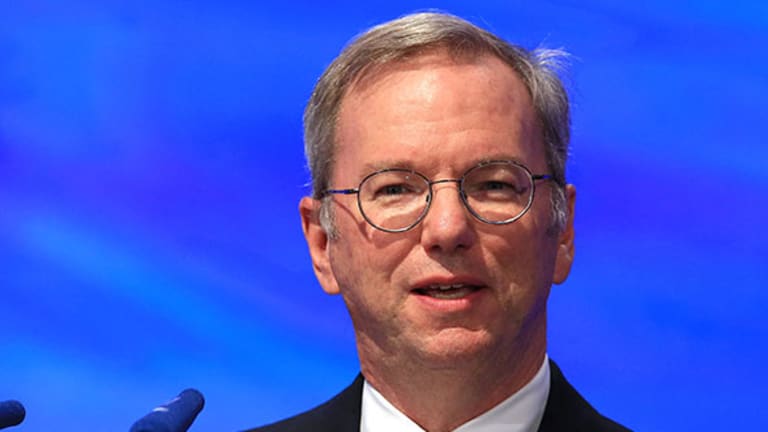 Alphabet Chairman Talks Up Machine Learning to Combat High Frequency Trading: SALT 2017
The ex-Google CEO discussed artificial intelligence, Uber and the recent ransomware attack
Startup firms that can use machine learning for trading may be able to one day beat high-frequency trading quants, Google parent, Alphabet (GOOGL) - Get Alphabet Inc. Class A Report Executive Chairman Eric Schmidt told a room of hedge fund managers Wednesday.
"I'm looking forward to the startups that are getting formed to do machine learning against trading to see if a  pattern of recognition employed can do better that the traditional linear regression algorithms of quants," Schmidt told the annual SALT hedge fund conference in Las Vegas. "It is unknown whether they will do better or worse. Its amenable to a new form of trading."
Schmidt, who was the CEO of Google Inc. between 2001 and 2011, said he envisions a world of trading in 50 years where humans will work with artificial intelligence systems for trading. "There is a lot of evidence that the best performance is when humans are working with AI," Schmidt said. "That is, the things that we're really good at, are very difficult for computers to be equal to."
In addition, trading involving humans and computers will beat the humanless approach in fifty years, Schmidt added.
"I like human's working with computers against computer by itself," he said. "I know of many quantitative groups that are examining this. The data says that it's a new mathematical approach. we don't know which signals will drive this."
The comments come as the high-frequency trading world is dying.
In April KCG Holdings (KCG) , the parent company of famed traders Knight Financial and Getco, announced early that it had agreed to be acquired by New York-based Virtu Financial (VIRT) - Get Virtu Financial, Inc. Class A Report for approximately $1.4 billion, or $20 per share.
The two companies blamed, in part, low volatility that was putting the kibosh on the high frequency trading industry, one that flourishes in times of heavy trading and heavy volatility.
Will Google Ventures, the venture capital arm of Alphabet be interested in buying firms that could compete with the like of Virtu? We will have to wait and see. 
Separately, Schmidt didn't say much about an emerging battle forming between Uber and Waymo, the self-driving car unit of Google, over whether the taxi alternative may have stolen Alphabet trade secrets. In response to a question about the relationship between the two companies, Schmidt said "we love Uber as a shareholder."
In addition, Schmidt addressed concerns around a coordinated ranswomware attack, known as 'WannaCry" that is estimated to have impacted more than 200,000 computers across 150 countries around the world since its initial launch on Friday.
"It is very important for everyone to take all their computers and update them," Schmidt said. "You say someone else is taking care of it, 'do me a favor and check.'" He noted that many of the attacks you are seeing are because of computers are still using Microsoft's (MSFT) - Get Microsoft Corporation Report Windows XP systems. "In many cases it is because the governments are so slow to upgrade as opposed to businesses," he said.