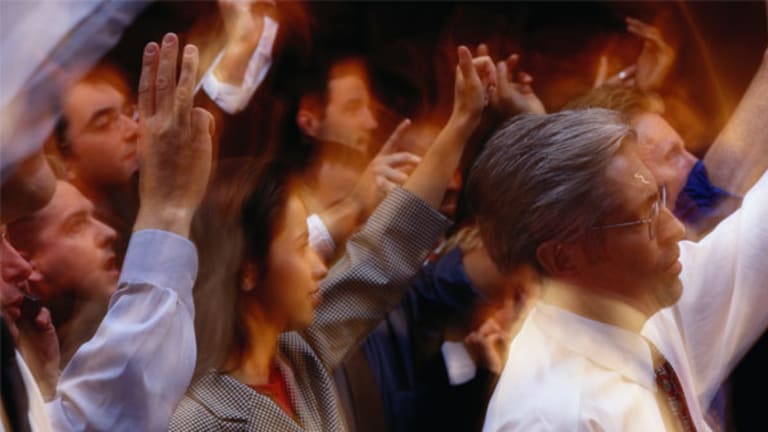 Alphabet, Apple, Allergan: Doug Kass' Views
Doug Kass shares his thoughts on the deepening of retail stocks' weakness and the Amazon Effect.
Doug Kass shares his views every day on RealMoneyPro. Click here for a real-time look at his insights and musings.
Retail Apparel Stocks' Weakness Deepens
Originally published Jan. 3 at 11:52 a.m. EDT
Retail stocks (e.g., JCPenney (JCP) - Get J. C. Penney Company, Inc. Report ) are being kicked in the groin this morning.
The first real retail data comes out on Thursday from L Brands (LB) - Get L Brands, Inc. (LB) Report , GAP (GPS) - Get Gap, Inc. (GPS) Report and Ascena Retail (ASNA) - Get Ascena Retail Group, Inc. Report .
I expect industry comps from real stores at 0-2%. Industry at 4%. Online at 20%.
Online remains the category killer as Amazon (AMZN) - Get Amazon.com, Inc. Report (which makes no money) reaps ever-more market share.
Overall, apparel seems on the weak side. Still, huge free cash flow (as I recently wrote) and secularly low valuations.
One positive is terrific emerging consumer economics.
As well, in the fullness of time, apparel needs replacing.
I have added to JCP this morning.
Position: Long JCP large; short JCP puts.
My Takeaways and Observations (3:30 p.m. Edition)
Originally published Jan. 3 at 3:33 p.m. EDT
The markets started Tuesday like Usain Bolt at the start of a 100-meter race. But, unlike Bolt, the finish wasn't as strong as the start.
I thought one of the day's features was the reversal in bond yields, particularly after the good data.
The day started with a Trump Twitter storm.
Good food for thought from my pal Peter Boockvar on possible positives and negatives for the new year.
Moved to large-sized in Allergan (AGN) - Get Allergan plc Report last week. Allergan is raising a number of drug prices by about 9%. (Management said it is consistent with its commitment to hold down drug prices expressed in 2016). Investors liked, and the shares rose by another $6.
Speaking of Usain Bolt, I continue to go for the gold.
The Mighty Oak might have been the subject of tax-loss selling--as I guessed last week.
A quick synopsis of retail apparel woes -- the sector had a worse day than Mariah Carey's New Years Eve performance. I explained why I added to my large JCPenney (JCP) - Get J. C. Penney Company, Inc. Reportlong.
Back to net (but small) short.
I was interviewed on Bloomberg's "Market Surveillance" this morning.
Today was Byron Wien's turn to give his Surprises.
I added incrementally to individual stock shorts on strength this morning.
At 3:30 p.m. the market was bending but not breaking.
The U.S. dollar strengthened today, but closed well off the day's (spike) high.
Oil vey! Crude down $1.46 after trading higher in the early going.
Gold up $9. I like and added to my growing SPDR Gold Trust ETF (GLD) - Get SPDR Gold Trust Report long. I discussed my rationale in my Bloomberg interview.
Ag commodities: wheat down $0.01, corn up $0.04, soybeans down $0.08 and oats up $0.07.
Lumber down $2.
Bonds got schmeissed early on with 9-basis-point rise in the 10-year but the gain declined to only 2 basis points by day's end.
The yield on the 10-year closed at about 2.45% (up 2 basis points) and the long-bond yield rose by less than 1 basis point.
Municipals were for sale, but closed-end muni-bond funds ripped. Not sure why ... maybe just a cessation of tax selling.
Junk wasn't junky and Blackstone/GSO Strategic Credit Fund (BGB) - Get Blackstone / GSO Strategic Credit Fund Report climbed by another $0.11.
Banks were stronger, but off day's highs. If there was ever a consensus view of a sector, banks are it!
Insurance was relatively quiet. I added to my Lincoln National (LNC) - Get Lincoln National Corporation (LNC) Report and Metlife (MET) - Get MetLife, Inc. (MET) Report shorts--liking the reward vs. risk now. And I recently added to my Hartford Financial (HIG) - Get Hartford Financial Services Group, Inc. (HIG) Report long.
Brokerages higher but well off highs, Goldman Sachs (GS) - Get Goldman Sachs Group, Inc. (GS) Report dramatically so.
Old tech was quiet.
Retail was lower but has begun to creep up late in the day.
Autos had a nice showing in light of Trump Twitter storm.
Biotech strong led by Celgene (CELG) - Get Celgene Corporation Report , Gilead Sciences (GILD) - Get Gilead Sciences, Inc. (GILD) Report and my fav, Allergan. Merck (MCK) - Get McKesson Corporation (MCK) Report shorts were squeezed (up $8), but speculative biotech did little.
Fertilizers flatlined as ag commodities were mixed.
Consumer staples were mixed as the currency got stronger. Another up day for Campbell Soup (CPB) - Get Campbell Soup Company Report .
Ag equipment up, with both Deere (DE) - Get Deere & Company Report and Caterpillar (CAT) - Get Caterpillar Inc. Report up a beaner. Shorted more Caterpillar as I favor upside/downside opportunity now.
(T)FANG was very strong most of the day but is weakening as the day progresses. Alphabet (GOOGL) - Get Alphabet Inc. Class A Report up nicely.
In individual stocks Oaktree Capital (OAK) - Get Oaktree Capital Group, LLC Class A Report gained (maybe tax selling is over), DuPont (DD) - Get DuPont de Nemours, Inc. Report holding well, along with Radian (RDN) - Get Radian Group Inc. Report . Apple (AAPL) - Get Apple Inc. (AAPL) Report didn't participate in the market rise.
Here are some value-added contributions on our site today:
Welcome back Jimmy! Jim "El Capitan" Cramer on the hit and miss parade.
Tom Graff on navigating the bond market.
"Meet" Bret Jensen on biotech takeovers. (interesting stuff!)
A market assessment (midday) from Rev Shark.
Steve Blitz on the ISM data blitz!
Positions --
Long: AGN large, CPB large, HIG large, JCP large, OAK, DD small, RDN, HIG large
Short: SPY, QQQ, IWM, CAT, MET, LNC, DIS, SBUX small, AAPL
Position: See above.
Action Alerts PLUS, which Cramer co-manages as a charitable trust, is long AGN, GOOGL and AAPL.
Doug Kass is the president of Seabreeze Partners Management Inc. Under no circumstances does this information represent a recommendation to buy, sell or hold any security.