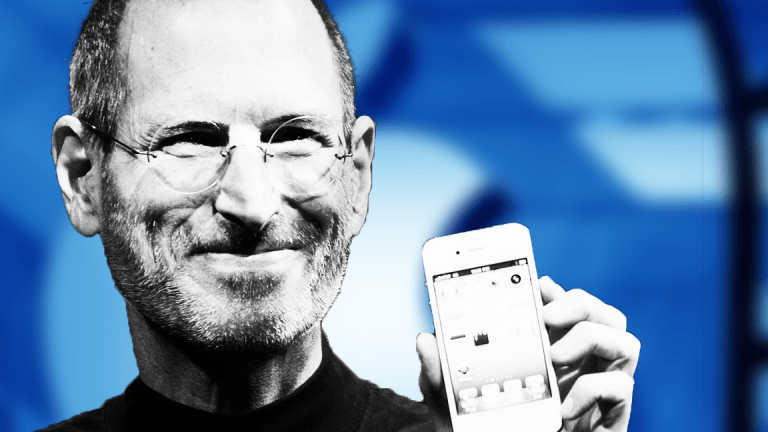 Almost Two-Thirds of Apple's $900 Billion Market Cap Came After Steve Jobs Died
Apple's biggest market cap gains have come in the past six years.
Apple (AAPL) saw its market capitalization top $900 billion Wednesday for the first time. The milestone appears to be just one more step on the path to becoming the first trillion dollar company.
Still, $900 billion in itself is nothing to sneeze at.
The chart below looks at Apple's market cap over the past 20 years, including some notable highlights along the way.
Steve Jobs returned to Apple in late 1997 as interim CEO. He moved quickly to settle a longstanding legal fight with Microsoft (MSFT) , and even convinced Bill Gates to put $150 million into the then struggling company on the argument that Microsoft was selling more software for Macs than Apple was.
As can be seen from the chart, Jobs' moves had little apparent immediate effect, but they did stabilize a company that some at the time felt could soon be relegated to Silicon Valley's trash heap.
Through the dot-com crash, the first iterations of the iPod, and the introduction of the first iPhone, Apple remained a sub $100 billion company, though the gains were spectacular given where it had been. By the time the first iPad arrived, the company was rivaling all but the largest of the industrial giants.
When Jobs died in October of 2011, Apple was already into the $300 billion market capitalization range. Then the iPhone growth kicked into hyperdrive  and the company saw its value surge by a quarter of a trillion dollars to $600 billion in a matter of months.
By 2015, after splitting its stock 7-for-1, Apple joined the Dow Industrials. And while the Apple Watch, the first new product launch after Jobs' death, failed to inspire the same kind of cult loyalty the iPhone had, it hardly mattered. The growth engine kept turning over and pouring billions more into Apple's cash hoard.
More of What's Trending on TheStreet:
Employees of TheStreet are restricted from owning individual equities.
At the time of publication,
, which Jim Cramer co-manages as a charitable trust, was long AAPL.