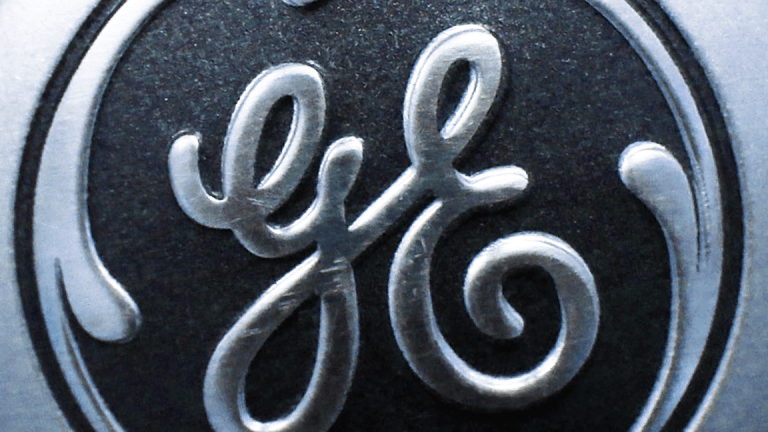 GE's Stock Tanks After Goldman Sachs Says Profit Guidance May Be Cut
The firm now sees full-year earnings per share of 87 cents, well below GE's guidance of $1.00 to $1.07 per share.
And you thought GE's stock was finally cheap. 
General Electric Co. (GE) - Get General Electric Company Report shares fell after Goldman Sachs said the industrial conglomerate's restatement of its 2016 and 2017 earnings puts the Boston-based company's 2018 forecast at risk.
GE released restated financial results after the bell Friday, lowering earnings per share for 2016 and 2017 by a combined 30 cents due to the adoption of a new accounting standard. Restated 2016 EPS were lowered by 13 cents while 2017 EPS dropped by 17 cents, relatively in-line with expectations.
But Goldman specifically highlighted the $2.5 billion reduction to 2017 segment EBIT, which was about $400 million higher than GE's prior guidance, as a reason to lower its already-below-consensus EPS estimate by three cents to 87 cents per share for 2018.
"While the restatements to GE's 2016/2017 financials were more benign than bear case expectations, they were worse than GE's prior guide," Goldman Sachs analysts, including Joe Ritchie, said in an April 15 research note. "We believe the impact of these changes coupled with a weak core business mean that a cut to GE's $1.00 to $1.07 EPS guide is almost a certainty and could potentially happen as early as [first-quarter] earnings."
Shares of GE fluctuated immediately after the opening bell, but was down about 0.5% to $13.41 at 9:55 a.m. New York time.
The company with a market capitalization of $117 billion restated its earnings because all public companies are required to adopt a new revenue recognition accounting standard, and GE chose to adopt it on a retrospective basis to give investors a more consistent view of historical trends. The new accounting standard offers more transparency into how a company estimates revenue from long-term contracts. Federal regulators are probing GE's accounting practices, specifically revenue recognition and controls for the company's long-term service agreement.
"While we remain Neutral rated, we believe that risk/reward into [first-quarter] earnings remains negatively skewed as we believe the 2018 guide is at risk," the Goldman analysts said. The firm has a $14 price target on the stock.
Similarly, Cowen equity analyst Gautam Khanna said last week that the company's dividend isn't safe and an earnings miss "appears probable" amid struggles at GE's power unit.
GE is scheduled to report its first-quarter financial results before the opening bell on April 20. Earnings are expected to be 12 cents a  share on revenue of $27.28 billion, according to analysts surveyed by FactSet.