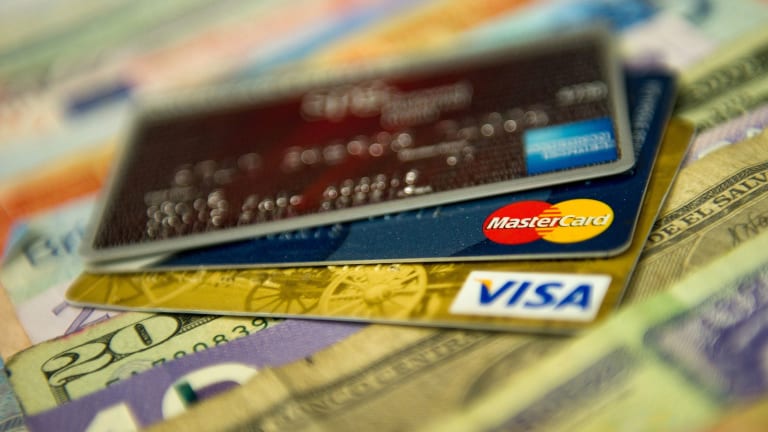 Ally Pays First Dividend as Credit-Card Lenders Bask in Stress-Test Afterglow
American Express, Discover, Capital One, and Ally Financial climbed Thursday after passing the Fed's annual stress test and winning approval for stock buybacks and dividends.
American Express, Discover, Capital One, and Ally Financial climbed Thursday after passing the Fed's annual stress test and winning approval for stock buybacks and dividends.
The nation's biggest credit-card lenders climbed Thursday after winning regulatory approval -- one of them for the first time -- for their dividend and stock-buyback plans over the next year.
American Express (AXP) - Get Report , Discover (DFS) - Get Report, Ally Financial (ALLY) - Get Report , andCapital One (COF) - Get Report were among 30 bank holding companies with more than $50 billion in assets that passed the Federal Reserve's annual review, the regulator said late Wednesday.
"The results reinforce our view that these consumer finance companies are very solidly capitalized and profitable companies with very significant payouts in relation to the broader financial services industry," Keefe, Bruyette, & Woods analyst Sanjay Sakhrani wrote in a note to clients.
This year's review, which marked the Fed's sixth round of stress tests since 2009, assessed how the companies' plans for dividends and stock buybacks would affect their ability to withstand an economic downturn in which equity markets lose about half their value, unemployment rises as high as 10% and interest rates turn negative. The tests are designed to prevent a recurrence of the 2008 financial crisis, when the government poured billions into bank bailouts after the collapse of investing firm Lehman Brothers to protect the broader economy.
All four of the companies beat the Federal Reserve's Tier 1 capital ratio of 6%, showing that would still have sufficient core capital, including shareholders' equity and retained earnings. American Express's Tier 1 capital ratio is 7.7%, Discover's is 11.4%, Capital One's is 7.9% , and Ally Financial's is 6.8%.
New York-based American Express said afterward it would increase its dividend to 32 cents a share and repurchase as much as $3.3. billion of its stock in the year through June 30, 2017. That would yield a payout ration of 92%, compared with the 124% that Keefe Bruyette had estimated, analysts said. The brokerage had projected American Express's plan would include a quarterly dividend of 29 cents a share and a buyback of $5 billion.
The loss of the Costco portfolio gave American Express a lower earnings outlook compared with 2015. Lower-than-expected loan growth at the New York-based company, combined with additional restructuring charges and "more severe macro assumptions" from the Fed also affected the outcome, Keefe Bruyette said.
EXCLUSIVE LOOK INSIDE: Costco is a holding in Jim Cramer's Action Alerts PLUS charitable trust portfolio. Want to be alerted before he buys or sells the stock? Learn more now.
"American Express shares may be modestly pressured lower in the short term on the lower share repurchase," but the downside is limited, JPMorgan Chase said in a note to clients.
Riverwoods, Ill.-based Discover will increase its quarterly dividend to 30 cents a share, up from 28 cents, and repurchase as much as $1.95 billion in common stock, while McLean, Va.-based Capital One will maintain its dividend of 40 cents a share and buy back as much as $2.5 billion in stock.
Detroit-based Ally Financial, once owned by General Motors, said it would issue a quarterly dividend for the first time since going public, paying 8 cents a share, and repurchase $700 million of its stock in the next year.
The Fed's approval of the plan "is a significant milestone to Ally and speaks to the company's overall financial strength and continued focus on safety and soundness," Ally CEO Jeffrey Brown said in a statement. "The inaugural dividend since becoming publicly traded is a critical step."
Ally's "shares will trade higher on the capital return plan and the potential for a broader investor base," JPMorgan analysts said.
The results mark the second component of the Fed's yearly review and follow an assessment last week of the banks' pre-payout strength in a variety of recession scenarios. All 33 companies passed the initial phase, while two -- the U.S. units of Deutsche Bank and Banco Santander -- failed the second half, known as the Comprehensive Capital Analysis and Review, or CCAR.
A third, Morgan Stanley, was given approval to go ahead with its capital distribution but asked to resubmit its plan by year-end.
"Over the six years in which CCAR has been in place, the participating firms have strengthened their capital positions and improved their risk-management capacities," Fed Governor Daniel Tarullo said in a statement. "Continued progress in both areas will further enhance the resiliency of the nation's largest banks."
According to the Federal Reserve, the nation's largest bank holding companies have added $700 billion in common equity capital since 2009 to help buffer against another financial crisis. 
Keefe Bruyette rates American Express's stock as "market perform," the equivalent of neutral, and has a target price of $59.63, while rating Discover and Capital One as "outperform," with price targets of $52.51 and $61.92, respectively. Ally Financial is rated as "outperform" with a price target of $15.94.
American Express rose 0.2% to $59.72 on Thursday, after a drop of over 14% so far this year. Discover's shares increased 0.57% to $52.81 and Capital One jumped 0.3% to $61.11.
Ally's shares jumped 3.26% to $16.46.