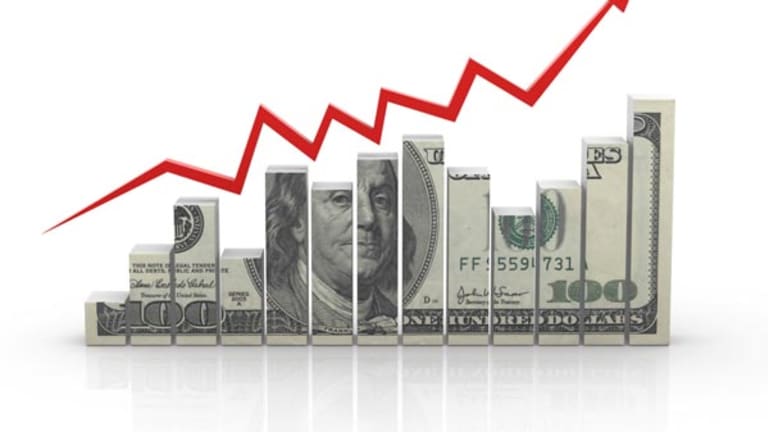 Allstate Swings to Loss, Cutting Jobs
Allstate shares fell more than 20% Thursday after the insurer reported a $1.1 billion fourth-quarter loss and announced 1,000 job cuts.
Allstate shares fell more than 20% Thursday after the insurer reported a $1.1 billion fourth-quarter loss and announced 1,000 job cuts.
Allstate
(ALL) - Get Report
shares fell 22% Thursday after the insurer reported a $1.1 billion fourth-quarter loss and said it would eliminate 1,000 jobs in its financial services unit.
Allstate's $2.11-a-share loss was driven by weakness in its property-liability sector, decrease in investment income and realized investment losses. It compares to a $760 million profit, or $1.36 a share, in the fourth quarter 2007. The insurer is another in the steady stream of companies in the sector reporting investment losses with realized losses of $1.9 billion for the quarter and $5.1 billion for the full year.
Investment income was down to $1.3 billion, vs. $1.6 billion in the fourth quarter of 2007. The company moved more of its portfolio to cash and short-term liquid investments available to pay claims, also allowing it to hold on to its long-term investments until recovery. Allstate now holds 21.3%, or $20.6 billion, of its invested assets in cash and liquid investments.
Unlike
Travelers
(TRV) - Get Report
, which has seen shares rise 6% since on Tuesday reporting improved underwriting results and a profit for the year, Allstate's underwriting results continue to suffer. Allstate shares recently were down 22% to $23.13, its low of the day.
Written premiums on its property-liability sector for the quarter were down 3.9% to $6.3 billion, from $6.6 billion a year ago. The company cited "declining new car sales, weakness in the housing market and a highly competitive environment" for the decline in policies in force.
Catastrophe losses were down quarter over quarter and year over year. Fourth-quarter catastrophe losses totaled $260 million, compared to $1.8 billion in the third quarter and $472 million in the fourth quarter of 2007. The fourth quarter catastrophe losses were primarily related to wildfires and winter storms.
Likewise, property-liability underwriting income fell 12% to $243 million, from $276 million a year ago. The company expects the decline to continue through 2009.
Also, unlike Travelers, Allstate reported unfavorable prior-year reserve development in its property-liability sector. While Travelers reported $189 million favorable reserve development for the quarter -- meaning that the company had reserved too much and could release those reserves to capital -- Allstate had not reserved enough. It had unfavorable reserve development of $62 million for the quarter.
From a financial strength perspective, reserve redundancy (or reserving too much) is a conservative approach that ensures the company has set aside enough money to pay claims and is accurately reflecting, or even understating, its level of capital. Thus, in TheStreet.com Financial Strength Rating, companies are credited for having positive reserve development.
Allstate Financial suffered declining fixed annuity deposits. Premiums and deposits were down 14%, or $253 million, to $1.6 billion with operating income down 43.7% to $89 million.
The unit said it would eliminate 1,000 positions through a combination of "attrition and position elimination" over the next two years.
At the holding company level, shareholder's equity at the end of the year was down 42%. At Dec. 31, Allstate had $12.6 billion in shareholders' equity compared to $21.9 billion on Dec. 31, 2007. Statutory capital, which is determined based on more conservative state regulatory requirements, is calculated at the operating entity level. Statutory capital, and more precisely risk-based capital, will be reported in March and then generally made available to the public in May.
TheStreet.com Ratings rates the financial strength of 33 Allstate affiliates. Those ratings are listed below:
TheStreet.com Ratings issues financial strength ratings on each of the nation's 8,600 banks and savings and loans which are available at no charge on the
. In addition, the Financial Strength Ratings for 4,000 life, health, annuity, and property/casualty insurers are available on the
.
Melissa Gannon is director of insurance and bank ratings for TheStreet.com Ratings, formerly Weiss Ratings, where she directs the operations of the company's insurance and bank ratings division.
In keeping with TSC?s Investment Policy, employees of TheStreet.com Ratings with access to pre-publication ratings data must pre-clear any potential trade through the legal department, and are prohibited from trading any security that is the subject of an unpublished rating revision until the second business day after the rating is published.
While Gannon cannot provide investment advice or recommendations, she appreciates your feedback;
to send her an email.