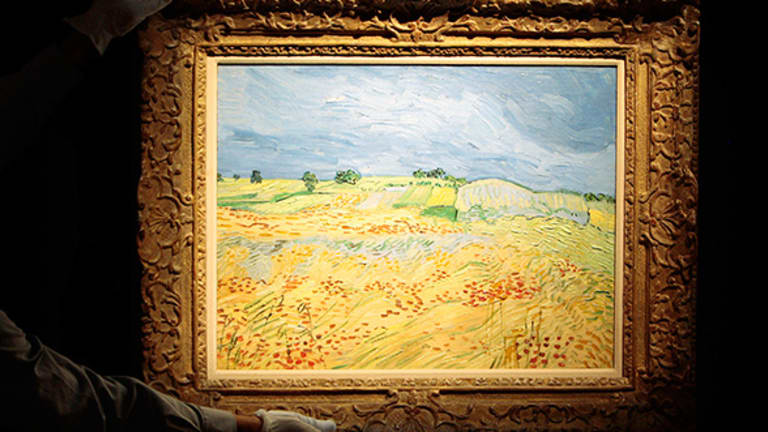 Allergan, Twitter, Disney: Doug Kass' Views
Doug Kass channels his inner Bob Ross. And his inner William Shakespeare. And his inner Samuel Beckett.
Doug Kass shares his views every day on RealMoneyPro. Click here for a real-time look at his insights and musings.
If You Like Watching Paint Dry, Today's Your Day!
Originally published at 3:28 PM EDT on May 26, 2016
Here are random observation on Thursday, a day that was like watching paint dry!
Bonds are near the day's high, with iShares 20+ Year Treasury Bond ETF (TLT) up 75 cents, and bank stocks are near the day's lows.
Limited volatility along most industry sectors today.
Allergan (AGN) and Celgene (CELG) --half of my latest biotech basket--were up $4.80 and $1, respectively. Gilead Sciences (GILD) was down $1.
No follow through from homebuilding stocks. I cautioned Wednesday about housing, and Mark Hanson cautions today in the previous post.
As of 3 p.m. it appears to be the smallest range in the S&P Index that I can remember on an intraday basis.
More changes at Twitter (TWTR) --this time, the heads of business development and media. To me this is an indication that progress has been slow and that the heavy lifting and execution of strategy will take more time than most expected.
An active IPO day for a change. Six in total.
Robert "Not Rita" Moreno disses Disney (DIS) shares on a technical basis Thursday. My concerns are fundamental and are based on the belief that the company's secular earnings-per-share growth rate is under 10% annually compared to historic 18% to 19% annual growth and consensus of 12% to 14% per year.
Sometimes things are so quiet it is hard not to fall asleep. But, given my condition, I did just fall asleep! Not kidding.
Enjoy your evening and thanks for reading my Diary--I hope it provided you with some value.
And many thanks for the ideas, opinions and recommendations regarding "Takeaways." The input is quite helpful to me and I will incorporate most of the comments immediately.
Position: Long AGN small, CELG, GILD small; short DIS small
To Short or Not to Short
Originally published at 10:33 AM EDT on May 24, 2016
The SPDR S&P 500 ETF (SPY) is up by some two beaners this morning, so I have to decide whether to continue re-establishing my short of the name.
I covered a lot of my SPY short late last week, and also sold much of my long of the ProShares Short S&P 500 ETF (SH) --an inverse S&P 500 play. That brought my positions down to a small size in both ETFs from a relatively large size previously.
However, I started slowly to reshort SPY at $205.85 and rebuild my SH long at $20.35 on Friday, and now have to decide what to do next.
I've done nothing so far, as it seems that too many players are leaning light or short. I hope to discuss this in more depth soon.
Position: Long SH (small), Short SPY (small)
Bank Investors Are Waiting for Godot
Originally published at 12:04 PM EDT on May 26, 2016
Estragon: We always find something, eh Didi, to give us the impression we exist?
Vladimir: Yes, yes, we're magicians.
-- Samuel Beckett, Waiting for Godot
The iShares 20+ Year Treasury Bond ETF (TLT) was +$0.80 at last check as bond prices rise and yields fall.
The 10- and 30-year Treasury yields are both lower, the yield curve is flat and the two-year/10-year Treasury spread is basically at a multiyear low.
There's no sign whatsoever of the yield curve steepening, even though that's what the bank sector's bulls have cited to justify the recent rally in financials.
In other words, waiting for the yield curve to normalize might be like waiting for Godot!
But as I noted yesterday, I'm not banking on the banks:
"Jim 'El Capitan' Cramer is endorsing the idea that banks are attractive for near-term appreciation, but I view the near term differently than he does.
While I continue to believe that banks offer outstanding value on a multiyear basis, I'd recommend traders and investors who have six-month time horizons or less consider selling off a portion of their bank holdings.
As you probably recall, I took all nines banks on my "Best Long Ideas" list off of the rundown back in mid-March. ...
It turns out that I was early in selling off the stocks three months ago. But while I continue to believe that banks offer great multiyear value, I see a number of threats for the sector over 2016's balance. These include:
Overly OptimisticEarnings Estimates
I still believe that analysts' 2016-17 earnings forecasts for banks are too high (although only modestly so).
I note that the two-year/10-year U.S. Treasury spread recently went below 100 basis points, or more than 150 basis points under what we saw a few years ago. That's bad news for banks, which rely on credit spreads to make money.
Unfortunately, my baseline expectation for the next few quarters is that we'll see the yield curve continue to flatten. After all, the Purchasing Managers Index and other recent indicators point to U.S. growth that's disappointing relative to expectations.
A Rally That's Already Happened
Banks have enjoyed a spirited rally recently.
But to me, the time to buy banks stocks was months ago, when share prices languished out of disinterest.
A Tame Fed
I still expect that we won't have any Federal Reserve rate hikes this year.
That's a non-consensus view, but if I'm right, continued low rates should be bad for banks.
Fair Valuations
Bank-stock valuations are reasonable right now, but they're no longer cheap.
And given the fundamental headwinds that I see for the sector, it's hard to envision banks enjoying much expansion to their multiples from here.
Political Problems
I expect financial firms to face renewed political threats from both Democratic presidential candidate Hillary Clinton and her Republican rival Donald Trump.
The Bottom Line
Add it all up and I see few catalysts for bank stocks away from a rotation into the space.
Frankly, I don't see much rationale for this week's strength to continue."
-- Doug's Daily Diary, I'm Not Banking on Banks (May 25, 2016)
Position: Short XLF (small)
, which Cramer co-manages as a charitable trust, is long AGN and TWTR.