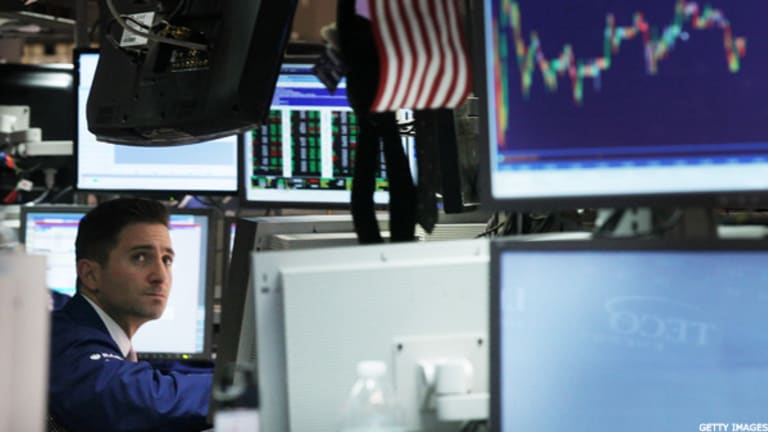 Allergan, Starbucks, Citigroup: Doug Kass' Views
Doug Kass shares his thoughts on Starbucks, and discusses what, if anything, Dow 20,000 means.
Doug Kass shares his views every day on RealMoneyPro. Click here for a real-time look at his insights and musings.
Increasing SPY, SBUX Shorts, AGN Long
Originally published Jan. 27 at 2:34 p.m. EDT
I have materially increased my SPDR S&P 500 ETF Trust ( (SPY) - Get Free Report ) short in this trading session.
I have also added to my growing Allergan ( (AGN) - Get Free Report ) long Friday morning and to my Starbucks ( (SBUX) - Get Free Report ) short Friday afternoon.
And it's a good day for my Ford ( (F) - Get Free Report ) / General Motors ( (GM) - Get Free Report ) pairs trade.

Note: Ford was raised to Outperform by RBC Capital this morning (with a $14 price target).
Position: Long AGN, F; short SPY, SBUX, GM.
My Takeaways and Observations
Originally published Jan. 26 at 4:08 p.m. EDT
"The Dow hit 20,000 and I am proud of it ... Now we have to go up, up, up. It's gone up a lot since I won. We hit a number that has never been hit before. So, I am very honored."
--President Donald Trump, ABC interview Wednesday night
If the market craters, will the President take responsibility? Raise your hand if you think he will... I thought so--no hands.
Another win for the bulls as Mr. Market traded well in light of the magnitude of the recent advance.
At 3:45 p.m. near the day's low--but not much movement.
I am getting this out early because there is a lot of EPS announcements to digest after the close.
I re-established my long in ProShares Trust UltraPro Short QQQ ETF (SQQQ) - Get Free Report and added to it.
Dow 20,000: So What?
I remain a Midnight Rider.
Housing hits a speed bump--and Hanson called it.
My plans for the yellow metal.
Radian ( RDN) EPS in line, more in the next or two.
The U.S. Dollar strengthened.
The price of crude oil rose by over one dollar to $53.78/barrel.
Gold fell by -$8.60 to $1189.
Ag commodities: wheat +2.50, corn -2.50, soybean -7 and oats -5.5.
Lumber increased by $1.50.
Bonds rallied in price after an early morning spill. Yields dropped by two basis points.
The yield curve was flat.
Municipal bonds were flat, as were closed end muni bond funds.
Junk was unchanged, Blackstone/GSO Strategic Credit Fund  (BGB) - Get Free Report down $0.03.
Banks prospered, though Citigroup  (C) - Get Free Report was lower.
Insurance was mixed after a Metlife  (MET) - Get Free Report downgrade.
Brokerages solid, led by GS (short and on Best Ideas List).
Big pharma continues out of favor after large downside at Bristol-Myers (BMY) - Get Free Report . Johnson & Johnson (JNJ) - Get Free Report continues weak, after M&A announcement.
Retail continues to underperform and the possible 20% tariff from Mexico (that Sean Spicer just mentioned) won't help. Nor will the possibility of a Sears (SHLD) bankruptcy (plenty of discounted merchandise could cause some indigestion over the next few months.
Old media was mixed, awaiting Microsoft (MSFT) - Get Free Report EPS this afternoon.
Biotech continued its fade led by Allergan (AGN) - Get Free Report , Celgene (CELG) - Get Free Report and Gilead Sciences  (GILD) - Get Free Report . Speculative biotech also got hit.
Consumer staples faltered despite the currency weakness. Campbell Soup (CPB) - Get Free Report and Procter & Gamble (PG) - Get Free Report lower, along with Coca-Cola  (KO) - Get Free Report (which seems to have gathered some technical bulls lately -- I remain short, small).
Comcast  (CMCSA) - Get Free Report led a stronger media group. Up on EPS and buyback.
Autos clobbered by possibility of Mexican tariffs and more pressure to manufacture in the U.S.
Home builders a bit higher, but well off the highs after the weak new home sales report.
Ag equipment was lower after weak guidance from Caterpillar  (CAT) - Get Free Report .
(T)FANG mixed after recent strong absolute and relative performance. Alphabet  (GOOGL) - Get Free Report (pre EPS) and Tesla  (TSLA) - Get Free Report lower.
Here are some value-added contributions on our site today:

1. Jim "El Capitan" Cramer on how far we have come.
2. Ed Ponsi "scheme" invokes Madonna!
3. Dan Dicker does Goldman Sachs (GS) - Get Free Report . (I respectfully disagree with his conclusion on Dodd-Frank)
4. Mike Norman pounds it.
5. Tim "not Judy or Phil" Collins on missing out and fear.

Positions --
Long: HIG large, CPB large, RDN, SQQQ small, SDS
Short: SPY, QQQ, IWM small, CAT, MET, GS small, C small
Position: See above.
Action Alerts PLUS, which Cramer co-manages as a charitable trust, is long AGN, GOOGL, SBUX, CMCSA and C.