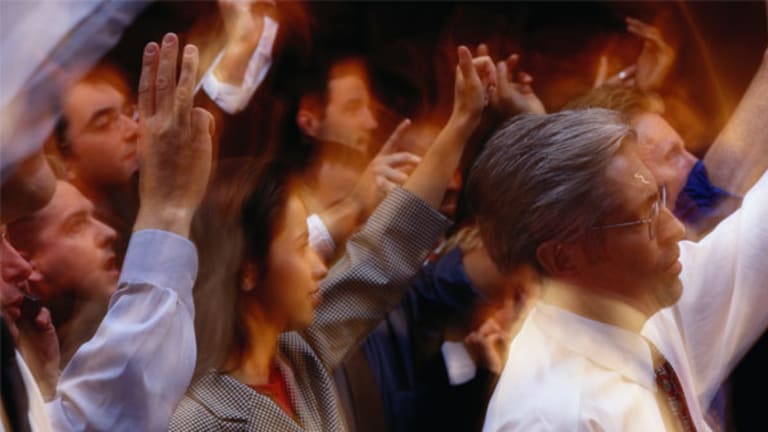 Allergan, Macy's, Apple: Doug Kass' Views
Doug Kass shares his thoughts on closed-end municipal bond funds.
Doug Kass shares his views every day on RealMoneyPro. Click here for a real-time look at his insights and musings.
My Takeaways and Observations
Originally published Nov. 10 at 4:58 p.m. EDT
"Today I am asking myself ... Did the FANG names just peak the way iShares NASDAQ Biotechnology Index ETFIBB did in 2015 and Energy Select Sector SPDR ETF XLE did in 2014? The S&P 500 Index kept rising, but those two groups were done!"
-- Kass Diary, The Message of the Market
Trump Shocks The World - What's Next? To me, there is far more uncertainty that is being acknowledge in the Trump inspired rally.
The story of the tape and message of the market was straightforward. Bond equivalent stocks got schmeissed and so did consumer staples and technology (both of which might be vulnerable to new trade policy) while retail, financials and biotech flourished
Divergences a plenty. And look st Rs (Russell Index) over Qs (Nasdaq) and Ss (S and P)
Bonds tanked, but I suspect some of the late day sell off was a function that tomorrow is a bank holiday (Veterans Day). I added to my long rental all the way to the close.
Speaking of retail, I turned Bullish. I own JCPenney (JCP) - Get J. C. Penney Company, Inc. Report , Macy's (M) - Get Macy's Inc Report , Target (TGT) - Get Target Corporation Report and Nordstrom (JWN) - Get Nordstrom, Inc. (JWN) Report . The performance of these stocks were more than I hoped for! ( Friday, JCP reports--I expect, like M, a miss--but I remain of the view that it is discounted). Here is a summary of the Macy's conference call.
Closed-end muni bond funds got the crap kicked out of them.
Valeant is still not so gallant, based on a perusal of the newly issued 10Q.
I was in Ben White's Morning Money in Politicothis morning.
Down $3.50 -- I took off some of my Apple short as the reward/risk has changed with the lower share price.
Despite the day's euphoria, there was less than meets the eye in a violently rotational game in which algos had a field day and again screwed up natural price discovery.
Nearly 400 comments in our Comment Section--breaking an all-time record as the markets did the same.
Stocks closed well of the highs.
I ended the day very slightly net short. (I had a great day).
The U.S. dollar strengthened.
The price of oil continued to cave. Down by $0.72 to $44.55.
Gold fell by another $19. Earlier in the day I reduced my size to small in the asset class.
Ag commodities: wheat down $0.02, corn up $0.02, soybeans up $0.011, oats down $0.02.
Lumber flat.
Bonds got schmeissed, again. The yield on the 10-year U.S. note rose by 7 basis points to 2.14% and the long bond by 6 basis points to 2.94%.
Municipals got whalopped. And junk was particularly junky -- let's watch this closely. The iShares iBoxx $ High Yid Corp Bond ETF (HYG) - Get iShares iBoxx $ High Yield Corporate Bond ETF Report down by nearly a beaner to $84.45 (now down $4 in the last two weeks). SPDR Barclays Capital High Yield Bnd ETF (JNK) - Get SPDR Bloomberg Barclays High Yield Bond ETF Report down $0.40.
Blackstone/GSO Strategic Credit Fund (BGB) - Get Blackstone / GSO Strategic Credit Fund Report (I would still avoid!) down by another $0.09 to $14.42.
Banks were the world's fair ... again.
Brokerages erupted further and so did the insurance sector. I reduced my life shorts recently and raised my Hartford Financial (HIG) - Get Hartford Financial Services Group, Inc. (HIG) Report long to very large.
Autos were strong. (I went down to legends in my shorts a few days ago).
Energy stocks did well despite a lower commodity price.
Tech and consumer staples (my long Campbell Soup (CPB) - Get Campbell Soup Company Report was disappointing) got hit by trade concerns.
Big pharma materially underperformed after yesterday's standout day.
But biotech continued to rip led by Allergan (AGN) - Get Allergan plc Report , Merck (MCK) - Get McKesson Corporation (MCK) Report and Celgene (CELG) - Get Celgene Corporation Report . Spec biotech flourished (Sage (SAGE) - Get SAGE Therapeutics, Inc. Report , Intrexon (XON) - Get Intrexon Corporation Report and others).
Old tech led higher by IBM (IBM) - Get International Business Machines (IBM) Report .
Ag equipment continued to surge. I moved to tagends on my Caterpillar (CAT) - Get Caterpillar Inc. Report short near $81 only a week ago!
I discussed the (T)FANG underperformance throughout the day.
Longs Radian (RDN) - Get Radian Group Inc. Report and DuPont (DD) - Get DuPont de Nemours, Inc. Report at or near year highs. Apple (AAPL) - Get Apple Inc. (AAPL) Report got hit amid slowing demand stories. JCPenney (JCP) - Get J. C. Penney Company, Inc. Report got out of its funk on a retail rally.
Nordstrom reported an EPS and sales beat and is trading up $8 on the day!
Here are some value added contributions on our site today:

1. Jim "El Capitan" Cramer on the compulsion to sell everything.
2. Gary "The Sun Will Come Out To" Morrow likes Apple here. I will explain why I am negative in a separate column tomorrow.
3. Tim "not Judy or Phil" Collins on a Disney (DIS) - Get Walt Disney Company Reportoption strategy before earnings. (I went down to tagends in my short recently).
4. James Passeri on my enemy Valeant (VRX) . I did not like the 10Q issued today.
5. The Donald, Melania and Rev Shark are on a honeymoon.
Positions:
Long HIG large, DD, RDN bonds, SDS, JCP, JWN, M, TGT
Short SPY, NFLX small, GM small, F small, DIS small, SBUX small, CAT small, JCP puts, AAPL
Position: See above.
Carnage in Closed-End Municipal Bond Funds
Originally published Nov. 10 at 3:08 p.m. EDT

In mid-July, the broad weakness in closed-end muni bond funds tipped us off on a possible general rise in bond yields:
Using Closed-End Muni Funds as a Market 'Tell'
JUL 15, 2016 ' 9:05 AM EDT

The carnage in closed-end municipal-bond funds continued yesterday, and the asset class is now close to a 5% decline so far for the week.

This supports of my view that we've seen a generational bottom for bond yields.

Given closed-end muni-bond funds relatively poor liquidity, these ETFs' customarily lead a general move in interest rates.

Muni-Bond Funds See More Maximal Pain

JUL 13, 2016 ' 1:53 PM EDT
Closed-end municipal-bond funds are getting annihilated for the second day in a row today despite a rise in taxable bond prices that's seen the iShares 20+ Year Treasury Bond ETF ( TLT) add about 1% as of last check.

A drop in muni-bond-fund prices was one of the bullet points that I made yesterday in declaring a generational low for bond yields. Several muni-bond funds dropped by 2% yesterday, but the decline is even worse today because it's more broad-based.

Funds that are declining today include:

Blackrock Municipal 2030 Target Term Trust (BTT)
BlackRock Municipal Income Trust II (BLE)
Eaton Vance Municipal Income 2028 Term Trust (ETX)
Invesco California Value Municipal Income Trust (VCV)
Invesco Pennsylvania Value Municipal Income Trust (VPV)
Nuveen Premium Income Municipal Fund (NPI)

All were down about 1% at last check, while the iShares S&P National AMT-Free Municipal Bond Fund (MUB) is virtually flat.

The junk-bond market is also lower, and -- like municipals -- isn't following Treasuries' climb higher.

Position: Short TLT
*************************************************************************

As I have recently written, when this asset class turns it is violent.
When we purchased these funds in December 2013 (with little liquidity) the funds sold down on large volume as retail investors took losses against stock gains.
Now the movie is being repeated -- again near yearend.
Just take a look at the outsized losses in the following funds:
As I have suggested, I would known own closed end municipal bond funds. BlackRock Inv. Quality Munic. Trust (BKN) - Get Blackrock Investment Quality Municipal Trust Inc Report down 3%, Bitterroot Resources (BTT) - Get BlackRock Municipal 2030 Target Term Trust of Beneficial Interest Report down 3.5%, Invesco Pennsylvania Value Mncpl Incm Tr (VPV) - Get Invesco Pennsylvania Value Municipal Income Trust Report down 3% and Nuveen Dividend Advantage Municipal Fund (NAD) - Get Nuveen Quality Municipal Income Fund of Benef.Interest Report down 2.5%.
Avoid this asset class.
Position: None.
Action Alerts PLUS, which Cramer co-manages as a charitable trust, is long AGN and AAPL.
At the time of publication, Kass and/or his funds were long/short XXX, although holdings can change at any time.
Doug Kass is the president of Seabreeze Partners Management Inc. Under no circumstances does this information represent a recommendation to buy, sell or hold any security.