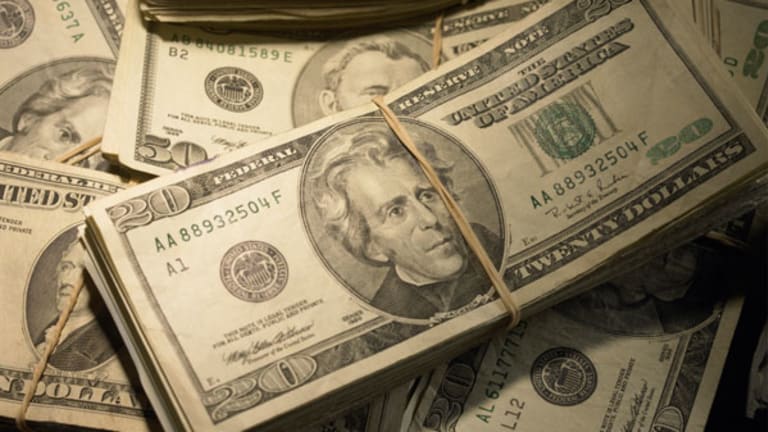 Allergan, Google, Oaktree Capital: Doug Kass' Views
Doug Kass shares his thoughts on how January has a lot of nonsense, and reviews his investment troops.
Doug Kass shares his views every day on RealMoneyPro. Click here for a real-time look at his insights and musings.
My Takeaways and Observations
Originally published Jan. 4 at 4:08 p.m. EDT
I love gold.
Trade of the Week--short Apple at $116.15. (The SoftBank investment is a nonevent).
Dwyerama is chillin' and I am re-establishing my ProShares UltraShort S&P500 ETF (SDS) - Get Free Report long--back in a revolutionary mindset.
As January goes ... well it's nonsense.
Reviewing my investment troops.
Buh byeMacy's (M) - Get Free ReportandKohl's (KSS) - Get Free Report .
Markets in tune with my expectation of a strong first two weeks--money, in particular, is going into the Russell. Its crowing.
My pal Danielle DiMartino on trade.
Mizuho on Allergan (AGN) - Get Free Report .
Peter Boockvar on the Fed minutes.
Tattoo on Bitcoin.
I re-established my SDS long at $14.74.
At 3:30 p.m. stocks were near their intraday highs.
The U.S. dollar weakened.
The price of crude oil rose by about $0.75 to over $53 a barrel.
Gold rose by $1.70.
Ag commodities strengthened: wheat up $0.11, corn up $0.04, soybeans up $0.19 and oats up $0.03.
Lumber was flat.
Bonds were flat with yields unchanged.
The 2s/10s spread was flat.
Municipals were bid for and closed-end muni-bond funds were slightly higher.
Junk bonds rose in price and Blackstone/GSO Strategic Credit Fund (BGB) - Get Free Report was up a penny.
Banks, after a slow start--made new highs for the day this afternoon.
Insurance was up with Hartford Financial (HIG) - Get Free Report rising 2%.
Brokerages continue to step along -- albeit a lower pace of rise than usual!
Old tech was led by short International Business Machines (IBM) - Get Free Report (up $2.55). I plan to add to this position in the next few days.
Biotech was strong--up by nearly 3% with broad gains--led by Gilead Sciences (GILD) - Get Free Report and some speculative names which were particularly stronger.
Big pharma was flat after yesterday's strong performance.
Auto stocks responded to better industry sales for the month.
Ag equipment a tale of two cities with my short, Caterpillar (CAT) - Get Free Report , lower (I have added this week) but Deere (DE) - Get Free Report up $1.70.
Consumer staples were slightly higher. Campbell Soup (CPB) - Get Free Report a new high.
Fertilizers continue to shine.
Retail rebounded led by Home Depot (HD) - Get Free Report , Nordstrom's (JWN) - Get Free Report , Foot Locker (FL) - Get Free Report , Nike (NKE) - Get Free Report and Kohl's. JCPenney (JCP) - Get Free Report lagged. I sold my trading rentals in Macy's and Kohl's.
(T)FANG was mixed with Alphabet (GOOGL) - Get Free Report lower and Tesla (TSLA) - Get Free Report stronger.
In terms of individual names, DuPont (DD) - Get Free Report up, Radian (RDN) - Get Free Report a new high and Oaktree Capital (OAK) - Get Free Report catching up from recent weakness.
Here are some value-added contributions on our site:
A hard chargin' bull from Jim "El Capitan" Cramer.
Shad Gad " And The Pharoahs" reviews last year's picks.
Mike Norman believes the T rump rally is built on hype rather than an improving real economy.
Jonathan Heller with some interesting small-cap niche plays for this year.
Ed Ponsi "Scheme" on Tesla, Trump and Musk.
Positions --
Long: SDS large, HIG large, RDN, JCP large, CPB large, DD small, AGN, GLD large
Short: SPY, CAT, IBM small, MET small, LNC small, IWM small, AAPL, GLD puts, JCP puts
Position: See above.
Reviewing My Investment Troops
Originally published Jan. 4 at 10:43 a.m. EDT
Some morning observations:
The Mighty Oak--Oaktree Capital Group (OAK) - Get Free Report --is regaining some leaves as it is up $1.20 for the second up day in a row. I surmised that tax selling held the shares back in December; perhaps I was on the right track!
Radian Group (RDN) - Get Free Report has hit another new high and is up 84% from its July inclusion on my Best Ideas List.
Campbell Soup (CPB) - Get Free Report is mmm mmm good! Another new high.
Same for Best Ideas member Hartford Financial Services Group (HIG) - Get Free Report (up 1.5%).
Retail stocks are an upside highlight today in marked contrast to yesterday's schmeissing. A nice move from JCPenney JCP.
Bonds are better, despite strong European and U.S. data. I continue to see the 10-year U.S. note yield falling back to 2.25% in the near term.
Allergan (AGN) - Get Free Report , after heading higher earlier, is now down on the day. It deserves a rest--it might be the pause that refreshes!
Technology is a conspicuous laggard. My short PowerShares QQQ Trust (QQQ) - Get Free Report is my Top Pick for 2017.
Fertilizers are rallying--something Peter Boockvar opined on this morning
Banks are off their highs as JPMorgan Chase (JPM) - Get Free Report turns negative. Watch this group!
I am adding to my ProShares UltraShort S&P 500 ETF (SDS) - Get Free Report long, moving toward a large weighting.
Position: Long OAK, RDN, CPB large, HIG large, JCP large, AGN, SDS; short JCP puts, QQQ.
Action Alerts PLUS, which Cramer co-manages as a charitable trust, is long AGN and AAPL.
Doug Kass is the president of Seabreeze Partners Management Inc. Under no circumstances does this information represent a recommendation to buy, sell or hold any security.