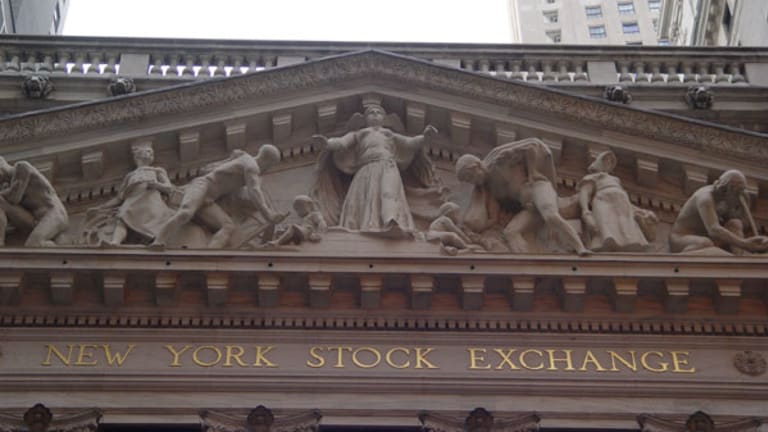 Allergan, Citigroup, Apple: Doug Kass' Views
Doug Kass shares his thoughts on how he had one of his best days in recent memory, and warns you not to look in the rear view mirror.
Doug Kass shares his views every day on RealMoneyPro. Click here for a real-time look at his insights and musings.
My Takeaways and Observations
Originally published Jan. 12 at 3:22 p.m. EDT
I started with what I think is an important opening missive, "Wary in an Uncertain World" in which I covered a number of bases.
I truly believe that risk is being underpriced.
For a change, I had one of my best days in memory--starting with the decision to expand my short positions Wednesday and with good timing decisions Thursday regarding bonds (selling them all), stocks (trading) and gold (halving). This doesn't happen often. I am chronicling this and not gloating about it.
My market hunch on the intraday bottom is thus far a very good observation.
The Allergan (AGN) - Get Free Reportadd under $210 was lucky--after paring back at $223 this week. +$7 on the trade now! Wowza!!
As mentioned, I trimmed half of my SPDR Gold Shares (GLD) - Get Free Report long as it approached my first price objective of $115.
Jobless claims and Fed Speak.
Mmm mmm good--Campbell Soup (CPB) - Get Free Report up all day on a technical breakout.
Sold my (SPY) - Get Free Report puts nicely nicely--and added to my (SDS) - Get Free Report long (large) on the rally from the lows.
Still short "Trade of the Week" (Home Depot (HD) - Get Free Report .
Covered (XLF) - Get Free Report short. Still short small positions in Goldman Sachs (GS) - Get Free Report , Citigroup (C) - Get Free Report , Bank of America (BAC) - Get Free Report and JPMorgan Chase (JPM) - Get Free Report and medium sized in MetLife (MET) - Get Free Report and Lincoln National (LNC) - Get Free Report .
Russell Index not crowing after being a league leader.
As of 2:30 p.m. the market has recovered by about 2/3 from the lows and I am pressing some shorts again.
* The US Dollar continues to weaken.
* The price of crude oil rallied. Up +$0.72 to over $53 as of this writing.
* Gold +$2.70 - but it was up close to $10 early in the day (when I sold half of my GLD).
* Ag commodities much stronger led by wheat +6, Soybeans +26 and oats +3.
* Lumber lower by two beaners.
* Bonds up big in the morning, but lost half the gain as the day progressed. Yields down by two basis points.
* The 2s/10s flattened by a basis point.
* Municipals were well bid and closed end muni bond funds prospered.
* Junk bonds got hit small and Blackstone/GSO Strategic Credit Fund (BGB) - Get Free Report is down a penny.
* Banks got hit by profit-taking but are well off their lows.
* Same applies to both insurance and brokerages.
* Biotech flattish after a yuge day yesterday. Interestingly, large-cap biotech really lagged speculative biotech Acadia Pharmaceuticals (ACAD) - Get Free Report ; Aerie Pharmaceuticals (AERI) - Get Free Report ).
* Consumer non durables, save CPB, were weak despite a lower currency.
* Autos have no follow through (especially of a Ford (F) - Get Free Report - kind) from recent gains and good EPS. cash flow news.
* Interestingly, energy stocks failed to rally with a higher commodity price.
* Retail showed some life with Nordstrom (JWN) - Get Free Report and Bed Bath & Beyond (BBBY) - Get Free Report doing better. But HD, my Trade of the Week (short) suffered and JCPenney (JCP) - Get Free Report continues to stink up the joint.
* Old tech was weaker led by Microsoft (MSFT) - Get Free Report . IBM (IBM) - Get Free Report rallied from being way down to be down small--a continued short.
* REITs were up small.
* Media is weak--led by Disney (DIS) - Get Free Report (a small short at this point) on a downgrade (and upgrade!).
* Ag equipement lower; Caterpillar (CAT) - Get Free Report down a beaner but it was much worse.
* (T)FANG was flat to lower, save $12 on Amazon (AMZN) - Get Free Report .
* In individual stocks, as mentioned CPB is mmm mmm good. Radian (RDN) - Get Free Report and Dupont (DD) - Get Free Report trade well after big moves in the last few months. Oaktree Capital (OAK) - Get Free Report , up for the fifth day in a row, but modestly so. Apple (AAPL) - Get Free Report suffers from bad Thiel Speak. Coca-Cola (KO) - Get Free Report continues to underperform.
Here are some value-added columns on our site today:
1. Jim "El Capitan" Cramer on why its cool to be "down."
2. "Meet' Bret Jensen on biotech.
3. Rev Shark roots for a lower market.
4. Great article on the nuances of trading from Tim "Not Judy or Phil" Collins.
5. Tim Melvin hoping for crappy bank EPS.

Positions: Long AGN, SDS large, HIG large, JCP large, SQQQ, OAK, RDN, DD small, GS small, C small, BAC small, JPM small
Short JCP calls, SPY, IWM small, QQQ small, AAPL, IBM small, MET, LNC, DIS small, IYR small, KO small, HD small
Position: See above.
Avoid Staring in the Rear View (and Discounted) Mirror
Originally published Jan. 10 at 9:59 a.m. EDT
I am absolutely astonished how universally positive and self-confident the talking heads' reaction is to the rising confidence of consumers and small business.
The glib interpretation that this is unequivocally a market tailwind may be--and is often--misplaced.
Confidence indicators are squishy and undependable rear view mirror indicators that are typically already discounted (like now!) in elevated share prices by the time the reading soars.
Buffett once said, "Price is what you pay and value is what you get."
The market is a discounting mechanism that anticipates trends, and by the time the trend is obvious it is often the time to fade it--which is exactly what I am doing this week.
Yell and roar...and sell some more.
I am, as I move to a large net short exposure now.
Position: None.
Action Alerts PLUS, which Cramer co-manages as a charitable trust, is long AGN, C and AAPL.
Doug Kass is the president of Seabreeze Partners Management Inc. Under no circumstances does this information represent a recommendation to buy, sell or hold any security.