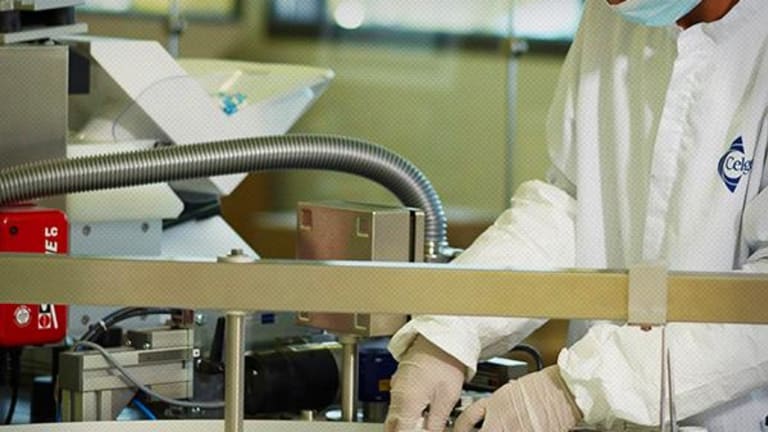 Allergan, Celgene Offer Solid Biotech Value
The two giants likely won't be home runs, but they remain stalwarts in the biotech space.
The first five months of 2017 were dominated by the so-called FAANG stocks. A month ago, these five stocks accounted for just over 40% of the Nasdaq's approximate 20% gain for 2017. Investors were willing to pay a large premium to purchase the big, steady growers in the market, especially with the first quarter's anemic GDP growth rate.
That situation has started to change over the past month as some of the momentum has left the FAANG portion of the market and flowed into other sectors of equities. With GDP growth set to pick up significantly over the final three quarters of 2017, I think that rotation will continue.
One part of the market benefiting from this emerging trend is biotech, which has had a solid month and is now up about 15% for the year to date. The main biotech indices also recently broke through firm upward resistance levels that had been in place since December 2015.
I still think there is solid upside left in the some of the larger names in the sector. Today, we look at two giants that are pursuing different methods to continue to augment their pipelines and growth prospects.
Let's start with biotech stalwart Celgene Corp. (CELG) . Its stock finally is starting to move after over two years of stagnation despite stellar revenue and earnings growth over that time span. Its blood cancer drug Revlimid continues to be a blockbuster and should hit the $10 billion mark in annual revenue in a couple years. Celgene also has three other drugs that will post more than $1 billion in sales this year.
In addition to its own impressive pipeline, Celgene has dozens of collaboration deals with small- and mid-cap concerns across myriad disease areas. It is a development strategy I wish other large industry players such as Gilead Sciences Inc. (GILD) would adapt to the same effect as Celgene. It greatly increases the "shots on goal" within the pipeline and is less risky that downright acquisitions. Celgene inked another significant collaboration deal earlier this week with oncology concern BeiGene Ltd. (BGNE) . Despite earnings growth of better than 20%, Celgene still can be had for the overall market multiple.
Allergan plc (AGN) is pursuing a different development and growth strategy than Celgene. (Allergan is part of Jim Cramer's Action Alerts PLUS charitable trust.) The Irish giant is using the $40 billion it received for selling its slow-growing generics business to Teva Pharmaceutical Industries Ltd. (TEVA) to boost prospects in its faster-growing branded drug business. Earlier this year the company bought Zeltiq Aesthetics Inc. (ZLTQ) to expand the cosmetic part of its business, which is dominated by the company's Botox product line. It was a smart, $2.5 billion purchase and I expect Allergan to continue to make similar deals.
Allergan recently also initiated a dividend payout and yields a little more than 1% now. I expect annual dividend hikes to be part of the way Allergan rewards its shareholders going forward. While not growing as fast as Celgene, earnings should continue to deliver 10% to 15% annual gains on a high single-digit rise in revenues. At 15 times this year's earnings, that growth is trading a nice discount to the market.
Neither of these names is going to be a home run like some of small-cap biotech concerns I profile on these pages have the potential of being. However, they are nice, solid singles in what is at least a fairly valued market.
(This commentary originally appeared on Real Money Pro. Click here to learn about this dynamic market information service for active traders.)
At the time of publication, Jensen was long AGN and CELG.