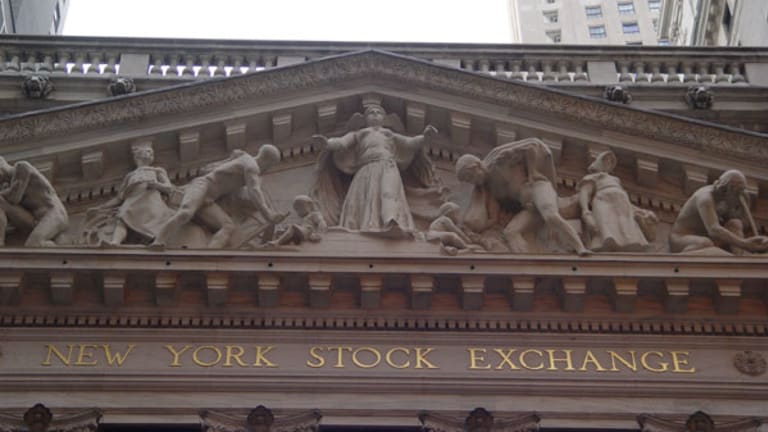 Allergan, Apple, Oakland Capital: Doug Kass' Views
Doug Kass shares his thoughts on China and life insurers.
Doug Kass shares his thoughts on China and life insurers.
Doug Kass shares his views every day on RealMoneyPro. Click here for a real-time look at his insights and musings.
My Takeaways and Observations
Originally published Dec. 15 at 4:51 p.m. EDT
Slow day, at meetings all Friday morning.
Despite the strength in our currency (and its adverse implications on multinational profitability), there was no follow-through to Thursday's schmeissing.
I reflected on my July call that we have hit a Generational Bottom in Bond Yields.
Kool-Aid tastes refreshing to the majority of traders and investors these days.
Some inside baseball--an example of dialogues I have with some smart pros. I hope this inside look is helpful.
A look back with some focus on credit (which we rarely discuss).
A puzzling Oaktree Capital (OAK) - Get Report , whose leaves have wilted.
Today's small trades.
The market was up from the "get go" and then basically flat-lined.
The U.S. dollar is smoking hot.
The price of crude is flat and now under $51.
Gold down by another $32. Free fall/panic time but I can't just make a solid case for the yellow metal.
Ag commodities: wheat down $0.09, corn down $0.06 soybeans up $0.07 and oats down $0.05.
Lumber flat.
Bonds continue the flight higher in yield and lower in price. The 10-year is up 7.5 basis points to 2.6% and the long bond is up 2 basis points.
The 2s/10s spread expands by another 4 bps to 133 basis points.
Municipals off small, and closed-end muni bond funds getting hit again. Stay away! (We are in the tax-selling season for this asset class and just like December 2013 I could see some opportunities but only if duress is more substantial).
The junk bond market has a small bid, but Blackstone/GSO Strategic Credit Fund (BGB) - Get Report is down by two pennies.
Banks up solidly, as are brokerages and insurance.
Auto stocks up small.
Energy stocks are flattish.
Retails continues to be pressured, led by losses in Nike (NKE) - Get Report and Nordstrom (JWN) - Get Report . I added to JCPenney (JCP) - Get Report . Again, my retail contacts and channel checks see a weak December, despite the cooler weather. I plan to add to my VanEck Vectors Retail ETF (RTH) - Get Report short (which is now small).
Old tech is doing nothing. I shorted more International Business Machines (IBM) - Get Report Friday but still am small-sized.
Consumer staples are up despite the strength of our currency. I picked at Campbell Soup (CPB) - Get Report on weakness Thursday.
Big pharma is better, led by Eli Lilly (LLY) - Get Report .
Biotech up 1% (Celegene (CELG) - Get Report and Allergan (AGN) - Get Report both up) though Valeant Pharmaceuticals (VRX) at another new low as Ackman takes a tax loss on 3.5 million shares. Speculative biotech is firmer, notably Acadia Pharmaceuticals (ACAD) - Get Report , Sage (SAGE) - Get Report .
Fertilizers stronger, led by Monsanto (MON) .
Ag equipment was stronger, Deere (DE) - Get Report and Caterpillar (CAT) - Get Report up by almost a beaner.
(T)FANG mixed. Amazon (AMZN) - Get Report down after a good run.
In individual stocks, two favs , DuPont (DD) - Get Report and Radian (RDN) - Get Report , hit new highs. IBM turns lower after being up all day (I added to my short on earlier strength). Apple (AAPL) - Get Report continues on its move higher.
Here are some value-added columns posted by our contributors.

1. Jim "El Capitan"Cramer is " chewing."
2. "Meet" Brett Jensen likes Celgene and Gilead.
3. Bruce Kamich teases us about where he would buy the 10-year U.S. note.
4. Ed Ponsi "Scheme" on how to play trading sardine, Freeport-McMoRan.
5. Tim "Not Judy or Phil" Collins on the same subject, fixed income.
Positions --
Long: JCP large, CPB large, DD, RDN, SDS small
Short: SPY small, CAT small, AAPL large, IBM small
Position: See above.
Ringing the Cash Register
Originally published Dec. 14 at 3:20 p.m. EDT
With S&P futures now about 28 handles less than the post-Fed rally, I am taking off my trading short rentals made at that time (including some of my ProShares UltraShort S&P500 ETF (SDS) - Get Report , iShares Russell 2000 Index ETF (IWM) - Get Report and SPDR S&P 500 ETF Trust (SPY) - Get Report ).
I also reduced Direxion Daily Small Cap Bear 3X Shares (TZA) - Get Report at around $20.08 ("Trade of the Week") for a nice gain.
Remember trades are trades--they are short-term rentals and not long-term leases.
This will move me back to between small-sized and medium-sized net short in my portfolio.
Position: Long SDS small, TZA small; short SPY small, IWM small.
Did I Mention Something About China ... and Life Insurers, Too?
Originally published Dec. 14 at 8:51 a.m. EDT
On cue, China says it plans to slap a penalty on an unidentified U.S. auto manufacturer for monopolistic behavior.
And Morgan Stanley downgrades the life insurance space.
Now that's timing!
Ford (F) - Get Report , General Motors (GM) - Get Report , MetLife (MET) - Get Report and Lincoln National (LNC) - Get Report are trading lower in pre-market action.
By contrast, International Business Machines (IBM) - Get Report is trading higher (I am adding to my short in pre-market trading as this is small and will very slightly dent margins) on news that the company plans to add to its U.S. hires.
Position: Short LNC, MET, IBM (all small).
Action Alerts PLUS, which Cramer co-manages as a charitable trust, is long AGN and AAPL.
Doug Kass is the president of Seabreeze Partners Management Inc. Under no circumstances does this information represent a recommendation to buy, sell or hold any security.