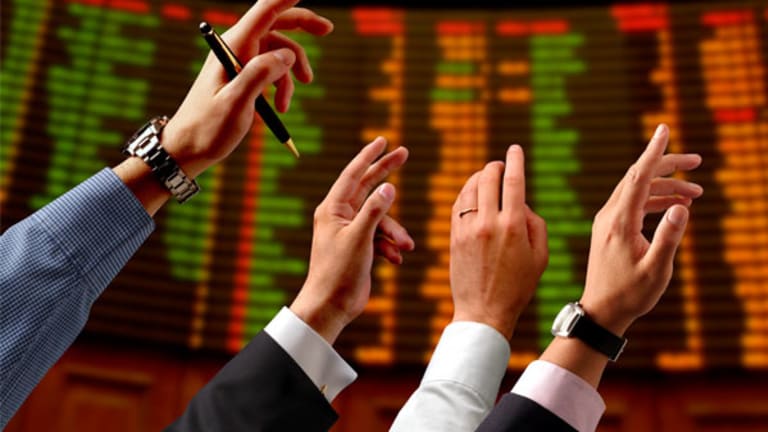 Allergan, Apple, Facebook: Doug Kass' Views
Doug Kass shares his thoughts on buying retail, and discusses why he's favoring the short side in a big way.
Doug Kass shares his views every day on RealMoneyPro. Click here for a real-time look at his insights and musings.
My Takeaways and Observations
Originally published Jan. 19 at 4:13 p.m. EDT
I had my most active day of the year trading. It was also my most profitable.
Regardless of one's market view, I continue to see more opportunities on the trading side vs. the investing side in the months ahead.
I started Thursday with a story regarding an amazingly quick mall fall. The drop in value is a reflection of the state of retail. But, I am poised to buy retail at the sound of cannons.
MGIC Investment's (MTG) - Get MGIC Investment Corporation Report win could be Radian (RDN) - Get Radian Group Inc. Report 's gain ( here and here).
Good read from Yale's Nobel Prize winner, Robert Shiller.
About interest rates.
Apple (AAPL) - Get Apple Inc. Reportcatches a downgrade.
I favor the short side. Sis boom blah!
I looked for a first half top in January (for the year)--and we remain on script. Stay tuned.

At 3 p.m. stocks are near the day's lows
The U.S. dollar weakened.
The price of crude oil rose by about two bits to $51.40.
Gold fell by $8 to $1,203. I am buyer, to replace the half position I sold soon.
Ag commodities: wheat down $0.08, corn up $0.02, soybean down $0.05 and oats up $0.01.
Lumber was flat.
For the second day in a row bonds got schmeissed iShares Barclays 20+ Yr Treas.Bond ETF (TLT) - Get iShares 20+ Year Treasury Bond ETF Report down over a beaner, again. (Good sale in fixed income last week!)
The 10-year bond yield rose by 7 basis points to 2.46%. The long bond yield rose by 5 basis points.
The 2s/10s expanded by 4 basis points to about 124 basis points.
Municipals got hit and so did closed-end muni-bond funds.
High yield was junky--but Blackstone / GSO Strategic Credit Fund (BGB) - Get Blackstone / GSO Strategic Credit Fund Report rose by a penny. Banks continue to be sold for a second day in a row--despite much higher bond yields and lower bond prices. Crickets from financial bulls--who seem to rationalize the large move this week and lack of correlation to bonds as a random act. Our "Trade of the Week" (short C) is now down by 5.5% or $3 since the trade was discussed in my Diary.
Retail remains for sale. But my view is that a sentiment extreme is developing.
Insurance stocks got whacked, including fav Hartford Financial (HIG) - Get Hartford Financial Services Group, Inc. Report .
Brokerages got hit, too. Goldman Sachs (GS) - Get Goldman Sachs Group, Inc. Report , put on Best Ideas List last week at $242, is down to $231.
Biotech was lower, but not materially so (Celgene (CELG) - Get Celgene Corporation Report , Allergan (AGN) - Get Allergan plc Report lower). However, spec biotech roiled to the downside (Intrexon (XON) - Get Intrexon Corporation Report , Ziopharm Oncology (ZIOP) - Get ZIOPHARM Oncology, Inc. Report , Acadia Pharmaceuticals (ACAD) - Get ACADIA Pharmaceuticals Inc. Report , Aerie Pharmaceuticals (AERI) - Get Aerie Pharmaceuticals, Inc. Report ).
Autos mixed. Ford (F) - Get Ford Motor Company Report up, General Motors (GM) - Get General Motors Company Report down. Good for our pairs trade from yesterday.
Ag equipment sturdy. Caterpillar  (CAT) - Get Caterpillar Inc. Report is a rock.
Big pharma hit with losses at Merck (MRK) - Get Merck & Co., Inc. Report , Bristol-Myers Squibb (BMY) - Get Bristol-Myers Squibb Company Report , Eli Lilly (LLY) - Get Eli Lilly and Company Report and Johnson & Johnson  (JNJ) - Get Johnson & Johnson Report .
Consumer staples lower. Campbell Soup  (CPB) - Get Campbell Soup Company Report trades well. Coca-Cola (KO) - Get Coca-Cola Company Report is still a loser.
Transports big upside move--based on CSX (CSX) - Get CSX Corporation Report takeover talk.
Media was mixed. Disney  (DIS) - Get Walt Disney Company Report downside feature.
(T)FANG held up fairly well but well off morning highs. Tesla (TSLA) - Get Tesla Inc Report , Morgan Stanley (MS) - Get Morgan Stanley Report upgrade and Netflix  (NFLX) - Get Netflix, Inc. Report on sub beat. But Facebook  (FB) - Get Meta Platforms Inc. Class A Report and Alphabet  (GOOGL) - Get Alphabet Inc. Class A Report were lower.
Here are some value added contributions on our site today:

1. Jim "El Capitan" Cramer had a bunch of good columns today, including this one on Secretary of Treasury-designate Mnuchin. I liked this one alot, as well.
2. Mark "Nashville Cats" Sebastian on the Russell Index.
3. Oil vey, Tim "Not Judy or Phil" Collins.
4. Mike Norman has a primal scream.
5. "Meet" Brett Jensen (who will be subbing for me tomorrow) on investment strategy in the Trump Era.
Positions --
Long SDS, HIG large, CPB large, F, RDN, JCP large, AGN
Short SPY, QQQ, IWM small, GM, KO small, DIS small, CAT small, C small, GS small, AAPL, JCP calls
Position: See above.
Favoring the Short Side in a Bigger Way
Originally published Jan. 19 at 10:19 a.m. EDT
With interest rates rising over the past few days, banks and other financials shares have been quite weak after earnings reports.
From financial bulls we hear very little about this changing correlation.
Citigroup (C) - Get Citigroup Inc. Report short is my Trade of the Week and is now down more than 5% from Tuesday's levels.
New Best Ideas short Goldman Sachs (GS) - Get Goldman Sachs Group, Inc. Report --put on last week at $242--continues lower, now at $231.80.
As to the market I have a large net short exposure, having added to shorts in Caterpillar (CAT) - Get Caterpillar Inc. Report , Apple (AAPL) - Get Apple Inc. Report and Lincoln National (LNC) - Get Lincoln National Corporation Report and going longer in ProShares UltraShort S&P 500 ETF (SDS) - Get ProShares UltraShort S&P500 Report this morning.
Position: Long SDS large; short C small, BAC small, JPM small, GS, AAPL.
Action Alerts PLUS, which Cramer co-manages as a charitable trust, is long AAPL, AGN, GOOGL, FB and C.