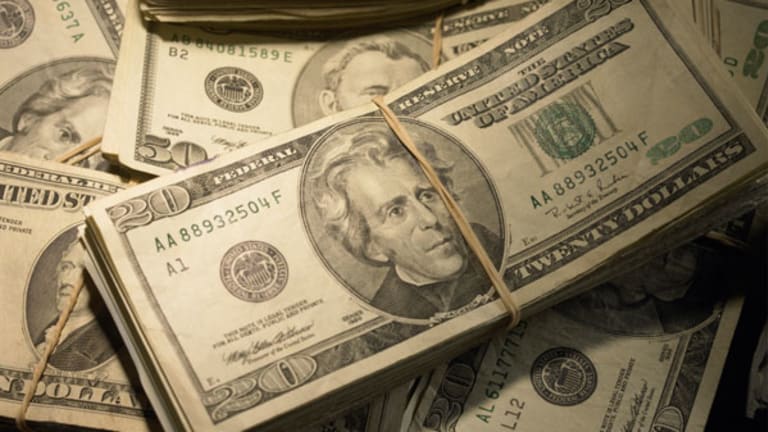 Allergan, Apple, Costco: Doug Kass' Views
Doug Kass shares his thoughts on the post-fact investment world and delivers his verdict on Caterpillar.
Doug Kass shares his views every day on RealMoneyPro. Click here for a real-time look at his insights and musings.
My Takeaways and Observations
Originally published Dec. 21 at 3:19 p.m. EDT
Be true to your teeth so they won't be false to you.
--Soupy Sales
Have we entered a post-fact investment world?
I moved to large ProShares UltraShort S&P500 ETF (SDS) - Get Report position as my freak flags show again. Viva La Revolucion!
Good stuff from the Rev Shark, as a counter-point to my ursine views.
Here's why the housing data was stronger than expected and why we are near Peak Housing (going forward).
Hedge funds are finally in.
Danielle on price discovery ... invoking Sir Arthur Cashin.
Subscriber Comment of the Week. Solid one.
Tweet of the Day. Highlights Wall Street's continuing contradictions.
Snoozefest: As Sir Arthur Cashin relayed, a remarkably narrow trading range was seen today.
I am planning to leave right after the close to get pretty for my Mar-A-Lago dinner.
I will report back in the morning!
At 2:30 p.m. EST markets are flat.
The U.S. dollar weakened ever so slightly Wednesday.
The price of oil faltered, dropping by $0.80 to $52.50/barrel.
Gold flat-lined. I noticed that SPDR Gold Trust ETF (GLD) - Get Report has been liquidated nearly 30 days in a row as we move towards an extreme bearish sentiment reading.
Ag commodities: wheat down $0.025, corn down $0.03, soybean up $0.02 and oats up $0.01.
Lumber down $4.
Bonds rallied in price and declined in yield. The 10-year note fell by 2 basis points to 2.55%, and the long bond dropped by 3 basis points.
The 2s/10s spread climbed by a tick to 134 basis points.
Municipals rose modestly and closed-end muni-bond funds were mixed to lower.
Junk bonds were better bid and Blackstone/GSO Strategic Credit Fund (BGB) - Get Report fell by 2 basis points.
Banks were unchanged.
Brokerages slightly lower (Goldman Sachs (GS) - Get Report down $2).
Insurance mixed. Long Hartford Financial (HIG) - Get Report , which rose by nearly 1%.
Autos mostly idled.
Old tech was generally lower.
Energy stocks were a bit higher, even though the commodity price was lower.
Big pharma continues to dog it, led by a decline in Merck (MRK) - Get Report .
Biotech lost what it made on Tuesday. Allergan (AGN) - Get Report was an upside feature, but Celgene (CELG) - Get Report faltered and spec biotech was lower.
Consumer staples were mixed. Campbell Soup (CPB) - Get Report made a new high on the move, though.
Ag equipment was lower. I am close to building up my Caterpillar (CAT) - Get Report short again after this week's poor monthly retail sales data.
Retail headed lower, but long JC Penney (JCP) - Get Report , which was up all day (though well off the highs). New longs Macy's (M) - Get Report and Kohl's (KSS) - Get Report sold off slightly.
Fertilizers are returning to their old behavior ... acting like excrement.
Mixed media.
(T)FANG showed little price movement.
In individual stocks, Radian (RDN) - Get Report eclipsed $18 (up 80% from July buy, Best Ideas List inclusion). My fav large-cap long, DuPont (DD) - Get Report , was DuLovely (making another high). My favorite large-cap short, Coca-Cola (KO) - Get Report , continued to slide. Short Apple (AAPL) - Get Report , which continued higher.
Here are some value-added contributions on our site:
Jim "El Capitan" Cramer doesn't want to take profits.
Tim "Not Judy or Phil" Collins on the Twitter management exodus. (Twitter is the subject of one of my 2017 surprises.)
Gary Morrow on Fed Express.
Carley Garner on buying cheap portfolio insurance ... now.
Sham Gad "And the Pharaohs" gets reflective.

Positions --
Long: HIG large, CPB large, RDN, DD small, M small, KSS small, SDS large
Short: SPY, KO small, AAPL large, CAT small
Position: See above.
Caterpillar Isn't Turning Into a Butterfly
Originally published Dec. 20 at 9:41 a.m. EDT
Caterpillar (CAT) - Get Report announced November monthly dealer sales on Tuesday:
Total Machines Worldwide fell 17% year over year vs. a 12% decline in the prior month
Total Energy & Transportation fell 25% year over year versus a 28% decline in the prior month
Total Machines (November 2016 vs. October 2016)
Asia Pacific +11% vs +12%
EAME: -25% vs -14%
Latin America: -32% vs -24%
North America: -19% vs -16%
World: -17% vs -12%
Total Energy & Transportation (November 2016 vs. October 2016)
Power Gen -31% vs -33%
Industrial -24% vs -29%
Transportation -32% vs -32%
Oil and gas -17% vs -21%
Total -25% vs -28%
CAT is still a dog.
Position: Short CAT small.
The Retail Stocks Dilemma: Attention Value Investors
Originally published Dec. 20 at 7:54 a.m. EDT
One would think that with the labor market tightening, wages rising and the prospects for a lower effective individual tax rate in a Trump administration, retail stocks would be leading the markets, not lagging the markets.
This has not been the case over the last two months and since the November election.
In my writings I have warned that customer traffic since early November has been disappointingly weak. Even the harsh weather has failed to spur traffic in December. And, of course, the continuing Amazon (AMZN) - Get Report threat cannot be understated. (Amazon is part of the Growth Seeker portfolio of stocks.)
While we made a very successful trading long in retail within the last three months, I now own but one retailer, JCPenney (JCP) - Get Report .
Retail sales for November suggest a sluggish month, though improving results at Costco (COST) - Get Report --a good bellwether--implies some acceleration in sales after the election. All in all, it is a fair bet that November was adequate--neither a bonanza nor a disaster.
Importantly, the retail industry did not enter November with excess inventories, something that almost always causes a margin problem. Since Dec. 1 weather has turned dramatically favorable for selling, especially versus last year. The forward 10-day forecast through Christmas suggests more of the same.
Now comes the better part ...
There are two extra shopping days before Christmas--a once in seven-year occurrence--and they are on the high selling days of Friday and Saturday, a once in 40-year occurrence. Retailers undoubtedly have planning data for the two extra days. That should make the last week spectacular (up well over 50%) versus 2015, and I think it is a good bet those days will save the year. The odds of this happening increase with helpful weather, which is now a near-certainty against a warm 2015.
The National Retail Federation (NRF) forecast is for a 3.6% increase in sales, a number that could be low. Consumer activity in hotels and casinos looks better as of late, as it does in U.S. restaurants. Online should be very strong and grow over 15% (some reports on actual online sales will come out in the next five days), leaving comps at stores in the plus 2% area. Given low retail valuations, this should be enough to stabilize and even improve some retail industry shares.
Consumer electronics in 2016 looks stronger. 4K TVs, as anticipated, are in the sweet spot of the price decline/volume expansion cycle. Retailers should actually be able to make money here.
However, the high end of retail (such as Neiman Marcus) is a mess due to the dollar's strength, which has retarded foreign buying and reduced tourism. Otherwise, things should be quite satisfactory and retailer exposure to favorable potential tax changes is significant. Put simply, there are a lot of ways for investors to win and, at least in theory, there is good intermediate-term investment value here.
Another issue is worth highlighting. Sears Holdings (SHLD) hit a 52-week low today after reporting a devastatingly bad third quarter. Chairman and CEO Ed Lampert has pulled several restructuring/asset sale rabbits out of his hat and he is running out of tricks. I now believe a bankruptcy filing is possible before Jan. 15, 2017, the day vendors must be paid. Available credit is less than $200 million. That is enough for this year, but with EBITD losses of more than $1 billion, 2017 is likely out of the question. Sales at Sears are still more than $20 billion and tens of thousands of employees are likely to be out of work next year. This could make the Fed more docile than generally expected. I am amazed this doesn't get more press (but watch for my 15 Surprises for 2017 coming up in a week or so!).
Despite reasons to be optimistic on general merchandise, the retail stocks have suffered recently. Here's why:
A relatively inexperienced group of sell-side retail analysts has little understanding of how this unique seasonal calendar will affect sales trends.
Poor reports on the third quarter released late in the earnings season from Hudson Bay (Saks, Lord and Taylor and a lot of leverage) and Neiman Marcus Group. These firms serve the high end, where a lot of the business is generated by foreigners. NMG is uniquely heavy in high-end jewelry. The combination of problems in China and dollar strength is weakening this sector.
JPMorgan essentially recommended sale of Nordstrom (JWN) - Get Report. That firm is also in the high end. Its stock has surged more than 70% since June and had been extended.
I believe that a number of retail stocks--e.g., JCP, Kohl's (KSS) - Get Report and Macy's (M) - Get Report --could represent intermediate-term value, and I may be going shopping in the weeks ahead because:
They have scale online businesses that allow them to compete against AMZN.
They are apparel-centric. The weather is a friend this year. Reliable forecasts are available until Christmas and, in a word, they are optimal. Temperatures are the coolest in four years and Planalytics, a consultant used by the industry to help with weather planning, has forecast strengthening apparel sales. This makes sense. This is the coldest weather in five years and apparel is way below trend in sales. Retailer margins in apparel are superb as it is a blind item, hard to compare on price.
Valuations are reasonable (6x-7x EBITD), comparisons are easy, and there is a lot of free cash flow.
Bottom Line
Retail is a good chance to practice value investing, provided you have an intermediate-term time frame -- though when it really works, it is anything but easy; this opportunity is no exception. The bad news is that the efficacy of today's recommendations cannot be known until mid-January, when I suspect retailers will inform investors what happened. Results will be out in mid-February.
These should be more than offset by the calendar and the wonderful weather. Sales of apparel are going up in a significant manner.
While I am currently only long JCP, I am beginning to look toward purchasing more retail stocks in the current period of weakness, which could be accelerated by tax-loss selling over the next 10 days.
Position: Long JCP large.
Action Alerts PLUS, which Cramer co-manages as a charitable trust, is long AGN, AAPL, and COST.
Doug Kass is the president of Seabreeze Partners Management Inc. Under no circumstances does this information represent a recommendation to buy, sell or hold any security.