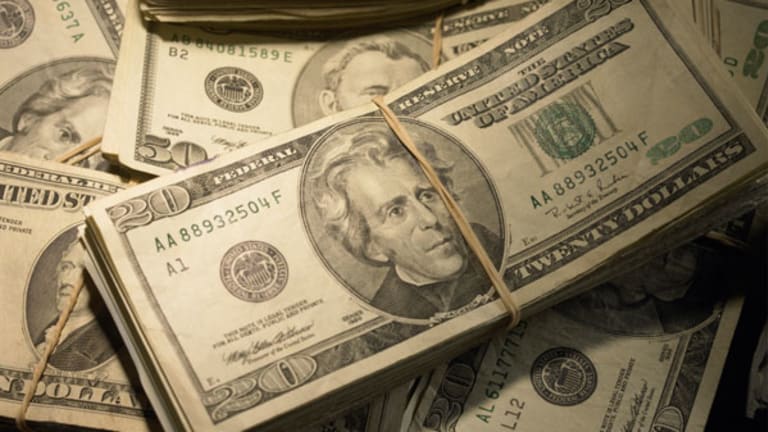 Allergan, Apple and Cisco: Doug Kass' Views
Doug Kass shares his thoughts on considering the contrary and shorting the Cisco Kid.
Doug Kass shares his views every day on RealMoneyPro. Click here for a real-time look at his insights and musings.
My Takeaways and Observations (Early Edition)
Originally published Nov. 17 at 3:41 p.m. EDT
The consideration of the contrary has been
all week. And
in "
Don't Run With the Crowd: Embrace the Contrary
."
Miami madness (of a real estate kind)
Mark Grant is scared by our currency's strength.
Danielle on scenarios.
Boockvar to subscriber Bad Golfer!
J.C. Penney (JCP) - Get J. C. Penney Company, Inc. Report short puts--a 100% win. (Shorting options frequently ends differently!)
Just say no to closed-end muni-bond funds.
Could iPhone manufacturing be coming back home?
On inflation breakevens--a picture that speaks volumes.
The market moved higher from the "get go"--in large measure it seems to be a response to the better economic data this morning.
At 3 p.m. stocks were near the day's highs.
I shorted The Cisco Kid last night. Sticking with this short rental. I added to my ProShares UltraShort S&P500 ETF (SDS) - Get ProShares UltraShort S&P500 Report long (growing ever larger). My net short exposure--is now between small and medium-sized at the close.
The U.S. dollar, as discussed above, continued to rip higher against the euro. I am concerned. Mark Grant is concerned. The market is not concerned.
The price of crude oil (down $0.20) settled lower after yesterday's robust gains.
Gold fell $9 as it continues to break down--closing in on $1,200.
Ag commodities: wheat up $0.07, corn up $0.04, soybeans up $0.05 and oats up $0.02.
Lumber up $7 following the big housing number this morning.
Bonds schmeissed ... iShares Barclays 20+ Yr Treas.Bond ETF (TLT) - Get iShares 20+ Year Treasury Bond ETF Report down $1.50.
The yield on the 10-year and 30-year notes and bonds rose by about 5 basis points.
The 2s/10s spread steepened by 2 basis points to about 125 basis points.
Municipal bond funds traded lower. Closed-end funds got hit.
High-yield was flat, though Blackstone/GSO Strategic Credit Fund (BGB) - Get Blackstone / GSO Strategic Credit Fund Report rose by $0.05.
Banks continued to be the "world's fair" but to this observer it is getting heady and panicky. My finger is on the short Financial Select Sector SPDR Fund (XLF) - Get Financial Select Sector SPDR Fund Report button. But not yet.
Insurers outperformed, but my long Hartford Financial (HIG) - Get Hartford Financial Services Group, Inc. (HIG) Report underperformed.
Brokerages up big again. Very over-bought.
Autos mixed.
Energy stocks, some profit taking.
Retail strong after Wednesday's weakness. Led by Best Buy (BBY) - Get Best Buy Co., Inc. Report and Home Depot (HD) - Get Home Depot, Inc. (HD) Report .
Biotech was marginally higher, led by Allergan (AGN) - Get Allergan plc Report and Celgene (CELG) - Get Celgene Corporation Report . Valeant Pharmaceuticals (VRX) still in the regulatory cross hairs.
Big pharma down--but barely.
Old media led by an analyst upgrade in Microsoft (MSFT) - Get Microsoft Corporation (MSFT) Report .
Consumer staples plagued by a strengthening U.S. currency. Investment short, Coca-Cola (KO) - Get Coca-Cola Company Report , can't get out of its own way ... a good thing.
Consumer discretionary was mixed.
(T)FANG had a good second day in a row--but stocks off their highs as Netflix (NFLX) - Get Netflix, Inc. (NFLX) Report turns red.
Apple (AAPL) - Get Apple Inc. (AAPL) Report a bit lower after a great day Wednesday.
Here are some value-added contributions on our site:

1.Jim "El Capitan" Cramer on banks. I am less positive than Jimmy--believing that it is late in the financial stock move.
2. Rev Shark on market manipulation.
3. Homie Mike Norman.
4. Tim Melvin explains his search for value.
5. Sossi drinks the Kool-Aid, err ... the Pepsi!
Positions:
Long HIG large, JCP large, SDS large, GLD small
Short SPY small, GM small, F small, CSCO small, NFLX small, KO, AAPL
Position: See above .
Short the Cisco Kid
Originally published Nov. 17 at 9:22 a.m. EDT

I took a trading short in Cisco (CSCO) - Get Cisco Systems, Inc. Report last night on the weak guidance.
I see $29 before $31.
While this is not an exciting short, it may be a low-risk short.
The first quarter was a beat but forward guidance for the January quarter disappointed--estimated revenue down by 2% to 4% and estimated earnings per share of $0.55 to $0.57 were both well below expectations.
The biggest headwind appears to be in the service provider segment, which will show up in lower routing sales with orders down by 12%. Flat cloud revenues are a concern as well; data center switching is exposed to the public cloud and represents one-quarter of sales.
I expect that at the company's next analyst meeting Cisco will reduce rather considerably its long-term sales forecasts from about 4.5% to 2.5%.
So, while the shares are inexpensive relative to Cisco's mature peers at 14.5x 2017 forecasts, its enterprise value/free cash flow may continue to decline to 8x.
Position: Short CSCO small .
What Goes Up Must Come Down ... and Vice Versa
Originally published Nov. 15 at 9:02 a.m. EDT

As mentioned earlier, it is now possible that the banks, brokerages, insurers and retailers (I have sold out of much of the group) will give up some of their recent gains over the next few days.
Conversely, I am expecting the Nasdaq to recover somewhat (I covered my PowerShares QQQ Trust (QQQ) - Get Invesco QQQ Trust Report short Monday).
I also expect bonds to rally in price and decline in yield.
Position: Long bonds; short TLT small.
Action Alerts PLUS, which Cramer co-manages as a charitable trust, is long AGN, AAPL, and CSCO.
Doug Kass is the president of Seabreeze Partners Management Inc. Under no circumstances does this information represent a recommendation to buy, sell or hold any security.