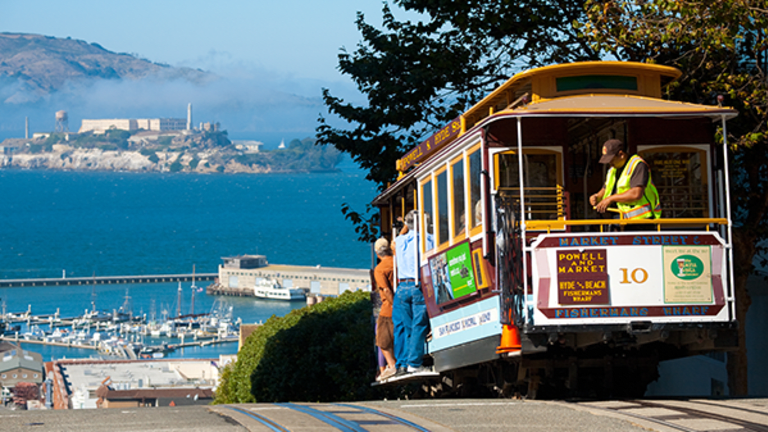 All Three Bay Area Airports Grow as United Expands Frisco Hub and Oakland Gets Two Spain Flights
Last week, United boosted service at San Francisco and two carriers added Oakland-Barcelona. Meanwhile, San Jose is fastest-growing major U.S. airport.
A precedent-shattering growth race between the big three U.S. airlines at Los Angeles International Airport may be overshadowing the continuing rapid growth in the San Francisco Bay Area where three vastly different airports are engaged in a fierce competition.
This month, all three airports have added new service.
At San Francisco International Airport, the only major hub in the region, United Continental Holdings Inc.  (UAL) - Get Free Report has built the world's premier trans-Pacific hub. Last week, United beefed up its schedules, adding seven new cities and putting bigger aircraft to work on routes to seven additional cities.
At Oakland International Airport, positioned as a convenient, low-fare alternative, two low-cost European carriers both began non-stop Barcelona service last week.
At San Jose International Airport, the competition is so intense that in March, Alaska Air Group Inc. (ALK) - Get Free Report and United both added San Jose-Newark that depart at exactly the same time, 6:30 a.m. But with the airlines battling for earliest departure, United now leaves at 6:20 a.m. and Alaska leaves at 6:25 a.m.
Last week, Southwest Airlines Co. (LUV) - Get Free Report  added San Jose-Reno service. Next month, AeroMexico will add Guadalajara service six days a week.
In April passenger counts, San Jose was up 18.6% to 999,504 and Oakland was up 12.8% to 1.1 million. The most recent statistics from San Francisco show March traffic up 4.8% to 4.3 million.
San Jose International is the fastest growing among America's 50 largest airports, a reflection of its status as the home airport for Silicon Valley, home to the U.S. technology industry.
"If our projections are right, every single day this summer our passenger counts passing through SJC will exceed those of our busiest days -- Thanksgiving weekend -- in 2016," Jack Aitken, San Jose's interim director of aviation, said recently in a prepared statement.
The airport said its first quarter 10.2% increase in passengers was higher than the growth rates at either Oakland or San Francisco.
"Adding more than a million new passengers in just one year, Mineta San Jose International Airport maintained its torrid growth in the first quarter of 2017, far surpassing both the national average and the strong growth rates of its competitors in the San Francisco Bay area," according to a May press release.
U.S. airline capacity is up about 4% year-to-date.
At Oakland, Level -- the new low cost affiliate of British Airways and Iberia, which have a common owner -- began thrice-weekly Barcelona service on June 2. Level operates an Airbus A330 seating 314.
Five days later on June 7, Norwegian added Barcelona service on a Boeing 787-8 seating 291 passengers.
During an investor call last week, United President Scott Kirby said the trans-Atlantic market suffers from oversupply, but U.S. bookings remain strong.
Kirby said low-cost competitors "are going to clearly pressure revenues in the short term (but) in the long term I don't think those business models work."
Speaking specifically of Norwegian Air Shuttle ASA, he said, "You can't produce the kinds of losses they produce" indefinitely. In the first quarter, Norwegian reported a 21.5% decline in EBITDA margin.
On June 8, United added new year-round service from San Francisco to Cincinnati, Detroit, New Orleans, Santa Rosa. Calif., and Spokane, Wash., as well as seasonal service to Hartford, Conn. and Kalispell, Mt. United also put larger aircraft on flights from San Francisco to Burbank, Calif.; Calgary; Dallas, Kansas City, Minneapolis, Palm Springs, Calif., and Santa Barbara, Calif. United offers about 300 daily San Francisco departures.
This article is commentary by an independent contributor. At the time of publication, the author held no positions in the stocks mentioned.