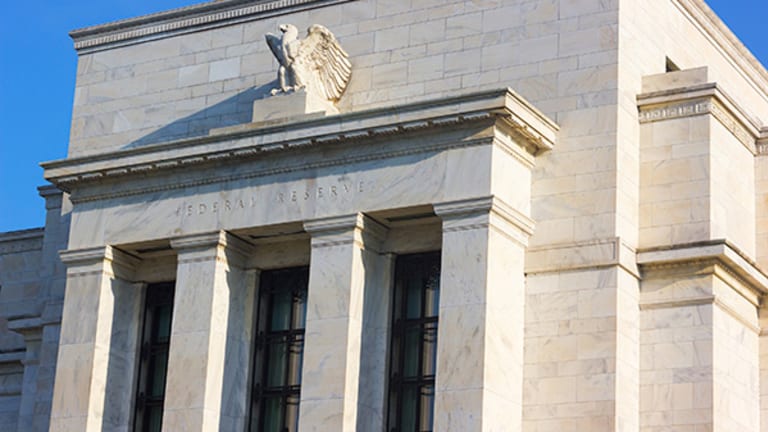 The 33 Biggest Banks Beat the Fed's Stress-Test Minimums for 2nd Straight Year
Morgan Stanley, Keycorp and Huntington Bancshares are above minimums -- but just barely.
For the second straight year, the biggest U.S. banks all had sufficient capital to withstand a severe financial downturn, according to results of the Federal Reserve's annual stress tests. 
It was a close call for some, including Morgan Stanley (MS) - Get Morgan Stanley Report , BMO Financial (BMO) - Get Bank of Montreal Report , Huntington Bancshares (HBAN) - Get Huntington Bancshares Incorporated Report and KeyCorp (KEY) - Get KeyCorp Report. The tests are the first phase of the review and will be followed by scrutiny of how the companies' plans for dividends and stock buybacks would affect their balance sheets.
The Fed's annual tests are designed to ensure banks with more than $50 billion in assets have sufficient buffers to survive a crisis similar to the 2008 economic meltdown. This year's review used economic modeling to predict how the companies would fare in three different scenarios, the worst of which was a hypothetical "deep and prolonged" recession with peak unemployment of 10% in the middle of 2017 and stocks losing half their value by the end of 2016.
Banks considered this year's test one of the harshest in recent years, partly because the hypothetical increase in the unemployment rate -- more than doubling the current level -- is much greater than in previous years.
In the 2015 test, the unemployment rate only increased by 4 percentage points through the middle of 2016. This year's review also raised the prospect of negative interest rates, which may be tougher on banks without major trading operations, for the first time.
"We don't think they [scenarios] are likely but they are plausible," said one senior Federal Reserve official. "We have learned that there is built-in capital as a buffer for a different kind of shock than we had last year."
Thursday's results may be less significant to investors than those announced next week because they considered only capital distribution plans set up in the past year. In the second stage, banks that don't meet regulatory minimums wouldn't be able to proceed with future payouts.
Banks that believe their results from the Dodd-Frank test suggest they might have a difficult time passing the next round have until Saturday to resubmit less ambitious proposals. 
A passing grade in Thursday's tests -- even one that appears overwhelmingly positive -- doesn't necessarily mean that the same institution will do as well next week. That review will include qualitative considerations, such as whether the bank has a strong set of risk-management systems, which present an extra hurdle.
Last year, for instance, the central bank raised concerns about Bank of America (BAC) - Get Bank of America Corp Report , telling the Charlotte, N.C.-based institution to correct weaknesses in its capital planning process and resubmit its share buyback and dividend distribution plan in September.
BofA's distribution plan was approved in December, though the institution was only permitted to pay a meager 5-cent quarterly dividend and complete a plan to repurchase $4 billion in common stock over five quarters.
This year, for the first time, the Fed will also apply different standards to large and complex institutions than to the rest, Ed Young, a senior director at Moody's Analytics, said in a telephone interview. "It very likely will play a key factor in the Fed's qualitative decisions next week," he said.
A pivotal point is "having firms really tie their risk-identification processes to their capital planning processes, and that's not always a straightforward translation," Young added.
How the central bank examiners "interpret and provide feedback on how firms do that" will be an important piece of the review, Young said.
Among the worst performers in Thursday's results was Morgan Stanley, which had a leverage ratio of 4.9%, just above a 4% minimum. Last year, the New York investment bank had a leverage ratio of 4.7%, also close to the minimum.
BMO Financial had a Tier 1 capital ratio of 6.4%, just above the minimum of 6% and a Tier 1 leverage ratio of 4.9%, just above a 4% minimum.
Huntington Bancshares, had a common equity tier 1 capital ratio of 5%, just above the 4.5% minimum, and a leverage ratio of 5.0%, just above the 4% minimum. KeyCorp had a Tier 1 capital ratio of 6.8%, slightly higher than the 6% minimum and a total capital ratio of 8.9%, just up from an 8% minimum.
KeyCorp is expected to significantly cut its distribution request after temporarily shutting down its buyback program during the $4.1 billion acquisition of First Niagara Bank
Altogether, the Fed estimated that over nine quarters of its so-called severely adverse scenario, the 33 banks would rack up $526 billion in losses.
"The negative interest rates combined with a recession worse than the Great Recession is a quirk that hits bank profitability, and we saw that in some firms' results, Anna Krayn, a senior director at Moody's Analytics, said in the interview.
Of the total, about $385 billion would be made up of loan losses and $113 billion would comprise trading and counterparty losses at the eight largest financial institutions. Last year, the Fed estimated that 31 tested institutions would lose $490 billion for nine quarters. In 2014, 30 banks were projected to lose as much as $501 billion in the worst-case scenario.
According to the Fed, the banks reviewed this year have added more than $700 billion in common equity capital since 2009.