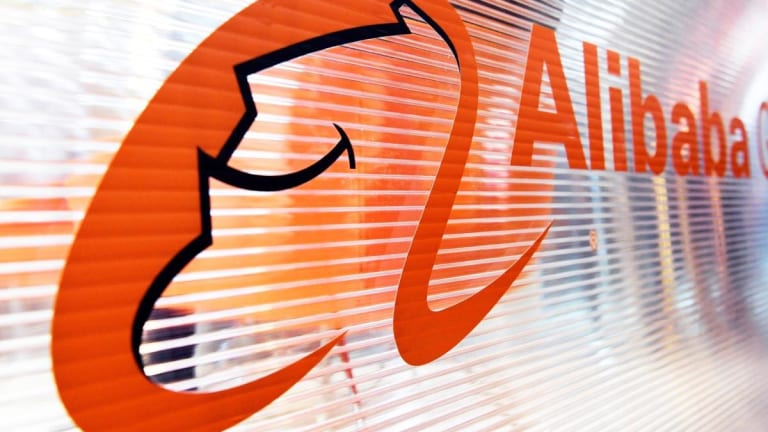 Alibaba Posts Robust Quarterly Revenue Growth
Despite worries about the Chinese internet market, Alibaba saw overall revenues grow by 61% in its June quarter.
Alibaba (BABA) - Get Report  investors just breathed a deep sigh of relief.
The Chinese digital colossus on Thursday morning reported robust June quarter (fiscal first quarter) numbers that saw overall revenue grow 61% to 80.9 billion renminbi, ahead of consensus estimates of 80.7 billion RMB from Thomson Reuters and 80.9 billion RMB from Bloomberg, but behind the 81.4 billion RMB estimate from FactSet.
Diluted EPS came in at 3.3 RMB, ahead of consensus estimates from FactSet (2.42 RMB), Thomson Reuters (2.79 RMB) and Bloomberg (2.57 RMB). EPS was diluted significantly in the quarter because of a large increase in the valuation of Ant Financial, which recently closed a $14 billion round of funding. Alibaba employees had received shares of Ant Financial as stock-based compensation and under U.S. accounting rules, those awards must be marked-to-market.
Shares of Alibaba, which are roughly flat over the last year after recording scorching growth over the previous two years, were down about 0.8% on Thursday late morning after initially rising as much as 4% in pre-market and morning trading after the results were released.
The strong revenue growth for the quarter matched the company's previous guidance issued last quarter of 60%-plus growth in RMB in fiscal 2019, which ends in March.
Rival Chinese internet giant Tencent (TCEHY) reported a disappointing second quarter last week in which it saw overall revenues grow just 30% compared to the previous quarter's 48%, as its online games revenue growth slowed significantly, sending shares tumbling and prompting worries about internet sector growth in China. 
For its part, Alibaba reported Thursday that its core commerce group revenues grew 61% year over year to 69.2 billion RMB, and that its Alibaba cloud division continued to grow rapidly, rising 93% year over year to 4.7 billion RMB. Its digital media group sales increased 46% to 6 billion RMB.
"Our China retail marketplace business continues to gain share, with New Retail initiatives driving further revenue growth and enabling our retail partners to seamlessly serve customers," said Daniel Zhang, Chief Executive Officer of Alibaba Group, in a press release. "We are executing our plan of providing more value and choice to users along the consumption continuum, with digital entertainment and local service offerings that tap into big addressable markets beyond core commerce."
The company also announced Thursday that its two majority-owned local delivery services, Ele.me and Koubei, would be merged into a new entity that would also receive a new $3 billion investment from both Alibaba and Softbank (SFTBY) .
Rival delivery service Meituan Dianping, which is 20%-owned by Tencent, recently filed to go public.