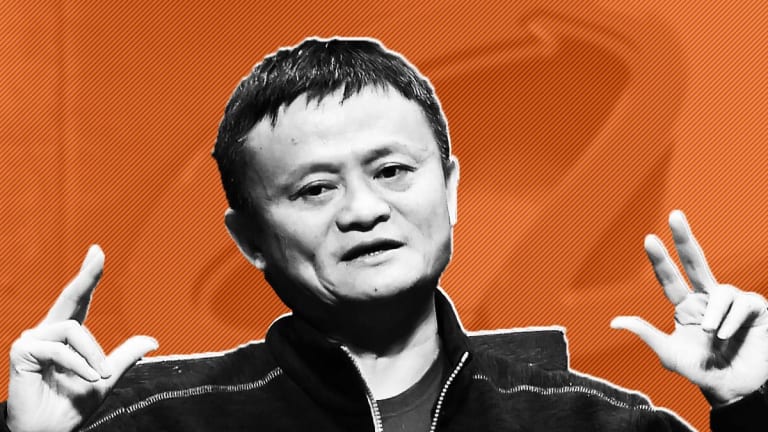 Alibaba's Investor Day: 5 Key Takeaways
The Chinese e-commerce giant had much to share about its core marketplaces, bricks-and-mortar efforts and future investments.
There's a lot to unpack from Alibaba's (BABA) - Get Alibaba Group Holding Limited American Depositary Shares each representing eight Report latest Investor Day event.
Over the course of the Investor Day, which was actually a two-day event held this week in Alibaba's hometown of Hangzhou, China, departing chairman and co-founder Jack Ma, CEO Daniel Zhang and other senior Alibaba execs shared stats and outlined their company's strategic goals for major businesses.
Here's a look at some of the key things that were disclosed. Full presentations from the event can be found on Alibaba's investor relations site, along with a webcast.
1. Alibaba's Taobao Marketplace Is Seeing Its Customer Base Diversify
Taobao, whose sales skew more towards small and mid-sized merchants, saw an 88% annual increase in registered account sign-ups in August. A lot of that growth appears to stem from Taobao's success at winning over teenagers, older consumers and consumers living outside of China's wealthiest regions.
From January to August, about 70% of Taobao's new registered users came from regions that Alibaba describes as "less developed areas." And in terms of age, a quarter of new users were either under the age of 18 or over the age of 50.
In fiscal 2018 (it ended in March), total mobile monthly active users (MAUs) for Alibaba's Taobao and Tmall marketplaces grew 22% to 617 million. Their annual active consumers (AACs) grew 22% to 552 million.
2. Top Brands on Alibaba's Tmall Marketplace Are Seeing Strong Volume Growth
Tmall, whose sales skew towards larger merchants and brands, saw its physical goods' gross merchandise volume (GMV) rise 45% in fiscal 2018 and 34% in the June quarter. Much of that growth stems from the same-store sales growth being witnessed by major brands that have set up shop on Tmall.
Alibaba asserts that over half of all Chinese-listed consumer and retail firms have a presence on Tmall, and that their "2017 same-brand paid GMV growth" on the platform was 76%. For Tmall's top 20 "global strategic partners," same-brand paid GMV growth was over 70%.
Major Chinese brands on Tmall, which competes to a large degree against JD.com (JD) - Get JD.com Inc. Report , include Huawei, Xiaomi, DJI and Haier. Major foreign brands include Mondelez, Nike, Samsung and Procter & Gamble.
3. Alibaba's Offline Commerce Initiatives Are Getting Pretty Big
Alibaba now operates 64 of its technology-packed Hema supermarkets across 14 Chinese cities, and claims over 10 million customers for them. For "mature" Hema stores, average daily sales are said to be above RMB800,000 (equal to nearly $117,000, or an annualized run rate of $42.6 million), with online sales making up more than 60% of total sales, on average. Annual sales per store are said to be up to five times those of traditional stores.
As for Alibaba's Ele.me food delivery/local services unit, which the company recently took full ownership of, it now has over 167 million annual active consumers (AACs), supports 3.5 million merchants and records an impressive 19.8 orders per AAC. These stats come as Chinese local services leader Meituan-Dianping gets set to go public in Hong Kong at a $50 billion-plus valuation.
Alibaba's Lingshoutong initiative, which leverages the company's tech infrastructure, logistics assets and retail data and know-how to help mom-and-pop convenience stores grow their sales, also got some airtime during the Investor Day. Over one million stores now support Lingshoutong; Alibaba benefits via orders placed by the stores through its commerce platforms, as well as by gaining access to the stores' customer shopping data and using the stores to help fulfill online orders.
4. Alipay's Value-Added Services Are Seeing Good Uptake
Alibaba disclosed on Tuesday that Alipay, which remains in a pitched battle with Tencent's (TCEHY) WeChat Pay platform, now provides lending and cash management services to 11 million and 21 million small businesses, respectively. It also disclosed that 55% of users of the Alipay app use it for "lifestyles services" that cover fields such as transportation, entertainment and public utilities, and that the total number of tourists using Alipay outside of mainland China rose 130% during the 12 months ending Aug. 31.
Alipay now has over 700 million total annual active users; that's an increase of more than 200 million from one year ago. About 190 million users are said to be using all five categories of the financial services -- namely, payments, wealth management, financing, insurance and credit services -- that Alipay groups its offerings into.
Alibaba has a 33% stake in Alipay parent Ant Financial, which was valued at $150 billion in a recent funding round. Though Ant had been expected to do an IPO by 2019, a recent Financial Times report suggests the company could take longer to go public.
5. CEO Zhang Considers Analytics Investments a Priority
It's well-known that Alibaba makes heavy use of analytics and data-driven personalization to optimize product recommendations, order fulfillment and much else. At the Investor Day, Zhang, who will replace Jack Ma as chairman in a year, suggested that building on these investments will be a top company priority.
"How are we going to make it easy for others to do business? The answer is data and data technology," Zhang said. In general, Chinese tech firms have been quite aggressive when it comes to collecting and leveraging user data. However, a
does set some ground rules for how user data can be obtained, stored and shared.