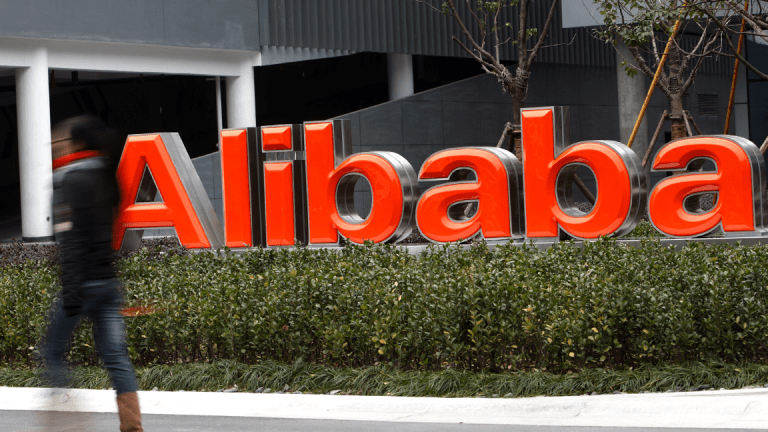 Alibaba Vice Chair Confident in Chinese Economy, Not Worried About Trade War
The e-commerce giant's executive vice chairman argued that China's economy is no longer that dependent on simply exporting goods to other countries such as the U.S.
What, Alibaba (BABA) - Get Report worry?
Addressing the roiling trade tensions between the U.S. and China on Alibaba's June quarter earnings call, executive vice chairman Joe Tsai emphasized that Alibaba is relatively insulated from the fallout of an escalation in mutual tariffs.
"Alibaba's business is focused on capturing the Chinese domestic consumption opportunity and less reliant on Chinese exports. We believe that Chinese government policy will continue to support imports into China to satisfy the rising demand of Chinese consumers," Tsai said in prepared remarks delivered at the start of the call.
"If U.S. goods become too expensive due to tariffs, Chinese consumers can shift to domestic producers or imports from other parts of the world," Tsai added.
Tsai pointed to the fact that domestic consumption and investment account for more than 90% of GDP growth in China, and that that consumption is supported by three long-standing trends: "Number one, real wage growth with more people joining the middle class. Number two, healthy household balance sheets based on high savings rates; and number three, easier access to consumer credit due to supportive government policy and innovative businesses like Ant Financial."
Concluded Tsai: "These are the reasons why we strongly believe that the Chinese economy, as supported by domestic consumption, will continue to be resilient." Tsai has made similar arguments in the past. 
Alibaba has also been aggressively expanding into emerging markets in both Southeast and South Asia in order to add more consumers into its ecosystem. With respect to the U.S., Tsai said that Alibaba's focus there is on "helping American farmers and small businesses to sell their products to Chinese consumers. In addition, as demonstrated by our partnership with Starbucks, we are working constructively with American brands to better serve Chinese consumers."
For the quarter, Alibaba reported robust revenue growth of 61% year-over-year and strength in its core commerce business, as well as in its cloud division. Shares were down slightly on Thursday late morning after initially rising as much as 4% following the release of the report.