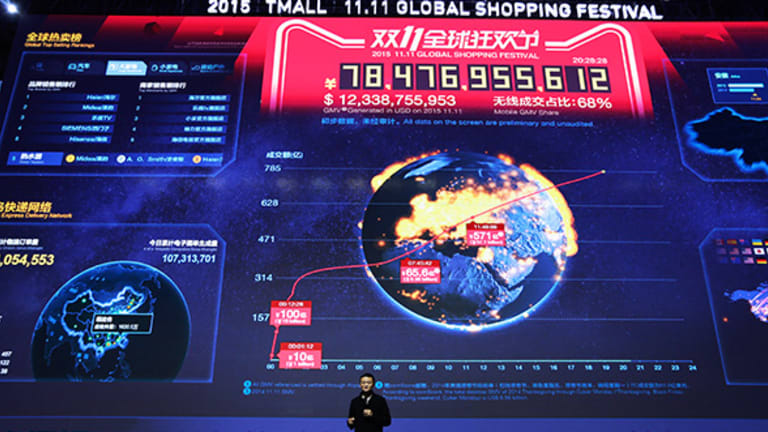 Soon There Will Be Another Way to Invest In China's $3 Trillion E-Commerce Industry
The company has grown alongside the e-commerce industry.
China conglomerates Alibaba (BABA) - Get Report and JD.com (JD) - Get Report are popular investments for those looking to play the burgeoning Chinese e-commerce industry that is expect to hit about $6 trillion by 2021 according to some.
Soon, there will be another way to place your bets on the growing internet retail market as Chinese logistics company Best Inc. on Monday, June 26, filed paperwork for an initial public offering of up to $750 million with the Securities and Exchange Commission.
Alibaba Group Holding Ltd. owns about 23% of Best Inc.
The company will apply to be listed on the New York Stock Exchange or Nasdaq and will offer American Depositary Shares representing Class A ordinary shares. Once the IPO is completed, Alibaba and Cainiao Network will beneficially own 100% of the company's Class B ordinary shares.
The company is led by Johnny Chou, who had previously served as the top sales executive for Google (GOOGL) - Get Report in China before leaving in 2006.
Best has experienced rapid growth as China's e-commerce market has expanded, offering opportunities to logistics companies that are able to assist in the development of infrastructure. The e-commerce industry in China is expected to grow to $5.8 trillion in 2021 from $2.8 trillion in 2016, according to global research firm iResearch.
Alibaba founder Jack Ma recently said at the Gateway '17 conference in Detroit last week that Alibaba will so sell so much stuff by the year 2035, it will generate the equivalent in GDP to be the fifth largest economy. Ma also said he was preparing for retirement.
Best has grown with the industry, expanding its total revenue to $1.29 billion in 2016 from $448 million in 2014, according to the filing. Despite its growth, the company has a history of net losses, including a $61.4 million net loss in 2016.
In October, Chinese delivery company ZTO Express Inc. (ZTO) - Get Report debuted on the New York Stock Exchange at $18.40 per share. After falling about 15% in its first day of trading the company has stabilized. It continues however, to traded below its IPO price. 
Shares of ZTO traded hands Monday for about $14.38 apiece.
Citigroup Global Markets Inc. (C) - Get Report , Credit Suisse Securities LLC (CS) - Get Report , Goldman Sachs & Co. (GS) - Get Report , J.P. Morgan Securities LLC (JPM) - Get Report and Deutsche Bank Securities Inc (DB) - Get Report are listed as underwriters of the offering.
According to the company, the proceeds from the offering will be used for "general corporate purposes in line with our strategies."
The company did not specify a date for listing or an anticipated ticker symbol.
More of What's Trending on TheStreet: