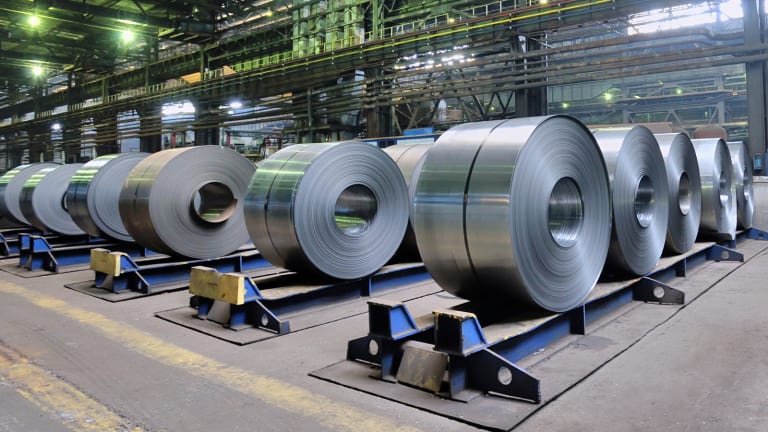 Alcoa Will Be an Excellent Income Stock to Buy This Year
Following its split into two entities last year the aluminum producer is likely to start paying dividends again this year.
Aluminum producer Alcoa (AA) has seen its shares jump 20% so far this year. Buoyed by a set of positive factors set to drive earnings into next gear, it's easy to understand the bullishness around Alcoa.
Goldman Sachs upgraded Alcoa to a 'buy' and its price target of $52 indicates a more than 58% upside from current levels.
We're in agreement with Goldman's optimism. Between China's commitment to cut surplus capacity in the steel sector and Trump's drive to push legislation that could action a $1 trillion investment in U.S. infrastructure there appear to be tailwinds developing for Alcoa.
Alcoa is now a lean and agile enterprise, after having split last year into two entities. The company, which retained the 'Alcoa' title is focused on the traditional aluminum smelting business. Arconic (ARNC) , on the other hand, specializes in higher-end engineered aluminum and titanium alloys. Arconic's products have applications across the automotive, aerospace and construction sectors.
Alcoa is now at a vantage point to weather weaker commodity prices after that judicious spin-off. This can also help Alcoa capitalize on the structural demand for the global aluminum market.
As we mentioned earlier, two major movements are coming into fruition which could drive earnings prospects for Alcoa.
First, Beijing has directed steel firms to cut 50 million tons of capacity. This number is more aggressive than 2016′s target of 45 million tons. Also, China's decided to trim aluminum production by 30% during this past winter.
Due to reduced capacity and supply of aluminum from Chinese aluminum producers, prices are likely to increase.
Aluminum majors like Alcoa as well as smaller players like Century Aluminum (CENX) , Constellium (CSTM) and Kaiser Aluminum (KALU) will also benefit, to a limited extent. The global market deficit and continued suspension of Chinese production is completely changing the commodity's landscape.
Second, Donald Trump is set to aggressively pull through his nation rebuilding flagship project. Trump has said that he wants to repair all the cracks in the crumbling U.S. infrastructure, building new roads, bridges, tunnels, airports, and railways. This massive undertaking is very likely to lift demand for Alcoa's products.
The company is already rewiring its operations which should allow the company to fire from all cylinders.
Business units are now being consolidated from 6 units into 3. This should allow the company to increase operational efficiency and reduce costs.
This spending program, even if it doesn't commence until 2018, will be a major boost to Alcoa's cash flow generation. With Alcoa projecting 2017 EBITDA to be between $2.1 billion and $2.3 billion, which is meaningfully ahead of analysts' expectations. Experts also expect Alcoa to generate $1.5 billion in free cash flows for this year.
If Alcoa can actually bring in all that capital in 2017, it could pay off that $1.44 billion in debt and address other liabilities. But perhaps most crucially, this financial muscle will help in ensuring that the company recommences paying out its historically attractive dividend.
Alcoa is likely to become an in attractive income opportunity that already has significant share price upside remaining.
---
As we've explained Alcoa is an excellent income opportunity. If you're looking for other income opportunities we know another way you can add a steady stream of dividend income every month... and it's practically guaranteed by the IRS. The company signing the checks might not be one that you've heard of. However, Silicon Valley's top CEOs - think Mark Zuckerberg and Larry Page - know that its product is invaluable.Click here for the full story.
The author is an independent contributor who at the time of publication owned none of the stocks mentioned.