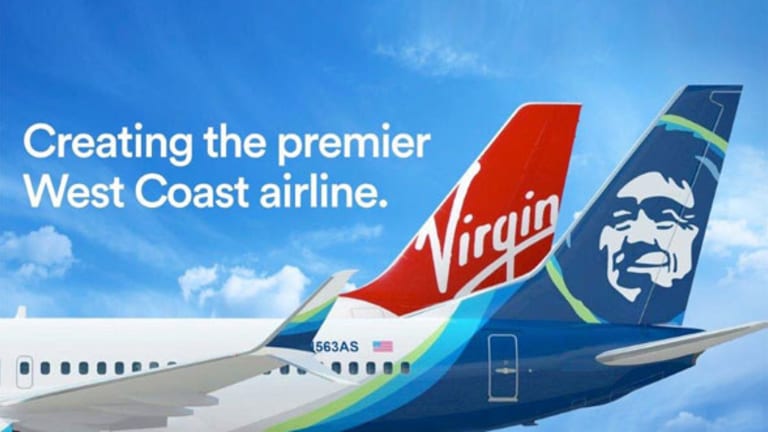 Alaska Airlines and Virgin America: 'We Will Keep Talking With DOJ on Merger'
Alaska Airlines and Virgin America say they will keep talking merger with DOJ after a Monday deadline; source says deal will not be blocked.
Alaska Airlines and Virgin America say they will keep talking merger with DOJ after a Monday deadline; source says deal will not be blocked.
Alaska Airlines (ALK) - Get Report says its effort to merge with Virgin America (VA) will not close by this Monday and it will keep talking with the Justice Department's antitrust division.
"We will keep talking past Monday," Alaska spokeswoman Bobbi Egan said late Friday. "We will continue working with DOJ to use this extra time to work toward closing early in the fourth quarter."
The deal isn't going to be blocked, a source said, but the two parties still have to hash out the exact terms of the settlement.
In April, the two carriers announced plans to merge. In June, they promised the Justice Department they would not close the deal until Sept. 30 unless the department concluded its review before then.
On Sept. 26, the carriers agreed to extend that deadline to Monday, Oct. 17.
"We're not going to close before Oct. 17," Egan said Friday. The airlines have not set a new deadline.
The airlines have the option to go ahead with the merger without approval. The Justice Department has the option to sue to prevent it.
Alaska has offered $57 a share for Virgin America stock. Virgin America shares closed Friday at $52.08, down $1.21, apparently an indication that investors believe the Justice Department will seek concessions before approving the deal.
About 2 million Virgin America shares were traded Friday, the most since 2.9 million shares traded on Sept. 29, as speculation mounted about possible concessions.
On April 1, the day before the deal was announced, Virgin America shares closed at $38.90. On the next trading day, they closed at $55.11. On July 5, they reached a 2016 high of $56.64.
On Sept. 22, shares dipped 5%, to $53.20, after reports surfaced that airline executives had met with officials from the antitrust division, an indication that the acquisition might not be approved by Sept. 30.
"We believe regulatory approval of the pending Alaska-Virgin America merger remains more likely than not," JPMorgan analyst Jamie Baker wrote in a note issued Tuesday.
"But it still appears possible that conditions and/or carve-outs will be asked of the parties, which could prove sufficiently onerous and jeopardize deal economics," Baker said.
Baker raised his rating on Virgin America shares to neutral from underweight. He estimated the probability of outright regulatory passage with or without minor concessions, with the $57 offer intact, at 75%.
He cited a 15% probability that regulators will require concessions "sufficiently onerous as to warrant a lower deal price ($50 for VA shares) and a 10% probability of an outcome where the deal ultimately breaks resulting in VA shares trading at $23.
"Manipulate as you see fit, but this arrives at an estimated fair value of $52.50," Baker wrote.
This article is commentary by an independent contributor. At the time of publication, the author held no positions in the stocks mentioned.