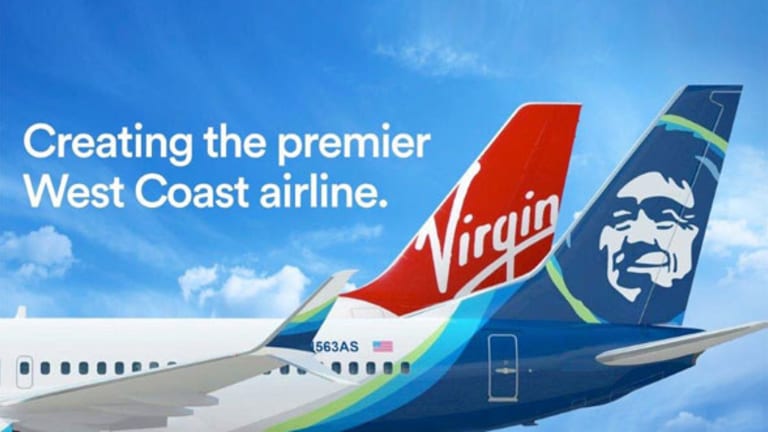 Alaska Air's Purchase of Virgin America Will Pay Off -- Buy Alaska Air Stock Now
One of the most compelling investment opportunities now is Alaska Air (ALK), as it gets ready to buy Richard Branson's Virgin America (VA). The merger would create an industry powerhouse.
One of the most compelling investment opportunities now is Alaska Air (ALK), as it gets ready to buy Richard Branson's Virgin America (VA). The merger would create an industry powerhouse.
No one thought they'd live to see Sir Richard Branson, who starred in the television reality show "Rebel Billionaire," sell his vaunted Virgin America (VA) airline, but that's exactly what's in the air.
Seattle-based Alaska Air Group (ALK) - Get Reportin April offered to buy Virgin America for $57 a share in a deal valued at $2.6 billion, and Branson said that there was nothing he could do to stop it. The agreed-upon acquisition would give Alaska Air a larger presence in Virgin's core markets of San Francisco and Los Angeles and a foothold at heavily traveled airports in New York and Washington.
Below, we explain why this deal presents one of the most exciting and undervalued investment opportunities you're likely to find in this volatile and risky broader market.
Branson has built Burlingame, Calif.-based Virgin America into a hip, trendy brand. Alaska Air, with a market cap of $8.16 billion, is about three times the size of Virgin America (market cap: $2.75 billion). The deal would represent a full absorption of Virgin into Alaska Air Group, although Alaska Air management has indicated it might keep the Virgin brand as a "boutique" operation within the larger combined group.
Investors are fretting about a potential antitrust challenge, but that's overblown. The airline industry has rapidly consolidated in recent years, prompting federal antitrust regulators to beef up scrutiny of proposed deals that could be anticompetitive. The U.S. Department of Justice's Antitrust Division has extended its antitrust review period of the merger to Oct. 17. The extension is only prudent from the government's perspective, but it's weighing on shares of Alaska. Some investors may also be worried about a lawsuit filed earlier this month by consumers who argue that the acquisition will increase costs for the flying public. 
Over the past six months, shares of Alaska Air have declined 19% while Virgin America stock has risen 40%. During the same period, the S&P 500 index has gained 5.5%. Investors have concluded that the deal would be a windfall for Branson and Virgin shareholders but a burden to Alaska Air Group. The fact is, the real long-term winner would be Alaska Air.
It's highly unlikely that regulators would scuttle the marriage of the two carriers, especially because there's so little overlap in their routes. Other than competing on the Los Angeles-Seattle route and a smattering of routes out of San Francisco, the two airlines don't compete at all. But a combined entity would dominate West Coast regional air travel, proving a moneymaking boon for already strong Alaska Air.
Alaska Airlines, a subsidiary of Alaska Air Group, together with its partner regional airlines, serves roughly 100 cities throughout Alaska, the Lower 48, Hawaii, Canada and Mexico. Accounting for about 80% of the parent company's revenue, Alaska Airlines is the seventh-largest U.S. airline in terms of passenger traffic and it carries more passengers between Alaska and the contiguous 48 states than any other airline.
Booming passenger traffic in Alaska Airlines' highly desirable markets is lifting the company's profits, giving the airline the resources to buy new, more fuel-efficient airplanes from Boeing. These new planes will come in handy, as oil prices continue to climb this year in the wake of OPEC's new agreement Wednesday to curtail production.
Although it's by far the biggest state in the U.S., Alaska has few roads compared with the rest of the country. At the same time, flying in Alaska can be dangerous, due to frequently inclement weather and rugged topography. Founded in 1932, Alaska Airlines claims decades of proven flying expertise in the state that remains unrivaled.
Alaska Airlines has made itself indispensable to the state's lucrative fishing, tourism and logging industries. Alaskans depend on the airline to transport them into inhospitable terrain that's only accessible by aircraft. As the only commercial carrier with in-state routes, Alaksa Air serves as "mass transit" for the state's residents.
Alaska Air Group is expected to release third-quarter results during the second half of October. On average, analysts expect that the company will report adjusted earnings per share of $2.07, a dip compared with the $2.16 the company reported in the year-earlier quarter. But long-term earnings momentum lies ahead, especially if the Virgin America acquisition goes through. Adjusted EPS is projected to reach $7.05 for the full year, compared with $6.51 in 2015. Adjusted EPS for 2017 is expected to come in at $7.14. Those projections don't include the likely boost to the bottom line from the Virgin acquisition.
Now's the time to get aboard Alaska Air, while the stock's price is cheap. Shares trade at a trailing 12-month price-to-earnings ratio of only 9.2, compared with the trailing P/E of 10 for the airline industry. That's a bargain price, considering the stock's growth prospects. Before the markets opened on Thursday, Alaska Air shares traded at $66.20; the average 12-month price target from analysts is $80.85, which suggests the stock can gain 22% in the next year. That's attractive capital appreciation in a broader market that's projected to produce tepid gains this year at beat.
Here's the beauty of buying Alaska Air stock now: It's a reasonably valued growth stock, whether the Virgin America merger goes through or not.
---
As we've just explained, Alaska Air Group is a smart bet ahead of its third-quarter earnings report. If you're looking for other growth opportunities, we've found a genius trader who turned $50,000 into $5 million by using his proprietary trading method. For a limited time, he's guaranteeing you $67,548 per year in profitable trades if you follow his simple step-by-step process. Click here now for details.
John Persinos is an editorial manager and investment analyst at Investing Daily. At the time of publication, he owned stock in Boeing. Persinos appears as a regular commentator on the financial television show "Small Cap Nation." Follow him on Twitter.